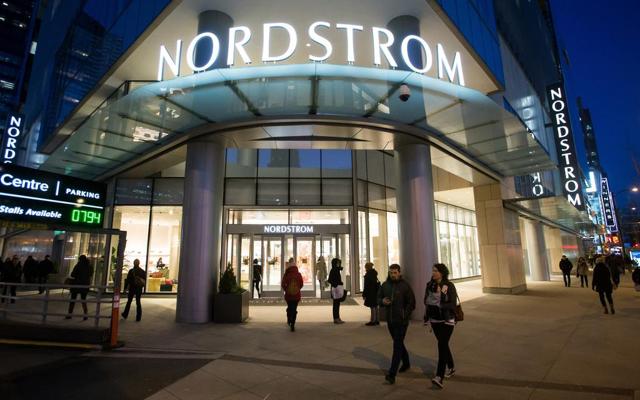 Image Source: WSJ.com
Sales Trends A Bit Soft, But Nothing To Worry About
I have been a bit disappointed by Nordstroms (NYSE:JWN) recent results. Not because it was a bad quarter per se, but because it broke the sequence of constant overperformance compared to other peers in the department stores space. This was particularly evident on the side of comps, which decreased 0.9% and put Nordstroms performance in line with that of a department stores operator like Dillards (NYSE:DDS).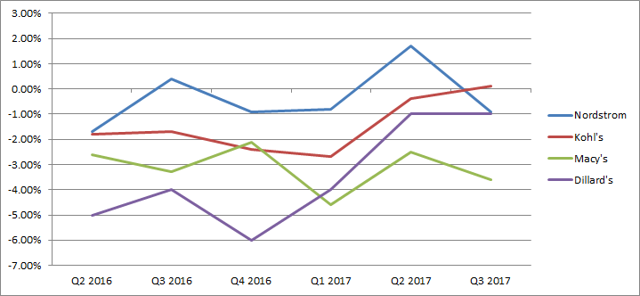 Comparable Store Sales, YoY Variation. Source: Author's Elaboration
Revenue was up 2% as a result of new openings, while both gross margin and operating margin showed a contraction from the corresponding period of 2016. Gross margin showed a slight decline to 34.74% of sales from 34.85% the prior year, while operating margin posted a sharper decline to 4.52% of sales from 6.34% the prior year, which means the company has lost more than one quarter of its operating profitability from the prior year.
Management said the hurricanes impacted comps for $20 million, or 60 bps, which means the actual comps would have been a negative 0.30% without the hurricanes. Anyway, I would take this statement with a grain of salt. Hurricanes and similar events usually dont lead to a net loss in sales but only to a timing shift. Considering that the hurricane Maria finished at the end of September and that the quarter ended on October 28th, there was enough time (one month) to recover the lost sales.
Nordstrom reported consistent trends in the full-price business, while in off-price it experienced some deterioration relative to recent trends. Anyway, if we compare the sales trends to what happened in Q2, we see that both the full-price business and the off-price segment saw a deterioration: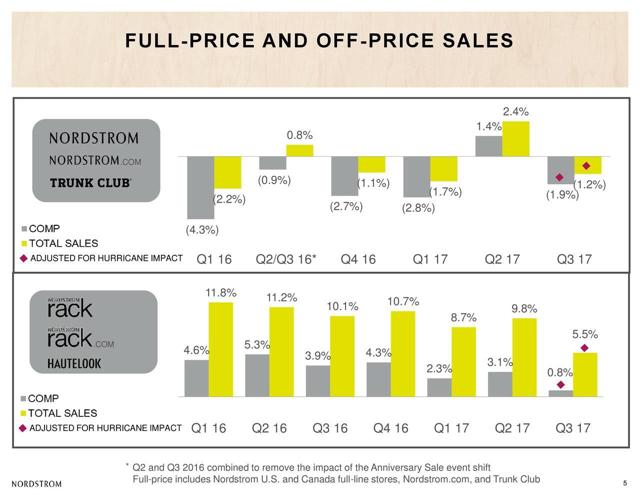 Source: Slides from the earnings call
Off-price retailing is taking market share even from the inside of Nordstroms business, which is not necessarily a bad thing. Apparently, the impact on gross margin is not significant, which shows the off-price segment still carries a decent profitability. By expanding its off-price business, Nordstrom can at least offset the negative effects of the rising competition from players that adopted this model as their core business model.
In general, I would say the recent sales trends were a bit softer than I expected, as the company didnt overperform as it did in the previous quarters. In any case, the environment seems to be much better than it has been between 2016 and the first half of 2017, and Nordstrom should be in the right position to stabilize the business further, especially as a result of the increasing penetration of digital and omnichannel purchasing patterns.
Digital Expansion And Omnichannel Performance
Nordstroms weakness continues to be the low operating margin resulting from rising SG&A expenses. It shouldnt be a surprise that these costs are rising fast, considering the companys high investments for digital expansion and a wide range of services and initiatives in the omnichannel business. There are several of these initiatives worth mentioning. A recent one is Nordstrom Local, a test retail concept focused on services and located in West Hollywood, which gives customers the possibility to access personal stylists, alterations, online orders and more. The management mentioned positive results from this initiative and said the learnings from the test can be applied to the business to drive customer engagement and increase market share.
There are several other services introduced and pushed in recent times, such as:
The Reserve Online and Try In-Store service, which was expanded to more than 50 stores and aims to free up customers time, and can create new shopping opportunities in the stores once customers are there to try the reserved items. Style Boards, a digital tool that enables customers to receive personalized product recommendations on their mobile phones, creating more purchasing opportunities through targeting measures. Same-day delivery and 24-hour curbside pickup, which also contribute to freeing up time for those customers that dont always have time to engage in all the phases of the shopping experience. These services are available in major markets for the moment, such as Seattle, Chicago, Dallas and San Diego.
Nordstrom confirms its one of the third-party retailers with the strongest online presence (around 25% of sales), an expanding omnichannel business and a big focus on increasing and enhancing additional services to drive customers engagement. This will to leverage digital capabilities in a proactive way is among my favorite characteristics of Nordstroms business, and one of the reasons why I think its destined to be one of the few third-party retailers in the U.S. that will continue to prosper without problems in the changing retail environment.
As it often happens during times of challenging transitions in an industry, big players tend to be in a better position compared to the smaller ones, for several reasons. I think the same is happening in the retail industry, where overcapacity and the increasing penetration of eCommerce and omnichannel models are benefiting big players at the expense of the smaller ones. Running a successful omnichannel business needs financial resources to invest, a solid network of stores and a large clientele base to reach. Big players can move sales to the digital channel more easily (avoiding market share losses) and push customers towards cross-channel purchasing patterns. Instead of benefiting just Amazon (NASDAQ:AMZN), Amazon and Amazon, the reality is that the recent rise of eCommerce is improving the competitive strengths of the bigger players at the expense of the smaller ones. This will help sustain Nordstrom and all the other big players that are focusing their efforts on the development of omnichannel capabilities.
Future Prospects, Margins And Valuation Multiples
Although Nordstrom is in a better position compared to many other retailers to manage the transition to an omnichannel environment, there are some negative effects the company will have to manage during the process. The first is that, even after the current high investments in digital capabilities start to soften, the company will have to face the dilutive effect of the eCommerce channel on its margins. Anyway, Nordstrom seems to be in a slightly better position compared to peers such as Macys (NYSE:M) and Kohls (NYSE:KSS). Let me explain why. As I have explained in other articles, the dilutive effect of the eCommerce business is a phenomenon that affects third-party retailers in particular. While brands sustain higher costs for eCommerce sales, they can benefit from growth in their DTC eCommerce channel by cutting costs related to the middleman. Third-party retailers dont have this possibility and only face rising costs (shipping and fulfillment costs). One way to offset part of the weakness is to increase the penetration of the owned brands, which usually have higher marginality. While peers such as Macys and Kohls are not seeing any success on that front, Nordstrom said that its owned brands are overperforming compared to third-party brands:
I dont know if we give out the specifics around our own label penetration. I think we do – I can tell you that its growing some and thats a purposeful thing for us. Weve had really good success with our own label brands. Blake mentioned that they do perform a little bit better in terms of the gross margin. And I think increasingly, weve got to figure out a way to be really good at developing and sourcing our own products as well as partnering with brands that are willing to have a bit of a limited approach to distribution. I think that thats worked really well for us. When you look at our brands that fall into that bucket, whether its our own label brands or the ones that are relatively limited, they are outperforming the other brands. So, we definitely think we are on a good path there. I will tell you that we have a lot of common issues with our major suppliers, and when you can put two heads together to work on that as a partner, it creates good outcomes.
(Source: Nordstrom Q3 2017 Results – Earnings Call Transcript)
The comment above also shows that those products/brands offered on a limited basis are growing more. I think these products/brands often have higher margins due to the lack of competition, which confirms a positive impact on overall profitability. Moreover, they help increase customer engagement and can generate additional sale opportunities. The ability to make brands supply limited offerings is another reason why big department stores are in a stronger position compared to smaller peers. Anyway, this is nothing related to the era of eCommerce, although it has surely been an underused opportunity.
Its difficult to know if the aforementioned positive trend in sales mix can offset the dilutive effect of eCommerce penetration, as the company doesnt give us details on the different marginality of the segments, but I think a moderate increase in private brands, which carry a higher gross margin, can easily offset a standard negative 20-30 bps yearly impact of e-commerce penetration, assuming that the impact of eCommerce on Nordstroms margin is in line with what we have seen with companies such as Kohls. Considering that merchandise margins are flat and that inventories have grown less than sales for 5 consecutive quarters, I do expect gross margin to change direction in the short term.
Operating margin may continue to suffer from high investments in digital capabilities, as we dont know if investments on that front will soften. Anyway, with the aforementioned positive signs and several confirmations that the promotional environment is softening, I think a further margin contraction in the medium term is not likely.
With the mid-point of the full-year EPS guidance of $2.90, Nordstrom is currently trading at around 14.5x full-year EPS, a multiple that implies a future of growth at least in the low single digits, unless we discount the companys future earnings using an 8% discount rate or less, which I think may be too low. For the reasons explained above and for the overall stability the business has shown, plus the solid revenue growth, I think these growth assumptions make sense.
Its worth noticing that JWN already trades at a premium over its peers as a result of the better stability of the business. Using TTM data, it trades at an EV/EBITDA multiple of around 5.2, compared to a range of 4.0x-4.8x EV/EBITDA for peers such as M, KSS and DDS. I think an 8-30% premium over peers and a P/E multiple that implies perpetual growth at least in the low single digits are reason enough to believe an investment in JWN doesnt carry a significant margin of safety. The company is solid for sure, and I think it's destined to be one of the relatively few winners in the transition to omnichannel, but the current valuation doesnt make it a top pick. Its a stock that can be held in a diversified portfolio for sure, but it's not among my favorite picks in retail and not even my favorite pick among department stores.
Thanks for taking the time to read this article. If you liked it, click on the "Follow" button at the top of the page. You will get my articles as soon as they are published. I am available to further discuss the topics of this article in the comments section. If you are interested in having access to my best long and short ideas, or if you want to know when JWN will become a high-conviction Buy or Short, please consider joining Consumer Alpha. A two-week free trial is available at the moment.
Disclosure: I am/we are long KSS.
I wrote this article myself, and it expresses my own opinions. I am not receiving compensation for it (other than from Seeking Alpha). I have no business relationship with any company whose stock is mentioned in this article.
About this article:ExpandAuthor payment: $35 + $0.01/page view. Authors of PRO articles receive a minimum guaranteed payment of $150-500.Tagged: Investing Ideas, Long Ideas, Services, Apparel StoresWant to share your opinion on this article? Add a comment.Disagree with this article? Submit your own.To report a factual error in this article, click here