Rethink Technology business briefs for December 22, 2017.
Cryptocurrency deflation will have little impact on Nvidia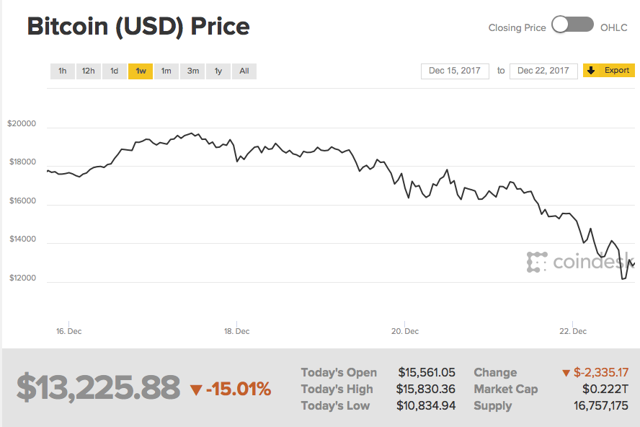 The Bitcoin meltdown continues. Source: Coindesk
The steep decline in Bitcoin this week, along with many other cryptocurrencies, is thought to have depressed the stock price of Nvidia (NVDA) and Advanced Micro Devices (AMD). Both companies are sources of graphics cards and specialized GPU mining cards that can be used to mine some currencies.
As of this writing (about 12:50 PM EST), Nvidia is down about 2% and AMD about 4%. Probably both declines are overreactions based on incorrect market perception of the vulnerability of the companies to a Bitcoin meltdown.
There are a number of reasons why the impact will be minimal. First, it's been years since Bitcoin, along with lesser currencies such as Litecoin, could be mined using GPUs. These currencies transitioned to ASIC based mining long ago, simply because ASICs provided lower power consumption. For miners, power consumption is a major expense that often outweighs the currency return for mining.
Bitcoin seems to be taking down the whole digital currency market at the moment, and there are still a number of currencies that can use GPU mining. The most prominent is Ethereum, which can only be mined using GPUs.
However, a decline in currency price doesn't necessarily translate into a decline in demand for mining equipment in the long run. Most blockchains adjust level of mining difficulty in order to balance the supply of mining capacity with demand for it in the form of transactions to be processed. Transaction processing is the true point of mining, and currency generation is really secondary and primarily serves as an incentive mechanism for the miners.
A currency price decline may drive out some miners in the short run, but to the extent it does so, blockchains will adjust mining difficulty accordingly. Lower mining difficulty makes it easier to mine profitably, thereby attracting additional miners. The system is self stabilizing, and tends to ensure that there is adequate transaction processing capability to support the needs of the currency.
A final and perhaps the most important consideration is the level of exposure of the companies to any decline in demand for mining GPUs. My take on Nvidia remains that its primary growth drivers have nothing to do with cryptocurrency. Nvidia is growing in the datacenter, in machine learning applications, in gaming GPUs and its Tegra ARM SOCs for Nintendo Switch. In autonomous vehicles, Nvidia remains the most important supplier of in-vehicle computing platforms, and I expect it to remain so despite challenges from Intel (INTC) and AMD.
AMD may be more vulnerable, by virtue of having a much smaller revenue base to begin with, and by virtue of being somewhat favored for mining performance. This is probably reflected in the sharper downturn of AMD's price today.
Neither company has offered estimates of the fraction of their revenue due to mining, so it's difficult to say with certainty, but I suspect that Nvidia's mining GPU revenue is less than 5% of its total.
Nvidia's GTC to arrive early in 2018
As I point out in an exclusive Rethink Technology article, Nvidia's annual GPU Technology Conference (GTC) will be held early this year, in March rather than the usual May. I think this is significant. Nvidia did not introduce a new consumer GPU architecture in 2017 in order to compete with AMD's Vega. While it turned out not to be necessary, Pascal is getting old, and replacing it is probably a priority at Nvidia.
This is especially the case since AMD is expected to bring a successor of Vega, Navi, out next year on Global Foundries' 7 nm process. I'm personally skeptical that GloFo will deliver 7 nm next year, but it clearly is a threat that Nvidia needs to address. Rolling out a new consumer GPU architecture early next year is probably the best way to do that.
GTC will probably have many other goodies in store, including working versions of the next-generation Tegra ARM SOC, Xavier. During a recent GTC Japan keynote, CEO Jensen Huang stated that Xavier is expected to emerge from fabrication "momentarily."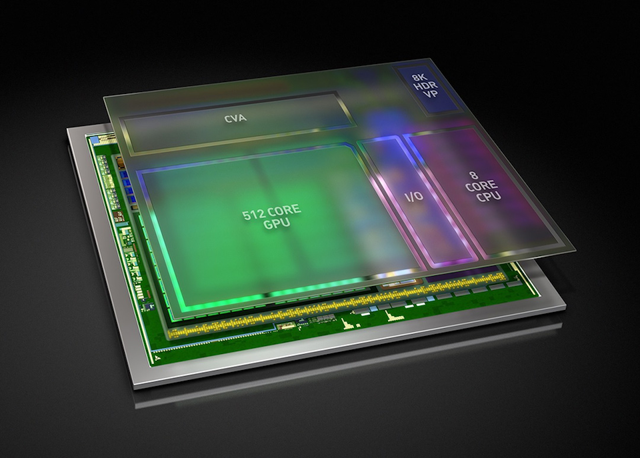 Nvidia's Xavier. Source: Nvidia
Much is riding on Xavier. Xavier is equipped with Volta GPU cores and even Tensor cores to accelerate inference processing. Xavier is expected to power Nvidia's next generation Drive PX hardware, with greatly increased processing power via the Tensor cores, but consuming only 30 watts.
Xavier also is a component of Pegasus, which will feature up to 2 Xaviers and 2 Volta class GPUs. Pegasus is intended to support SAE level 5 autonomous vehicles.
Apple's liability in the "throttling scandal"
Fellow SA contributor Paulo Santos has an interesting article on the recent Apple (AAPL) admission that it was "throttling" older iPhones in order to prevent excessive battery drain and possible unexpected shutdowns.
Santos does a good job of presenting the technical issues involved, but I have a somewhat different reading on Apple's potential liability. As of this writing, there are already two class action lawsuits over the matter.
The action that Apple took in reducing power consumption by its A series processors in the case of an older, lower capacity battery was mainly in the form of reducing clock frequency of the processor. This has the consequence that older iPhones that are tested with processor benchmarks such as Geekbench will score lower.
I consider this an ingenious solution to the problem that highlights Apple's control of both its hardware and software design. New versions of iOS calibrate the remaining battery power in an iPhone and adapt the power consumption of the processors accordingly. This avoids shutdowns, but does affect performance if the battery is very depleted. If the user happens to get the battery replaced, iOS will adapt accordingly.
Santos calls this a "design flaw" and states:
Apple can provide competitive battery life due to the overall efficiency of its phones. But unfortunately, this design decision neglected another dimension – the ability of the phones to run to spec during their entire lives!
He then asserts that this design flaw is completely unexpected by consumers, and therefore constitutes a significant liability for Apple. I disagree.
The main point of disagreement is contained within his use of the phrase "run to spec." Apple is very careful not to specify performance of its A series processors, or any other performance specification for its iOS devices one can think of. Apple doesn't guarantee a particular level of performance.
Neither does any other smartphone maker. Performance, as measured by processor or other benchmarks, varies considerably depending on operating conditions, the life of the phone, and manner of use. Even simple things like download speed cannot be guaranteed, since it is very network dependent.
In the case of the Intel vs. Qualcomm (QCOM) modems, we've even seen significant differences in modem performance between otherwise identical iPhones. When Apple was sourcing the A9 processor for the iPhone 6s, it turned out there were differences between the ones made by Samsung (OTC:SSNLF) and the ones made by Taiwan Semiconductor Manufacturing Company (TSM), and these differences affected battery life.
Since Apple hasn't guaranteed a particular level of performance for any of its iPhones, the matter of liability becomes much more fuzzy. The liability question will turn on what is a reasonable expectation on the part of the iPhone customer. Is it reasonable for a customer to expect the same level of performance after several years that the phone had been out of the box?
I think not.
Nvidia and Apple are part of the Rethink Technology Portfolio and are rated buys. Rethink Technology is a Marketplace service devoted to investing in technology companies. The Portfolio contains a mix of large and small cap stocks and is up over 50% since inception. More companies will be added to the Portfolio in the coming months.
Disclosure: I am/we are long AAPL, NVDA, QCOM, TSM.
I wrote this article myself, and it expresses my own opinions. I am not receiving compensation for it (other than from Seeking Alpha). I have no business relationship with any company whose stock is mentioned in this article.
About this article:ExpandAuthor payment: $35 + $0.01/page view. Authors of PRO articles receive a minimum guaranteed payment of $150-500.Tagged: Investing Ideas, Long Ideas, TechnologyWant to share your opinion on this article? Add a comment.Disagree with this article? Submit your own.To report a factual error in this article, click here