Most stocks I trade have a high correlation to a certain macro theme. FedEx (FDX) is one of those companies. Hence these stocks are more predictable and better trading tools. In this article, I will explain why this company is a great buy and a stock that should be in every trader's toolbox, so to speak.


Source: FedEx
Shipments Could Not Be More Positive
I've mentioned it probably a dozen times but it is always important to say it again: Transportation companies are the very core of every economy. A strong economy means strong shipments while a weak economy means weak shipments. It is as simple as it gets.
The difficult thing is to spot economic trends and determine whether it still makes sense to buy transportation stocks. That's why I added the graph below. This graph shows you two lines. The blue line displays leading shipments sentiment. This index is an average of shipments indices from various regional surveys that are published throughout the month. Leading means that this data predicts business activities in the shipments sector.
The orange line displays the year-on-year performance of FedEx's stock price. What we see is that the stock is up roughly 30% compared to one year ago. This also means that the stock could easily reach $280 over the next couple of months without being overheated. Especially because shipments sentiment is at its highest level since the early 2000s(!).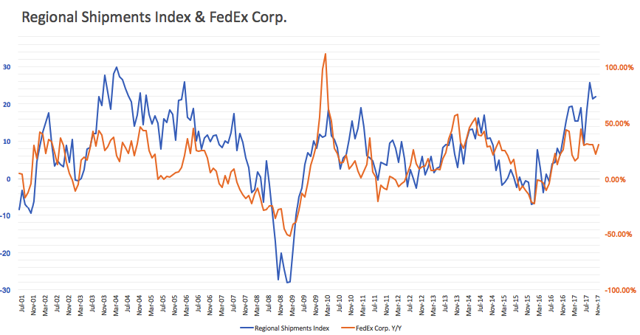 Source: Author's Spreadsheets (Raw data: Regional Manufacturing Surveys)
And just to be clear, my $280 target is still quite conservative. Based on the shipments indicator it would be possible to go as high as $300 over the next few months.
That's Not All
The second graph I'm about to show you compares the same stock price performance to the leading ISM manufacturing index. This index covers the entire manufacturing sector and is the best indicator to predict the US economy. That being said, even though we are a bit below this year's highs we are still at above-average levels.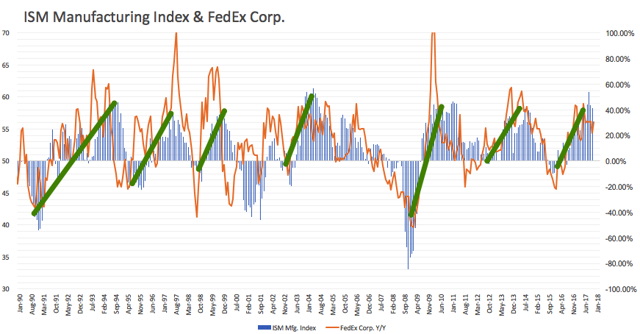 Source: Author's Spreadsheets (Raw data: Regional Manufacturing Surveys)
The second thing I have to mention is the fact that not every steep uptrend ends with a steep downtrend. Most economic expansions stay at above-average levels for some time until sentiment starts falling. We are currently in the mature stage of the expansion which means that returns are likely to be above average but not as high as a few months ago.
Furthermore, the comparison to the ISM manufacturing index suggests that my $280 target is very likely.
I'm Still Not Done
FedEx is depending on consumer sentiment unlike Union Pacific which transports a lot of raw materials (for example). That's why consumer sentiment and retail spending are key. FedEx mentioned that they expect a 2.6% consumer spending increase in 2018.
Consumer sentiment is currently breaking out and at the highest levels since the early 2000s. This is supported by strong economic growth, rising housing and stock market prices and a (hopefully) lower tax rate in the near future.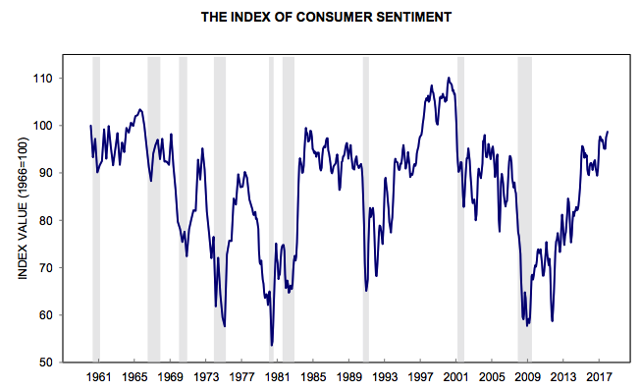 Source: University of Michigan
Now let's look what the result has been of rock-solid leading economic sentiment. Both total retail sales and non-store retail sales are soaring. Total retail sales have accelerated to more than 6% while non-store retail sales growth is almost at 11% after hitting lows close to 3% shortly after the 2014 slowdown.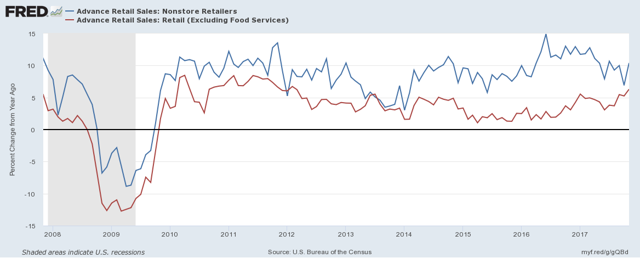 It's almost too easy for retail companies and transportation companies as you are about to see.
And Now Look At FedEx
So, what has all of this economic growth done to FedEx? I added the ISM index to the revenue history to make the macro picture a bit clearer. What we see is that sales have gone up from $9 billion per quarter in 2009 to more than $15 billion in the latest quarter. Note that this is just months after a massive acceleration in the first quarter of 2016.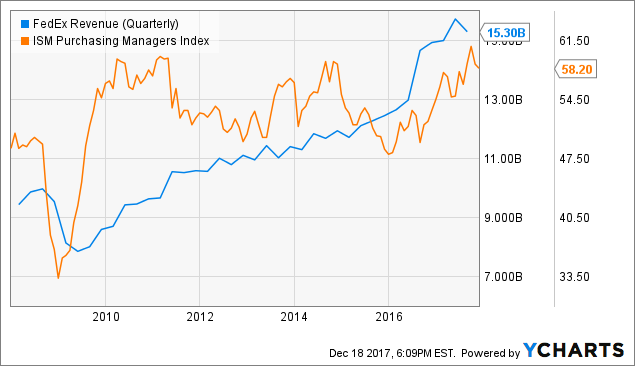 FDX Revenue (Quarterly) data by YCharts
The revenue growth trend is supported by all key segments.
FedEx Express U.S. domestic sales increased 3% in the first quarter of FY2018 to $3.08 billion. FedEx Express International Export grew 4% to a little over $2.5 billion. FedEx Ground outperformed with 8% growth and more than $4.6 billion in sales with 5% more revenue per package. This was not only the result of a stronger economy, but also the result of a strong customer mix, pricing strategies and cost reduction. FedEx Freight soared 6% to $1.75 billion.
In January 2018, FedEx will implement a 4.9% shipping rate hike on FedEx Express, Ground, and Freight services. This will increase revenues even further given that the economic trend remains strong.
Where And When To Buy?
One might say that FedEx is not a no-brainer after gaining 30% on a YTD basis. I would have to agree with one exception: The stock is in a perfect environment and there is no reason why the uptrend could die any moment.
The stock is trading at 22 times earnings and 15 times next year's earnings. This is exactly the kind of valuation one can expect from a mature company in a strong environment.
You will see the same thing when you look at the stock price and the ratio spread (blue line) between FedEx and the transportation ETF (IYT). Not only are you buying a strong transportation stock, you also are likely buying an outperformer.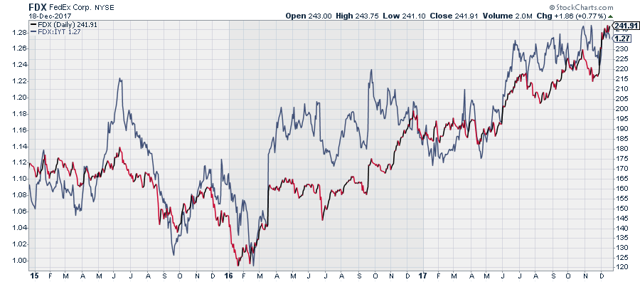 This stock gives you exposure to US consumer and economic growth in general while providing you with low volatility and high alpha. I would therefore advise that buying on dips is the best thing to do to ride the current bull market.
Stay tuned!
Thank you for reading my article. Please let me know what you think of my thesis. Your input is highly appreciated!
Disclosure: I am/we are long FDX.
I wrote this article myself, and it expresses my own opinions. I am not receiving compensation for it (other than from Seeking Alpha). I have no business relationship with any company whose stock is mentioned in this article.
Additional disclosure: This article serves the sole purpose of adding value to the research process. Always take care of your own risk management and asset allocation.
About this article:ExpandAuthor payment: $35 + $0.01/page view. Authors of PRO articles receive a minimum guaranteed payment of $150-500.Tagged: Investing Ideas, Long Ideas, Services, Air Delivery & Freight ServicesWant to share your opinion on this article? Add a comment.Disagree with this article? Submit your own.To report a factual error in this article, click here