Companies keep churning out impressive earnings, but the market doesn't seem to give them much credit. Instead, fear and caution remain the watchwords as the Dow Jones Industrial Average ($DJI) enters Wednesday on a five-session losing streak.
Morning Earnings Wrap
Boeing Co (NYSE: BA) became the latest member of the $DJI 30 to smash Wall Street analysts' projections early Wednesday, firing up earnings per share of $3.64 vs. analysts' consensus of $2.56. Revenue of $23.38 billion was more than $1 billion ahead of the $22.2 billion analysts had expected, and the company also raised its outlook. Strength in the commercial air division helped BA project a healthy sales picture.
Also on the earnings front, Twitter Inc. (NYSE: TWTR) topped analysts' earnings projections and reported the second profitable quarter in the company's history. It also handed out some bullish guidance and said daily active users grew 10 percent. The tech reporting season continues after the close when Facebook (FB) presents its Q1 results and tomorrow with Amazon.com, Inc. (NASDAQ: AMZN) and Microsoft Corporation (NASDAQ: MSFT).
It's unclear whether any of the earnings momentum will spill into stocks today as the futures market came under pressure before the opening bell. Stocks overseas followed the U.S. lower after Tuesday's big sell-off, with a key European index down about 1 percent.
Market Psychology Ruling the Day?
The hunt for 3 percent ended Tuesday as the 10-year yield reached that benchmark level. Soon after, stocks started to take a beating and sharply reversed early gains. At one point, the $DJI stumbled more than 600 points before recovering about one-third of those losses by the end of the day. Concerns about higher borrowing costs and rising commodity prices may be playing into the pressure.
Wall Street also appears to be grappling with a few psychological issues. Most notably, there's trepidation around that 3 percent yield number, which didn't hold for long Tuesday but remains within close range. It definitely seems to be hurting the home builders, whose shares sold off despite strong housing and consumer confidence data this week. The fear is that some people might hear about higher rates and decide not to buy a house after all. Home builders are dealing with something that's more of a psychological factor than a reality factor, as "3 percent" was made out to be the boogeyman of the markets. Historically, though, it's not all that high.
Another psychological element is the idea touted by some analysts about earnings starting to peak. This might have been exacerbated by Dow component Caterpillar Inc. (NYSE: CAT) post-earnings conference call in which executives described the Q1 as a "high water mark." Despite what some analysts called "phenomenal" earnings from the big machine maker, CAT shares fell more than 6 percent. Here we see the power of a conference call. This stock was higher before the call, but the remark led to immediate selling as some investors seemed to interpret the language as CAT saying it can't get any better than this. However, the remark might not have come out as the company had intended.
More proof that one negative metric can hold back a big company's stock surfaced with Alphabet Inc. (NASDAQ: GOOG) (NASDAQ: GOOGL) Tuesday. Though the company reported a powerful quarter, the stock got stuffed as investors and analysts seemed focused more on higher-than-expected capital expenditures.
The "P" and the "E" in P/E
What it all comes down to is a certain level of confusion, which could hang around for a while. There seems to be a repricing of equities going on and despite this being an incredible earnings season so far, stock prices keep going down. The price-to-earnings (P/E) multiple remains a key factor to watch. "E" keeps getting higher and "P" keeps getting lower. People just don't seem to be inclined to pay the same "P" any longer. It's unclear where this might go, and sometimes these things take six to 12 months to sort themselves out. We're right in the middle of it now.
Anyone looking for a silver lining might want to check out how VIX, the market's most closely watched volatility indicator, acted during the last hours of the day. If you look closely, you'd see that it pulled back a bit in the last part of the session from intraday highs above 19.
Next Up: Autos
Attention could shift to the automotive sector when Ford Motor Company (NYSE: F) reports after the close today and General Motors Company (NYSE: GM) issues results before the open Thursday. There's a truckload (pardon the expression) of things to consider ahead of not just these two behemoths but also Tesla Inc. (NASDAQ: TSLA), which according to the company's web site reports May 2.
First, Ford is embarking on a huge program to save $14 billion, but, like all car companies, faces pressure to ignite its research and development (R&D) efforts to keep up with advances in electric and autonomous cars. At this point, F, which has lower margins than GM, is actually spending more money on R&D than its Detroit counterpart. Anyone who's long F should consider listening to the company's earnings call to see if there's more clarity on where those savings might come from, and what they're going to chop if it's not R&D. At this point, one school of thought suggests that F is spending too much and not getting enough bang for its buck, but perhaps we'll learn more Wednesday.
A question for GM, and maybe the U.S. auto industry as a whole, is what's happening in China. Not long ago, 50 percent of GM's revenue came from China, but now that's below 40 percent. The company has closed some plants there. Is the Chinese market not growing at the pace we thought, or is Buick getting less popular over there? It seems unlikely that the latter would be true, so perhaps there's something about the former that GM might address in its call, and, if that's the case, might be something other U.S. car companies also have to address.
TSLA doesn't report until next week, but there may be questions for the company about its own R&D after an analyst note came out recently speculating about TSLA's development costs. Some analysts doubt if TSLA can achieve the Model 3 production it's promised in the time frame the company has forecast. TSLA announced two temporary Model 3 plant shutdowns last week but said the shutdowns had been planned.
Though TSLA's cars don't need it, crude oil comes under a microscope this week as President Trump holds meetings in the White House with French President Emmanuel Macron. The Iran nuclear agreement is a key topic.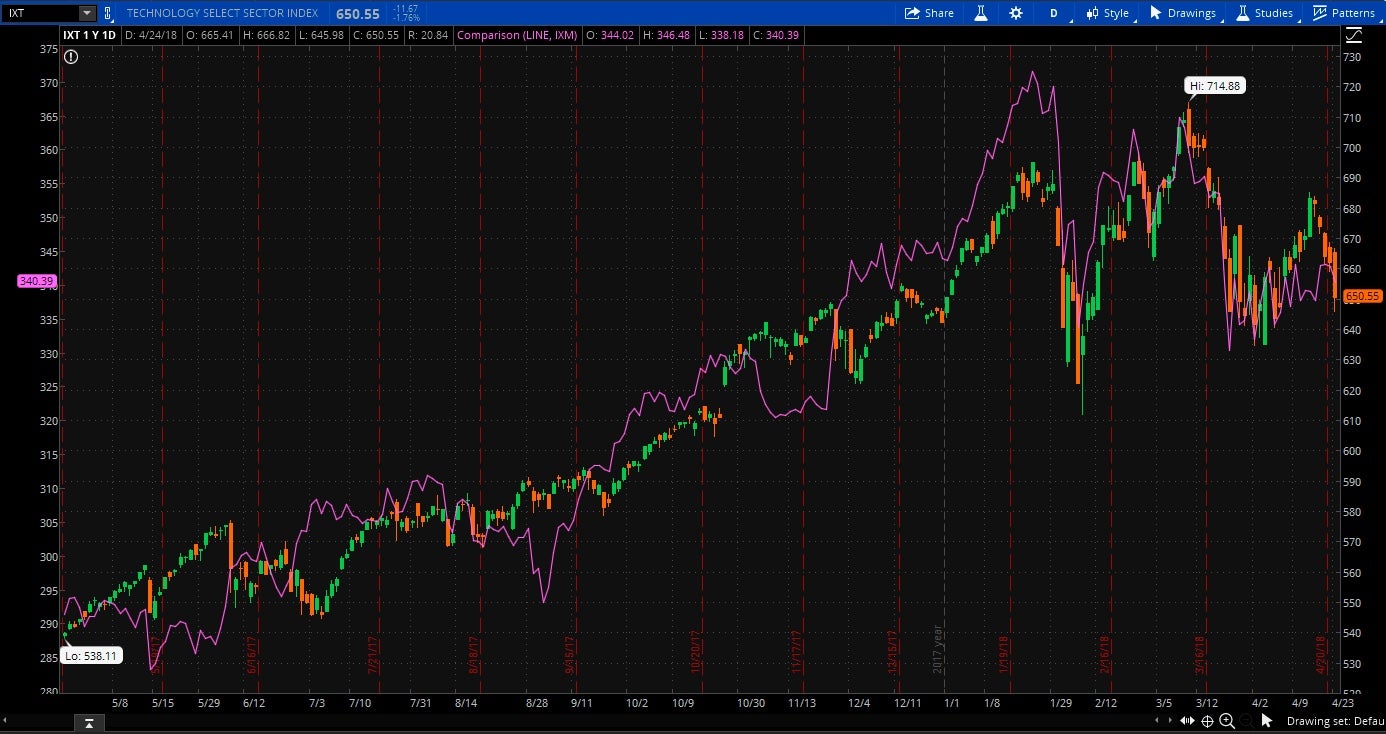 FIGURE 1: HOW THINGS CHANGE. The tech sector (candlestick) and financial sector (purple line), mapped here over the last year, led the charge through much of 2017 and right into the first month of 2018. Since then, these two former leaders have seemed to lose their way, and that's one possible reason the market lacks direction. Data source: S&P Dow Jones Indices. Chart source: The thinkorswim® platform from TD Ameritrade. For illustrative purposes only. Past performance does not guarantee future results.
Buyers Pay Up in Chicago
Some call Chicago, "The most American city." That may or may not be the case, but the city's real estate market in March seemed to reflect some of the broader American trends in housing. Existing home prices rose more than 5 percent nationwide last month, and in the city of Chicago prices hit an all-time high median of $314,000, according to Illinois Association of Realtors. That was up more than 6 percent from a year earlier. However, total sales around the country fell more than 1 percent year-over-year, and Chicago's market also saw less turnover, with the number of sales falling more than 10 percent. In sum, Chicago seemed to be a microcosm of a housing market characterized by rising prices and falling supplies. That might sound like a good opportunity for home builders, but rising mortgage rates raise question marks.
ECB Up Next
One thing that's arguably helped hold back U.S. yields is lower yields in Europe and Japan. However, the European Central Bank (ECB) has been removing some stimulus and meets again this week. An update is due Thursday morning. The Bank of Japan (BOJ) seems inclined to stay put with its current accommodation, BOJ Governor Haruhiko Kuroda told CNBC in a recent interview, saying "risks are skewed to the downside" in Japan's economy.
GDP Time Already?
Earnings grab most of the headlines this week, but don't forget to watch Friday for the government's first read on Q1 gross domestic product. The report is due out before the opening bell and could give investors a sense of whether the economy continued its solid run that started in Q2 of last year. The consensus among analysts is that things slowed down a bit between January and March, to around 2.1 percent, Briefing.com said. That's down from the final Q4 read of 2.9 percent, which marked the third-consecutive quarter of growth around 3 percent. Typically, GDP is closely watched but doesn't tend to move the market unless it comes in well above or below expected levels. The government does get two more cracks at the ball, so this isn't the final word.
Information from TDA is not intended to be investment advice or construed as a recommendation or endorsement of any particular investment or investment strategy, and is for illustrative purposes only. Be sure to understand all risks involved with each strategy, including commission costs, before attempting to place any trade.