The giant of the software sector has done it again. Microsoft (MSFT) has just released fourth-quarter earnings results that, despite a long string of earnings wins for the company in the past year, continued to please investors and send shares up to new all-time highs. It seems like so long ago that Microsoft was falling flat on disappointing Windows/Office growth and the company played victim to a string of bearish calls from Wall Street analysts. Now, the company looks almost sure to cross $1 trillion in market cap sometime within the next twelve months.
While acknowledging that Microsoft isn't a value play, I remain long on Microsoft and believe it is one of the few long-term holds among large-cap technology stocks that can nearly guarantee outperformance over several years. Yes, $1 trillion is an arbitrary milestone – but I wouldn't let go of my position for any less.
Progress toward $1 trillion
A quick check on where the company's market cap stands – as of Microsoft's Q4 earnings release, the most up-to-date share count indicates a fully diluted share pool of 7.775 billion average shares outstanding in Q4 (we'll get the period-end count when Microsoft files its 10-K for the year). After posting Q4 results, shares of Microsoft rallied to all-time highs above $108 before settling just above $106, which gives the company a fully diluted market cap of $826.2 billion at present. Hitting the $1 trillion mark at the current share count implies reaching a price target of $129, or 21% higher than current levels. In the year to date alone, Microsoft is already up 25% – and if its current trajectory of earnings beats and tremendous cloud growth continues, it's almost certain to rise another ~20% within the next twelve months.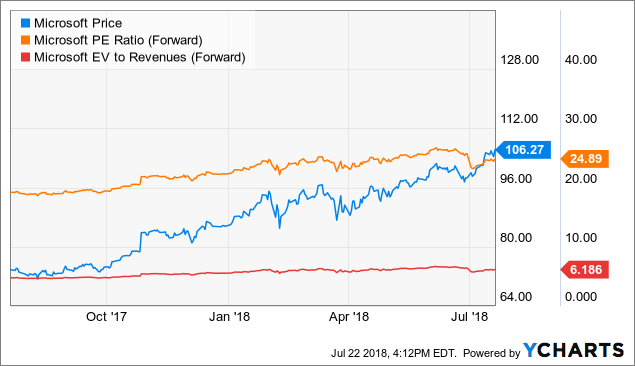 MSFT data by YCharts
Of course, when looking purely at Microsoft's valuation, it doesn't appear cheap. A 25x forward P/E and a 6.2x forward revenue multiple isn't bloated by any means (especially in a period of sky-high valuations for the majority of the SaaS sector), but it doesn't scream value either (especially when Oracle (ORCL), another large-cap software company I'm long on, trades at a sub-15x forward P/E).
We can justify this, however, with Microsoft's tremendous growth potential. Microsoft's revenue growth accelerated yet again in Q4 relative to Q3 and Q2, and at the same time, its revenue mix is shifting more and more into the cloud. Over the long term, a revenue base that's more deeply rooted in cloud has far more margin potential – thus explaining the massive 35% y/y growth in Microsoft's operating profits. When considering this level of profit expansion (operating profit growth is the best proxy we have for earnings growth this quarter, as net income growth is colored by last year's tax benefit), a 25x forward P/E doesn't seem too unreasonable.
One of the biggest lynchpins in the Microsoft growth story, in my opinion, is that the company is no longer consumer-centric or backend-centric. It no longer relies on the Windows/Office consumer combination to drive its business, nor is it wholly reliant on Azure and enterprise services (though the majority of the engineering focus is on building out enterprise applications). Over the past few years, as highlighted by its astute M&A strategy, Microsoft has ambitions in both consumer and enterprise – and it has the potential to dominate both.
Microsoft's $26 billion purchase of LinkedIn is now looking smarter and smarter, with the company gaining access to 575 million consumers (user count as of the end of Q4) and its first foray into a social networking service. LinkedIn posted 37% y/y revenue growth in Q4, which is a huge revenue growth contributor. Its push into Microsoft Teams, an application that takes on Workplace by Facebook and Slack, also highlights the company's ambitions in frontend, consumer-facing tools. But neither is it ignoring its more serious backend ambitions, as highlighted by its $7.5 billion purchase of GitHub, a developer-focused code repository and software development platform.
In essence, Microsoft is now no longer either purely a consumer or enterprise company. It has massive offerings in both, including gaming, devices, OS software, SaaS and IaaS services, and others. With huge growth drivers in each, Microsoft's path to $1 trillion looks more and more likely.
Q4 download
Here's a look at Microsoft's blowout fourth-quarter results:
Figure 1. Microsoft Q4 results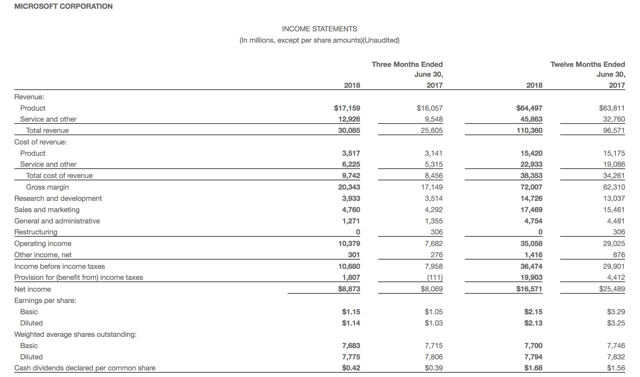 Source: Microsoft investor relations
Revenues grew 18% y/y to $30.1 billion, continuing a recent trend of acceleration (revenues had grown 16% y/y in Q3, which in turn leapfrogged over growth of 12% y/y in Q2). The fact that Microsoft has been able to pull off sequential acceleration despite its massive >$100 billion revenue scale is a huge feat. Note also that FY18 was the first year in which Microsoft managed to surpass $100 billion in revenues, a milestone very few companies have ever reached. Microsoft also surpassed Wall Street's revenue expectations of $29.2 billion (+14% y/y) by a huge four-point margin.
As usual, the growth was broad-based. Azure, a major focus for the company as it continues to gain share against dominant market leader Amazon AWS (AMZN), grew 89% y/y in the quarter. Meanwhile, the frontend application services that complement Azure also continued their recent strength. Microsoft's suite of Dynamics applications, powered by the cloud-based offerings within Dynamics 365, grew 11% y/y on a total basis and 65% y/y for Dynamics 365 alone.
But perhaps what's surprising to casual observers is that Microsoft's consumer segments are showing strength as well. In addition to maintaining growth in the Office and Windows product segments (which are also showing strength among commercial clients), Microsoft's consumer-oriented services are also rising, with a 39% y/y growth in gaming (led by Xbox), 25% y/y growth in Surface devices, and 12% y/y growth in search (Bing). This underpins the thesis that Microsoft isn't focusing on one side of the business while the other fades away – Microsoft is aiming on preserving its dominance in both consumer and enterprise technologies.
The greater mix of cloud revenues, meanwhile, as given a lift to Microsoft's gross margins, which saw one point of improvement in Q4 to 68%. Meanwhile, expense growth of just 9% y/y slowed down relative to revenue growth, allowing the company to achieve huge margin expansion.
On a GAAP basis, Microsoft achieved an operating income of $10.4 billion, representing an operating margin of 34.5%. That's up 35% y/y over operating income of $7.7 billion in the year-ago period, and 450bps of operating margin improvement relative to 4Q17's operating margin of 30.0%.
Amy Hood, Microsoft's CFO, also noted that the company should see further gross margin expansion in the year ahead on the earnings call:
We expect continued improvement in each commercial cloud service, as well as in the overall commercial cloud gross margin percentage. The rate of improvement will moderate relative to FY18 as revenue mix continues to shift to Azure IaaS and PaaS consumption-based services, and we realize less year-over-year improvement in our per-user services."
Pro forma EPS in the quarter of $1.13 also handily beat Wall Street consensus of $1.08.
Final thoughts
It's getting harder and harder to justify a bet against Microsoft. Despite being an investor who is heavily conscious of valuations, it's difficult to argue against Microsoft's growth story in justifying its premium P/E ratio. Particularly encouraging to me is the fact that Microsoft is achieving tremendous growth on both the enterprise and consumer fronts, and its M&A strategy has effectively carved out a spacious runway for growth in both territories.
Unlike the majority of technology stocks, Microsoft is a company that investors can buy and hold for the long term without losing sleep at night. Its path to $1 trillion within the following year is virtually clear, barring any broader market downturns.
Disclosure: I am/we are long MSFT.
I wrote this article myself, and it expresses my own opinions. I am not receiving compensation for it (other than from Seeking Alpha). I have no business relationship with any company whose stock is mentioned in this article.