Micron (MU) had a stellar Q1 earnings report, with EPS and revenue both beating projections by a sizable margin. Coupled with 2018 forecasts memory calling for excess demand, DRAM and NAND prices should remain high. Going into Q2, Micron should continue to benefit from margin expansion on their products and a favorable pricing environment.
After a stellar first quarter, Micron is looking at an EPS of $2.45 over a forecasted EPS of $2.19, and quarterly revenue of $6.8B, up 71% from Q1 2017. Revenue growth was driven by mobile, server and SSD products.
The gross margin is at 55.4%, up 4% from Q4 2017, and more than double the 26.0% gross margin reported for Q1 2017. The increase is due to efforts undertaken for margin expansion both in DRAM and NAND products, as well as high flash prices at the time.
The operating cash flow was $3.64B, up 220% from Q1 2017. Micron also announced that they bought back $2.2B of long term debt, bringing the total long term debt down to $7.6B.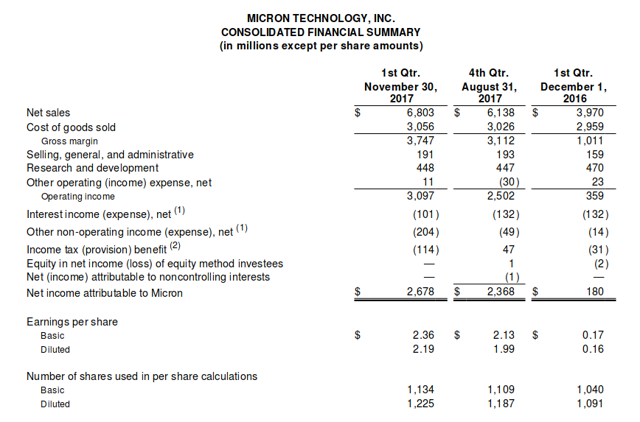 Strong quarterly performance from Micron has almost come to be routine. Yet revenue growth continues to be contingent on the pricing environment for flash memory. Taking a look at 2018 pricing forecasts, strong demand will continue to outpace supply growth, continuing the beneficial pricing environment for flash memory companies.
According to DRAMeXChange 2018 forecast, the supply for DRAM is expected to grow 19.6%, with demand forecasted to grow 20.6%. The increased demand of memory from datacenter expansion and the mobile sector should continue to drive Microns revenues in 2018. SK Hynix and Samsung will not be able to open new DRAM facilities until 2019 at the earliest. While SK Hynix and Samsung have be able to reassign factory space to producing DRAM, both of Microns plants in Hiroshima, as well as its Taiwan subsidiary, are running at full capacity. Yet, as it stands, Micron has not announced any plans for increasing production capacity in the near term.
However NAND flash memory may be in for a period of oversupply in Q1 2018, as consumer product sales decrease after the holiday period. As suppliers lost capacity transitioning from 2D-NAND to 3D-NAND last year, the manufacturing capacity has caught up. However, oversupply may lead to underproduction this quarter, which may lead to a storage in the near future. We should continue to see increased server demand stabilize the seasonal flux in flash memory demand as datacenter revenue continues to grow.
Overall, the DRAM and flash memory markets are forecasted to continue to swing in Microns favor. Coupled with margin expansion products in their manufacturing facilities, Micron is currently in a favorable position to continue to expand their revenue into next quarter, and likely continue the trend of surpassing analyst estimates.
The valuation of the stock has risen as expected following the Q1 2018 earnings report. However, is this a good time to buy? Over the past year, Micron has seen mixed investor response to earnings, with the stock experiencing a quick sell-off by investors trying to lock-in gains.
However, considering the trend over 2017, I think that the stock is in a good position to to break through the $50 resistance line over the next 3 month period by the most conservative estimates. The dark blue 50 day moving average indicates that the stock price is currently breaking away from the long term trend, indicating that the stock should be able to build momentum off this quarters earning reports. Furthermore, the orange trend line following the long term trend of the stock indicates that we will be retesting the $50 mark soon. Given the current support line around $42, a conservative estimate give 3 months until $50; more aggressive models may indicate that the stock will reach the resistance point within a month, following the 4-month trend indicated by the orange dashed line.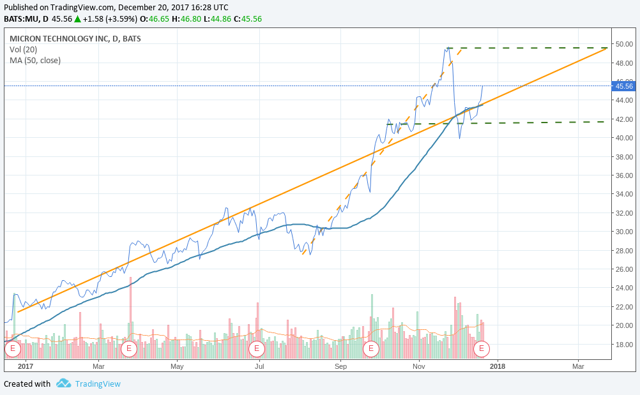 In conclusion, Microns solid performance is backed by a sellers market in 2018, with growing demand from data centers driving DRAM and flash NAND prices. With memory production capacity from major market players Samsung, SK Hynix and Micron limited for the 2018 FY, it seems likely that Microns financial performance will continue to delight shareholders. Micron remains a good long term hold, and is still a strong buy recommendation.
Disclosure: I am/we are long MU.
I wrote this article myself, and it expresses my own opinions. I am not receiving compensation for it (other than from Seeking Alpha). I have no business relationship with any company whose stock is mentioned in this article.
About this article:ExpandAuthor payment: $35 + $0.01/page view. Authors of PRO articles receive a minimum guaranteed payment of $150-500.Tagged: Investing Ideas, Long Ideas, Technology, Semiconductor – Memory ChipsWant to share your opinion on this article? Add a comment.Disagree with this article? Submit your own.To report a factual error in this article, click here