Chancellor Angela Merkel reached a preliminary accord with Germany's Social Democrats to negotiate a coalition government, advancing her bid for a fourth term, according to people to familiar with the discussions.
After a marathon of more than 24 hours of talks to end Germany's political gridlock, leaders of Merkel's Christian Democratic Union, her Bavarian sister party and the Social Democrats hammered out a 28-page agreement and are due to announce the deal later Friday in Berlin, said the people, who asked not to be identified speaking ahead of a public announcement. 
Almost 16 weeks after her party won an inconclusive federal election, Merkel's second attempt to restore leadership in Europe's dominant country yielded progress, with an agreement to move on to a shared program for government.
The deal, which was still being discussed by SPD members, includes deeper federal government involvement in education and changes to health insurance, the people said. The deal, which avoids any tax increases, has already been approved by the CDU's working group, they said.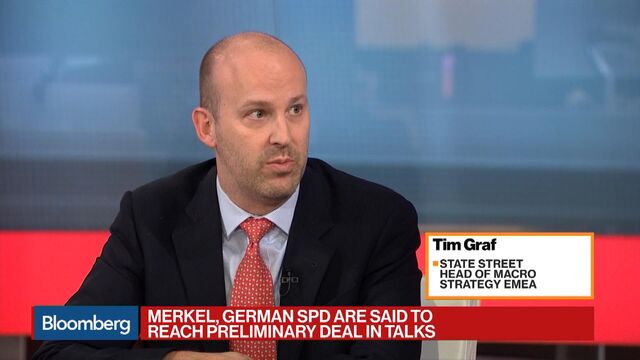 assets.bwbx.io/images/users/iqjWHBFdfxIU/i6mv.CnV7c2g/v5/680x-1.jpg 680w, assets.bwbx.io/images/users/iqjWHBFdfxIU/i6mv.CnV7c2g/v5/740x-1.jpg 740w" sizes="(min-width:761px) and (max-width:1020px) 680px, (min-width:1021px) and (max-width:1280px) 640px, (min-width:1281px) 740px, 100vw">
Germany's political status quo is "no bad thing" given the economy's performance, says State Street's Timothy Graf.
Source: Bloomberg
The main hurdle to a rerun of the so-called grand coalition of the two main parties now lies with the Social Democrats, who at first refused to extend their alliance with Merkel after suffering their worst electoral defeat since World War II. The SPD leadership will put the result of the exploratory talks to a party convention on Jan. 21.
Read more: Five policies that will make or break Merkel's next coalition
The German parties' glacial place in setting up a new administration is testing the patience of voters who gave Merkel's Christian Democratic-led bloc the most votes in the Sept. 24 contest. Merkel, 63, has been acting chancellor since, putting most policy making in Europe's biggest economy on hold.
While the German economy goes from strength to strength, her bloc and the Social Democrats are seeking to hold a political center that's been eroded by the rise of the far-right Alternative for Germany, or AfD.
Many SPD members are wary of serving as Merkel's junior partner for a third time after the party's support plunged to the lowest level since World War II in September's federal election. Should the SPD party conference in Bonn approve the preliminary deal this month, the negotiating partners will embark on weeks of formal coalition talks to set the agenda of the new government.
The chancellor is under pressure to succeed after her attempt to patch together a coalition with the Green party and the pro-market Free Democrats failed in November. Any coalition pact will have to cover the gamut from left-wing SPD members to the socially conservative CSU in Bavaria.