Shares of MEI Pharma (MEIP) have risen by 60% year to date and are in the red by as much over the past three years.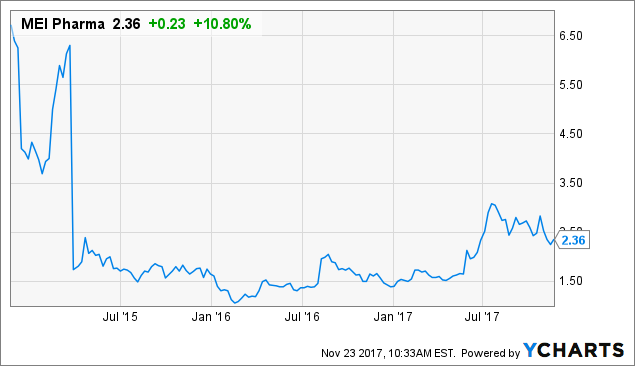 MEIP data by YCharts
At the ASH (American Society of Hematology) Annual Meeting last year the company along with Swiss pharmaceutical company Helsinn reported (oral presentation) final results from a mid-stage study evaluating the combination of lead drug candidate Pracinostat and azacitidine in elderly patients with acute myeloid leukemia who were not eligible for induction chemotherapy. Median overall survival was 19.1 months, the one-year survival rate was 62% and complete response rate was an impressive 42%.
Principal investigator Dr. Guillermo Garcia-Manero had the following to say:
The results from this study of Pracinostat and azacitidine in elderly patients deemed unfit for intensive therapy are particularly encouraging. Despite recent advances in the treatment of AML, options for these elderly unfit patients remain limited. The combination of Pracinostat and azacitidine appears to show a long-term survival benefit in this population, including an unprecedented two-year survival rate of 41% in this study. Furthermore, the prolongation of survival over what is generally expected for azacitidine alone is observed not only in the overall population, but across virtually every defined patient subset, including cytogenetic risk group, de novo or secondary AML, age and ECOG performance status.
At ASCO in June the company along with Helsinn announced findings from a genetic mutation analysis of patients in the study which revealed a significant correlation between genetic mutations in the DNA methylation pathway and clinical response. Samples from 41 of the 50 patients enrolled revealed that the most frequent mutations occurring in 37% of samples studied were found in the DNA methylation pathway. These patients had a complete response rate of 60% (p=0.027), much better than the 22% observed in patients with wild-type genes. The analysis also revealed that median OS was similar to that of patients with mutations associated with de novo AML and secondary AML, around 17 to 18 months. Contrast this to results from a study of standard 7+3 therapy in secondary AML patients who experienced overall survival of just 5.9 months.
In August it was announced that the first patient had been dosed in the pivotal phase 3 study of Pracinostat in combination with azacitidine in adults with newly diagnosed AML who are unfit to receive intensive induction chemotherapy. 500 patients will be enrolled in this global double-blind, placebo-controlled trial with the primary endpoint being primary endpoint being overall survival. Keep in mind that Pracinostat has been granted the coveted Breakthrough Therapy Designation from the FDA and that the company stands to receive up to $444 million in future milestones from partner Helsinn plus royalties, not mention the benefit of sharing costs in the clinic.
At the end of May it was announced that an independent Safety Review Committee completed its review of the first cohort of six evaluable patients in a phase Ib dose-escalation study of ME-401, an oral PI3K delta inhibitor in relapsed/refractory chronic lymphocytic leukemia and follicular lymphoma. A starting dose of 60 mg (minimum biologically effective dose or mBED) was recommended with possible escalation to a 120 mg dose cohort. From this we can infer that at least 3 of 6 patients responded after being initially assessed at 8 weeks. Importantly, the safety profile appeared manageable with no reports of ALT/AST elevations, colitis or pneumonitis. One subject had grade 3 neutropenia and none of the patients discontinued treatment.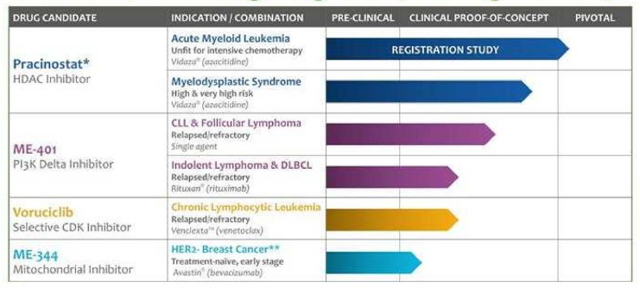 Figure 2: Pipeline (source: Stifel presentation)
For the first quarter of fiscal year 2018 the company reported cash and equivalents of $47.0 million, which management believes will provide an operational runway into 2019. Research and development expenses more than doubled to $6.7 million, as did net loss which amounted to $8.8 million. Cash used in operating activities was $6.6 million. I assume they have around 4 to 5 quarters of cash (expenses will likely increase), so it麓s likely there will be dilution in the near term.
There are several material catalysts coming in the near to medium term that could boost shares much higher. Results from the first stage of a phase 2 dose-optimization study evaluating Pracinostat in myelodysplastic syndrome (NYSE:MDS) are due in the first half of next year. Results from a proof of concept study evaluating ME-401 in CLL and FL will be presented at a scientific meeting in the first half of 2018 as well. Lastly, the company should report interim data from a proof of concept study in HER2 negative breast cancer evaluating ME-344 in combination with Avastin.
Keep in mind that in March 2015 shares plummeted more than 60% when top-line data from a mid-stage study of Pracinostat in front-line MDS showed no difference in the rate of complete remission as compared to azacitidine alone. Also of concern was that certain adverse events (fatigue, gastrointestinal toxicities and myelosuppresion) were observed and led to a high rate of drug discontinuations. Many of these drug discontinuations took place within the first two months of treatment, while patients who received at least 4 cycles of therapy showed better PFS and OS (suggests limited efficacy was due to insufficient exposure). Management believes that a reduced dose could result in an improvement in tolerability issues while still boosting efficacy
MEI Pharma is a Buy.
Readers who have done their due diligence and are interested in this story should purchase a pilot position in the near term. After making the initial pilot purchase, I would wait for a secondary offering or other form of funding to be accessed before adding to one`s stake.
As the stock has been trading in a volatile manner with a wider spread, readers are encouraged to use limit orders on trades. There are currently around 37 million shares outstanding (float 34 million), with 8% or so held by insiders and less than 20% held by institutions. This is a medium term trade, as I expect the stock to do well throughout 2018 with data readouts coming mid-year. Due to promising prior results and the design of the studies, in the event of a runup readers could do well to take partial profits and retain upside through readouts and potentially beyond.
Risks include disappointing data from late and early stage studies, particularly Pracinostat in MDS and ME-401 in CLL/FL. Setbacks with other clinical programs and dilution in the near to medium term are also a concern. Competition is quite high in indications being targeted, so even if data is positive that is no guarantee that the stock will benefit.
Author's note: My goal is to bring to readers' attention undervalued stocks with catalysts that could propel shares higher, as well as provide a fresh perspective on stocks you may already be aware of. I also touch on planning trades and risk management, as those are two areas I feel are often neglected. If you found value in the above article, consider clicking the orange "Follow" button and getting email alerts to receive my latest content. My sincere appreciation for readers who add value and join the discussion in the comments section, as well as those who share my work with others who could benefit from it.
Disclaimer: Commentary presented is not individualized investment advice. Opinions offered here are not personalized recommendations. Readers are expected to do their own due diligence or consult an investment professional if needed prior to making trades. Strategies discussed should not be mistaken for recommendations, and past performance may not be indicative of future results. Although I do my best to present factual research, I do not in any way guarantee the accuracy of the information I post. Investing in common stock can result in partial or total loss of capital. In other words, readers are expected to (and encouraged) form their own trading plan, do their own research and take responsibility for their own actions. If they are not able or willing to do so, better to buy index funds or find a thoroughly vetted fee-only financial advisor to handle your account. I am in a collaborative relationship with The Biotech Forum/Bret Jensen.
Disclosure: I/we have no positions in any stocks mentioned, and no plans to initiate any positions within the next 72 hours.
I wrote this article myself, and it expresses my own opinions. I am not receiving compensation for it (other than from Seeking Alpha). I have no business relationship with any company whose stock is mentioned in this article.
Editor's Note: This article covers one or more stocks trading at less than $1 per share and/or with less than a $100 million market cap. Please be aware of the risks associated with these stocks.
About this article:ExpandAuthor payment: $35 + $0.01/page view. Authors of PRO articles receive a minimum guaranteed payment of $150-500.Tagged: Investing Ideas, Long Ideas, Healthcare, Drug Manufacturers – OtherWant to share your opinion on this article? Add a comment.Disagree with this article? Submit your own.To report a factual error in this article, click here