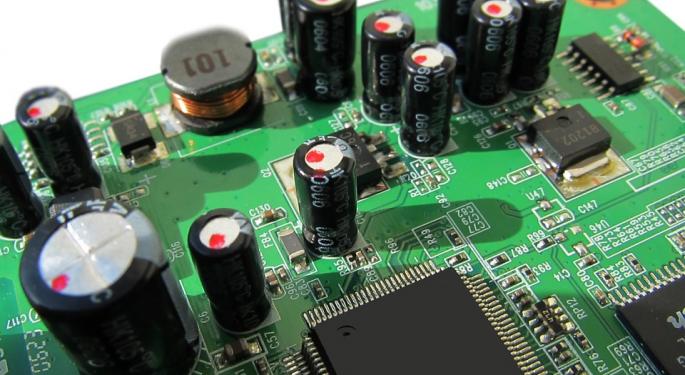 This earnings season has been a mixed bag for many of the big name technology and semiconductor companies. NVIDIA Corporation (NASDAQ: NVDA) surprised analysts with impressive sales for the first quarter, but Advanced Micro Devices, Inc. (NASDAQ: AMD) and International Business Machines Corp. (NYSE: IBM) reports were met with more underwhelming investor response.
While picking this year's break-outs from the large-cap tech companies has proven difficult, Marc Chaikin, the founder of the stock research platform and 2017 Benzinga Global FinTech Award winner for the category of Best Trading Idea Platform, Tool, or App Chaikin Analytics, remains bullish on the sector, specifically in those tech stocks with a lower profile than the analyst and hedge fund favorites.
Chaikin appeared on Tuesday's edition of Benzinga's PreMarket Prep morning show to explain the myriad factors that contributed to his long call on small-cap tech stocks, as well as how his platform's Chaikin Power Gauge directed his attention to three stocks in particular.
Small-Cap, Big Sales
According to Chaikin, what drew his attention to the tech sector were the many examples of large-cap tech and semiconductor stocks that have exploded off of stellar sales in recent months. However, while analysts adjusted their estimates on these larger companies, Chaikin recognized potential in the value stocks in the industry. Potential that was borne out by fundamentals.
Said Chaikin, "The positive earnings surprises in small-cap stocks that are typically underfollowed by Wall Street analysts, [those are two] of the factors in our model, earnings surprise and Wall Street analyst estimate revisions, when these small cap stocks report positive earnings surprises and they've got solid technicals and fundamentals to go with it, you see a pattern of analysts starting to raise their estimates and new analysts starting to follow the stocks."
Hidden Gems
Chaikin pointed to several stocks in particular that he is interested in based on strong earnings surprises, however, he also pointed to the technical strength of the companies, all three of which are up between 15 and 44 percent since the start of the year and have posted new all time highs within the past 30 days.
"We have three stocks that we have identified, Excelis Technologies Inc (NASDAQ: ACLS), Cohu, Inc. (NASDAQ: COHU), and Entegris Inc (NASDAQ: ENTG). All of these companies spiked up on their recent positive earnings surprises and they've now pulled back to the point that we think they're attractive"
Bolstering Chaikin's confidence in his picks is a bullish rating on all three from his own Chaikin Power Gauge.
"Very often in the small-cap space you can find hidden gems and our Chaikin Power Gauge which synthesizes these 20 key factors value, growth, sentiment, and technicals is a great way to find hidden gems in the small cap area…The model is robust and broad-based. It's not just looking at value metrics or growth metrics or small or large cap, it synthesizes all of these and it finds a lot of different ways to like stocks."
A Winning Record
Capping off his argument, Chaikin referenced the long term track record of the Chaikin Power Gauge in picking hidden gems by indicating the stellar performance of the NASDAQ Chaikin Power US Small Cap Index (NASDAQ:NQUSCHK), which contains stocks with a bullish Power Gauge rating and has outperformed its benchmark index by more than 100 percent since its introduction in 2014. Chaikin is currently preparing to launch several Power Gauge ETFs with Index IQ later this year that will contain stocks in each of the platforms several indexes.
To listen to the full interview with Marc Chaikin, tune in at the 14:25 mark in the track below.
PreMarket Prep is a daily trading ideas show that focuses on technical analysis and actionable short term trades. You can listen to the show live every morning from 8-9 ET here, or catch the podcast here.