What happens when you as an author begin writing an article with preconceived notions subtly expecting to reaffirm your original thesis and move on to the next one, then realize mid research that you are likely wrong on a key assumption and alter your stance? This article!
I have held Marathon Oil (NYSE:MRO) (the oil producer, not the refiner) for around two years now, purchasing this company during the oil crash at a price of roughly $14/share. It turns out that I was a bit early in my oil grab, and as such, it has been a poor performer during those two years.
But I was unmoved from my long-term stance as I planned to hold this stock for potentially 5 to 10 years to fully capitalize on the oil company's reemergence as a cost per barrel leader, balance sheet reform, a potential acquisition candidate, and most importantly, the oil market stabilization and long-term re-inflation of oil prices and as such oil producers' stocks.
Well, it appears that only three out of those four items may be true. Unfortunately, for my thesis, the fourth and most important appears to be much less certain than before. Making this investment more of a trade than a long-term hold. Below I will explain my thinking on these four points and my likely stance for this year and beyond.
1) Marathon's Resource Cost Transition
Marathon Oil, like many others in the industry, has done a fantastic job of lowering its expenses and improving its production base, as evidenced by the recent divestiture of its Canadian oil sands assets and its entry into the Permian Basin. I think this was an absolute coup for Marathon, adding to its lower cost inventory and divesting oil sands assets which are both high-cost and politically dangerous.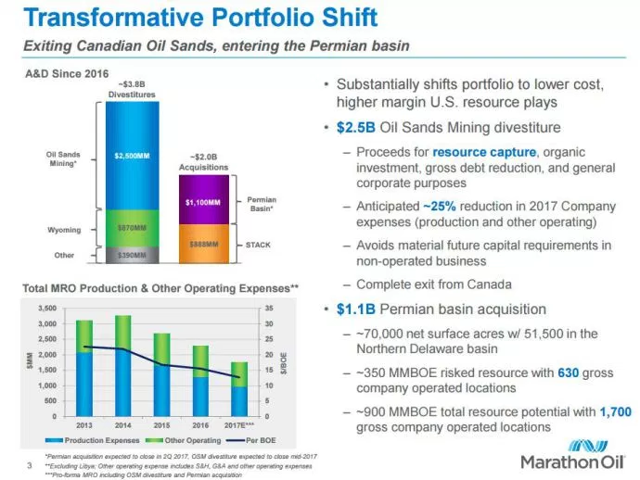 Source: Marathon Oil Barclays Conference
Marathon has also been busy on the corporate side, slashing its G&A costs by a whopping 35%. It is clearly "picking up what the oil market is throwing down" in that the days of cushy do nothing jobs and pet projects of senior management are over!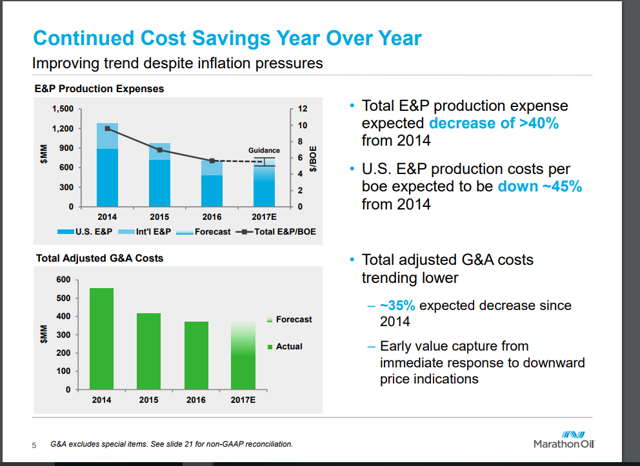 Source: Marathon Barclays Conference
The transformation in assets is further evidenced by the following slide estimating the break-even costs by basins; the blue being Marathon's main plays, the green the newly acquired, and the red the divested oil sands. Caveat being that estimating the true break-even point of an oil company to be next to impossible and appears to be a closely held secret. Frankly, I do not have the time nor the will power to attempt this… So I won't!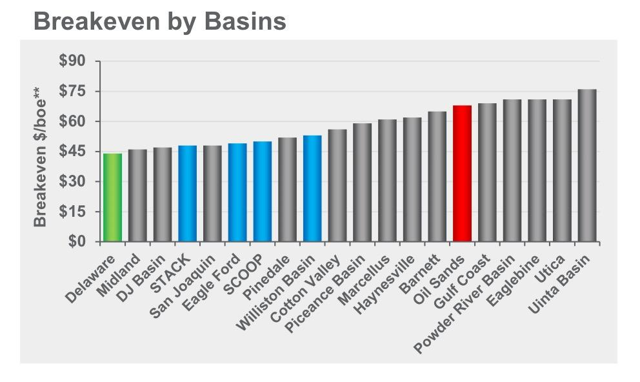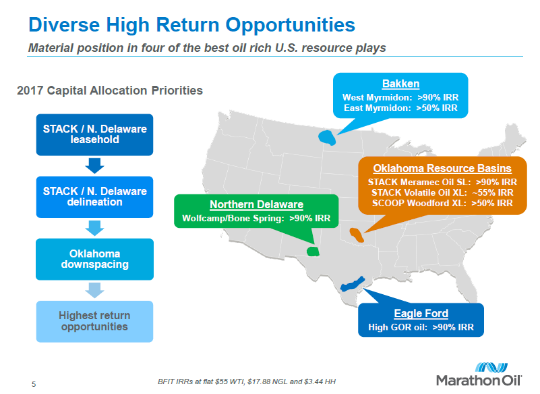 Source: Author Daniel Jones on SA
The main conclusion from this is that the company appears to be on the right track cost wise and perhaps leapfrogging some competitors. Marathon has long been thought to have a higher break-even than others in the industry and as such traded at a discount. Perhaps that line of thinking should change.
I always hesitate to rely on or believe corporate slides; however, it does appear in the 10-Q and earnings information that this data is credible.
2) Balance Sheet Repair & Reform
Marathon certainly seems to be active on the balance sheet as well. The below slide illustrates exactly what I want to see out of a company; proactive moves to reduce debt, extend maturities, and reduce interest expense.
This move I believe was brought to us by way of the shrewd oil sand divestiture proceeds net the acquired assets and helps to further de-risk the company and pave the way for profitable expansion.
Another slide via the Barclays Conference below: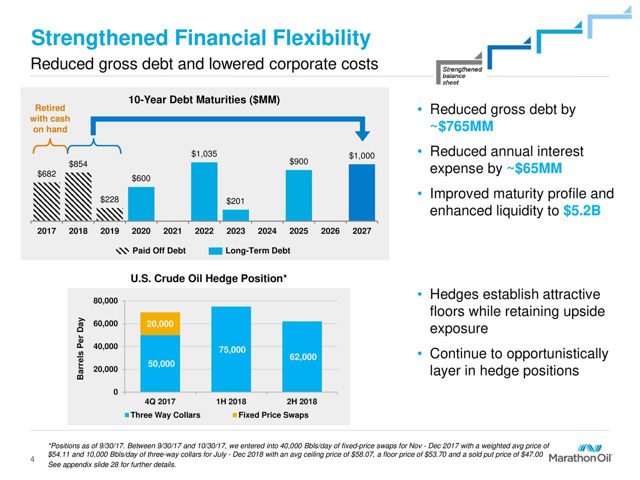 Source: Marathon Barclays Conference
Marathon also slashed its dividend in 2015 from .21 per quarter to .05, which I know is a source of great shame for many but that I view positively and honestly believe should have been done a few quarters sooner!
Lately Marathon has been under strict orders to operate within cash flows and has been delivering with some room to spare as the latest 10-Q shows free cash flow of $182 million.
Marathon now proudly holds a net debt ratio slightly above 28%, placing it in good company among oil majors.
3) Potential for Acquisition
I know, I know… If it hasn't been acquired by now, why would it right? Marathon is always kicked around by analysts and pundits as a potential takeover candidate; yet, here it is, free and independent. So why should that change?
It shouldn't… simply because it is a good candidate for a takeover! The market cap of Marathon today is $13.6 billion. This falls into the "easily digestible" category for a plethora of oil majors.
With the changes that have happened with Marathon's asset base in 2016-2017 along with the apparent stabilizing of world oil markets, you have to think that at some point majors will sniff around and kick the tires to help them lower costs of production or to improve their production profile as they begin to come out of the panic rooms they built in 2015.
Let me be clear that this is not a reason to own it nor is it my reason to continue to hold it, but I would be lying if I said it does not factor into my thesis at all.
If a company came in tomorrow with a $25 offer, I would have a hard time saying no to it as I imagine you would as well.
4) Long-Term Oil Prices
Now I get to the point of the article where I explain my third bullet point.
My prior assumption has always been that I had a solid 20 years to invest and profit in the oil sector until fossil fuels would be shunned and begin the steady decline in price due to demand side erosion reaching a tipping point around 2035 in a smooth and orderly way. Naturally assuming that the markets would act the same. And as Lloyd Christmas once stated: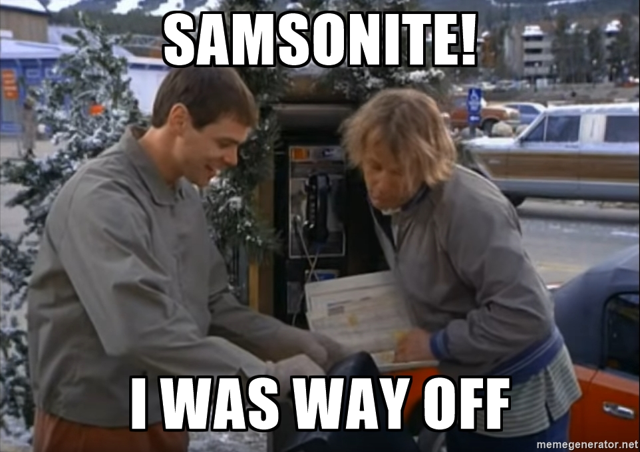 Source: Meme Generator
Oil prices have been the most volatile in modern history in the last decade, trending well above the steady levels of 1950 to 1974 and 1985 to 2005. Volatility breeds "discounting" in commodity producers' stocks, investors' natural enemy.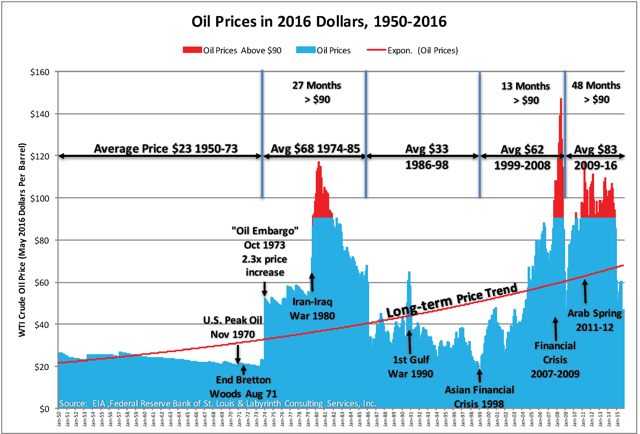 Source: Oilprice.com
Below are slides from BP (NYSE:BP) that explain its 2035 vision, outlining the company's forecast for energy consumption growth. Notice the trend lines in an oil & gas company's own forecast.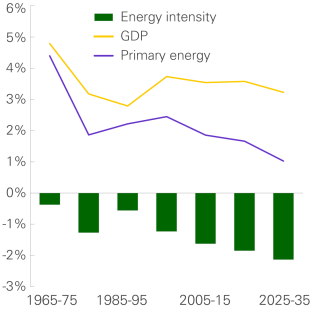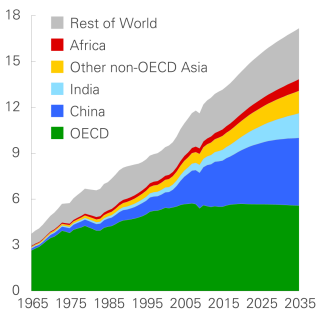 Source: BP
You're going to say but electric cars and renewables are but a minute fraction of total demand! And you would be correct! However, as we know the market is a forecasting machine. If you knew with near certainty that a hurricane was going to hit your house in six months, I would venture a guess that you would decide to head over to your local home goods store and buy some supplies to prepare right away even though you still had 180 days until disaster strikes.
However, if you knew with near certainty that sometime in 5 to 15 years a hurricane was going to hit your house, your potential actions and time frame of said actions would be much less clear.
The market acts in a similar way. Only with oil companies the underlying commodity may still rise and fall violently on short-term supply and demand issues whilst the companies that produce said commodity will be slowly discounted down more and more as the future becomes clearer.
I also found this VERY interesting slide in BP's report. It is a graph showing the projected cost of battery packs for electric vehicles. As you can see, BP is projecting parity between electric vehicles and gas as soon as 2021. Again this is from an oil producer, which has a vested interest in keeping markets calm and painting a rosy future.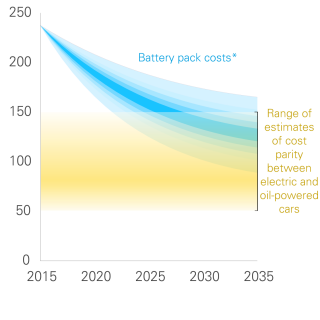 Source: BP
As we have seen with the "Amazon Effect," retail stocks were decimated well before any meaningful damage was done by the actual threat, trading at ridiculous PEs, and analysts were chopping price targets faster than the Brazilian rain forests.
My point is that oil companies will be heavily discounted well before any meaningful damage is done to demand. Figuring out exactly when that will be is likely a fool's errand and way above my pay grade at Seeking Alpha but ironically the price of oil may continue to rise due to instability and supply disruptions.
So where does this leave me with Marathon Oil?
My magic eight ball is coming back with the answer of "cloudy."
I really like this company and it seems to be getting its groove back by improving costs, firming up the balance sheet, divesting unprofitable assets, and acquiring a low cost inventory of acreage. All while still retaining a bit of a valuation discount in my opinion relative to the work it has done recently.
So what will I do?
In short, I am looking for a nice pop into the low to mid 20s, then sadly heading for the exits. When that will be is up for plenty of debate. Could it be this year? Maybe, with a mid-cap oil stock, that could happen at any time. A supply disruption, political instability or a war/skirmish in the Middle East (I really hope this doesn't happen BTW) and Marathon will be flying higher than a North Korean ICBM.
If I do not get my pop to the 20s in 2018, then I am content to hold this company for a maximum of two more years to allow the oil markets to recover from imbalance and see the fruit of the efforts put in during 2017.
However, in 2020, I am likely out of MRO and also my other oil name ConocoPhillips (NYSE:COP) which I also think is a fantastic company on the rebound.
Where I will go from there is a journey I have not fully contemplated yet; I may choose to boost my currently small position in Vestas Wind Systems ADR (OTCPK:VWDRY) or perhaps another alternative energy name.
Who knows what the future will be, but one thing is looking more certain to me than it did a few days ago, and it honestly makes me sad. My portfolio likely will be missing an oil name permanently in 2020.
Disclosure: I am/we are long MRO, COP, VWDRY.
I wrote this article myself, and it expresses my own opinions. I am not receiving compensation for it (other than from Seeking Alpha). I have no business relationship with any company whose stock is mentioned in this article.
Editor's Note: This article discusses one or more securities that do not trade on a major U.S. exchange. Please be aware of the risks associated with these stocks.
About this article:ExpandAuthor payment: $35 + $0.01/page view. Authors of PRO articles receive a minimum guaranteed payment of $150-500.Tagged: Investing Ideas, Long Ideas, Basic Materials, Oil & Gas Drilling & ExplorationWant to share your opinion on this article? Add a comment.Disagree with this article? Submit your own.To report a factual error in this article, click here