MannKind (MNKD) investors let out a bit of a Bronx cheer this week as Afrezza scripts surpassed the 500 mark for the first time since MannKind assumed full responsibility for marketing the inhaled insulin, and for the first time since Sanofi accomplished that script level in December of 2015. During the past year Afrezza spent 22 weeks in the 200's, 14 weeks in the 300's, and 14 weeks in the 400's before cracking the 500 mark as 2017 closed out. This week's numbers are the last week of the quarter and year that will not carry a holiday impact. The numbers with next week's report will include the Christmas holiday and the following week will include New Years. It may be a hard pill to swallow, but 18 moths ago scripts were at 250. It has taken 6 full quarters to see script counts double. When I first started tracking scripts, there were some that called my projections way to low and expected to be at 3,000 scripts a week a full year ago. As things sit now, Afrezza sales are now finally at 500 scripts a week.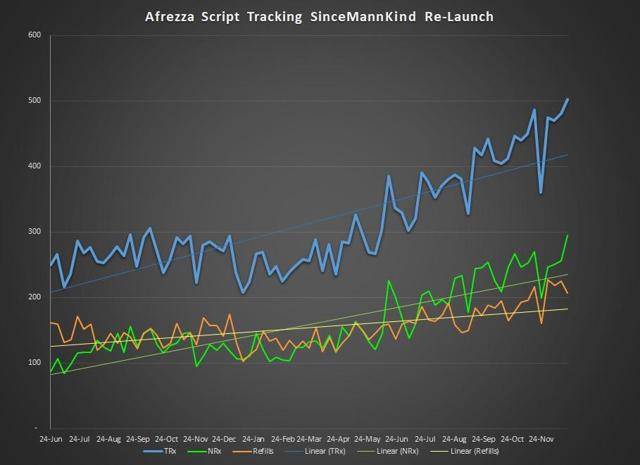 Chart Source – Spencer Osborne
For Q4 of 2017 Afrezza sales now stand at 5,333 scripts. This is the highest script quarter the MannKind sales force has generated in 18 months, and the highest since Sanofi delivered 6,481 scripts in Q4 of 2015. The quarter over quarter Afrezza sales numbers now stand at an improvement of 20.3% with just 1 week to go. While improvement is visible, 20% quarter over quarter growth is simply not going to impress the street. If similar performance happens in Q1 of 2018, scripts will stand at just above 7,000. If 20% growth lasted for a full year, scripts will finish 2018 at just over 12,000 (just under 1,000 scripts per week).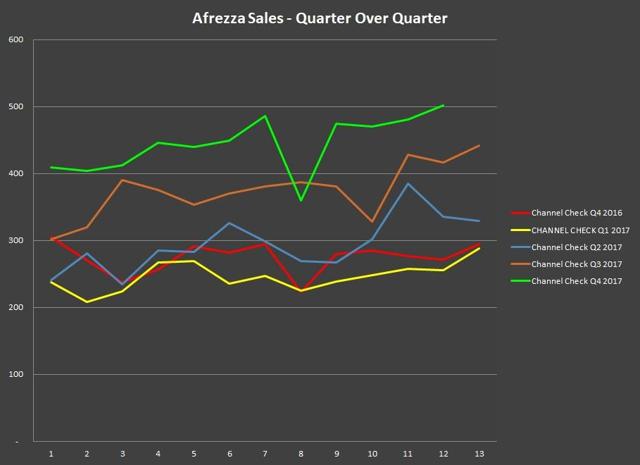 Chart Source – Spencer Osborne
The year over year numbers sound much better with an improvement of 62.94%. This number sounds impressive, but is more a signal of the sales hurdles that the team was facing a year ago than anything else. It does illustrate that the sales tea is in a much better place than it once was. In all likelihood scripts will be just above 5,800 for Q4 of 2018. What Q4 of 2017 had that Q4 of 2016 lacked is a new label delivered at the end of September, and an advertising push that started in early November. The new label has now had a full quarter and as yet does not seem to have delivered the spike many had hoped to see.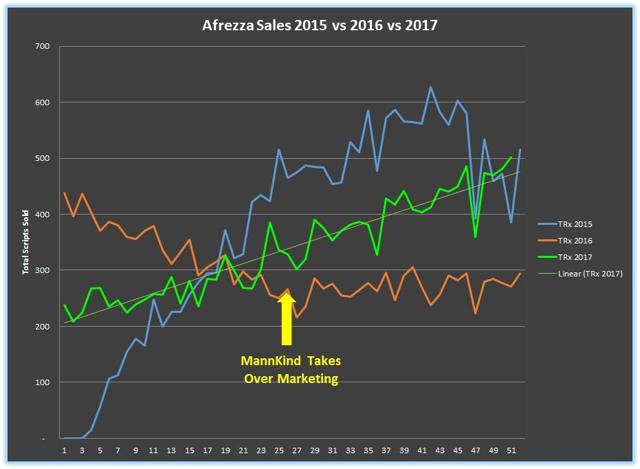 Chart Source – Spencer Osborne
The revenue side of the Afrezza sales is showing better improvement than the scripts. This is attributable to each Afrezza script containing more cartridges, and by extension cost more. Retail sales came in just below $650,000, while my estimates for gross sales and net sales are about $369,000 and $251,000 respectively. My gross revenue this week is likely a bit low because of the mix of new scripts as compared to refills. New scripts are typically a titration pack which costs more (and thus generates more revenue) than a standard pack. Even with this dynamic, the numbers are nowhere near what is needed to hit guidance or truly impress the street. What investors need to grasp when assessing the revenue in Q4 is that the channel now appears to exhausted the old SKU's. The old SKUs were less expensive than the new ones. Q4 revenue growth will present better than Q4 script growth on a percentage basis. That benefit will lessen substantially in Q1, and by Q2 of 2018, we should see script growth and revenue growth at about the same percentage. This dynamic gives MannKind its best shot to talk up some numbers that could help the company raise some cash, but that window is already beginning to close. After Q1 of 2018, whatever we see in script growth will closely mirror what we will see in revenue growth. I estimate Q4 gross revenue to be at $3.67 million with 1 week to go. It would appear that gross revenue will finish the quarter somewhere around $4 million. I estimate Q4 net revenue to be at $2.47 million with 1 week to go. It appears that net revenue will come in at about $2.7 million. In order to meet its guidance, MannKind needs to report Q4 gross revenue of about $6 million, and Q4 net revenue of about $4 million.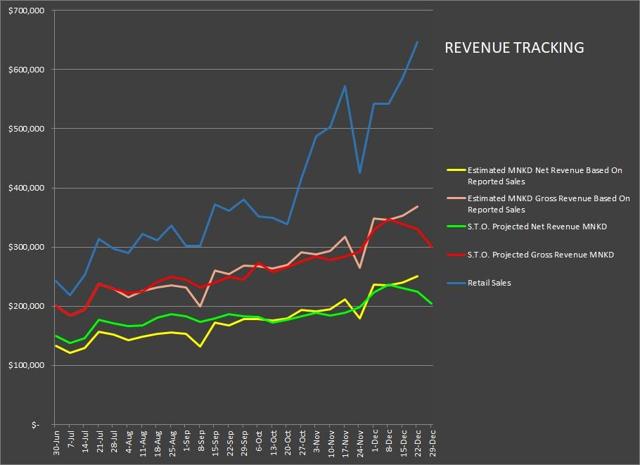 Chart Source – Spencer Osborne
In terms of projections, the time-frame for the second half of the year is fast approaching. Over the course of the second half of the year I adjusted my script estimates once and my revenue per reported script estimates 3 times. Overall, my projections have proven to be quite accurate. My Q3 numbers were generally within 5% of actual numbers. With scripts, Q4 is tracking toward the higher end of my range. Aggregate scripts thus far in Q4 stand at 5,333, while my middle projection is at 5,163 and my high projection is at 5,426. I anticipate publishing my projections for the first half of 2018 in the next couple of weeks.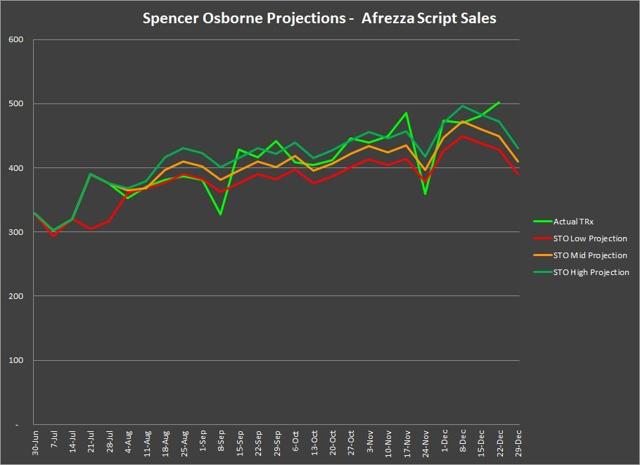 Chart Source – Spencer Osborne
I am projecting that net revenue for Q4 will be between $2.7 million and $2.8 million and that net revenue for the second half of the year will stand at about $4.7 million. This is $1.3 million lower than what MannKind guided to, and represents a substantial miss of its guidance. There are some investors that say meeting guidance does not matter. I disagree wholeheatedly. Guidance is given so that the Street, investors, and potential investors have an expectation level of what is realistic to anticipate. Potential investors are critical to MannKind because of its cash situation. With guidance, MannKind swung for the fences in August only to miss badly within weeks. It swung hard again in early November, and for all intents and purposes, will have missed badly again. Missing guidance this badly means that the plans of management plans are not coming to fruition. Potential investors need to trust that what management is outlining is realistic. This is why it is my opinion that management needs to act quickly on raising cash. In the very near term, it can honestly say that the numbers are not all in yet. In a matter of a few weeks, that will not be the case.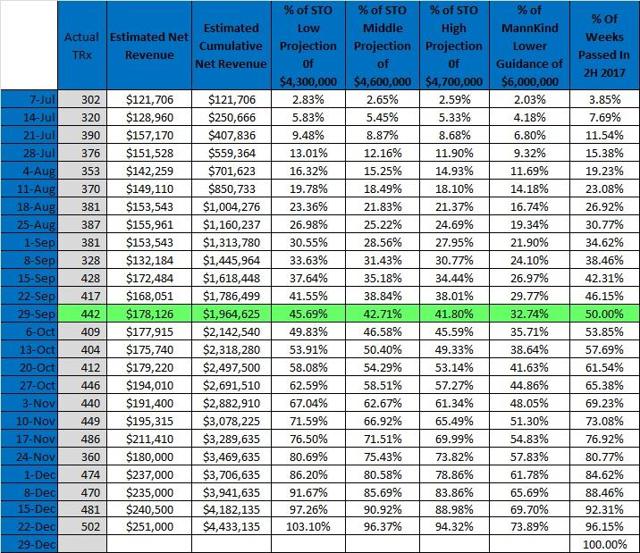 Chart Source – Spencer Osborne
The cash situation at MannKind is likely more critical than some investors realize. Though the company was able to raise nearly $60 million in Q4, it is my estimation that it will finish the year with just $46 million in cash. On January 15th of 2018 MannKind has $10 million due to Deerfield. It was clear that the intent was to pay that debt with shares. However, the stock price is well below the $3.25 that such a conversion would happen at. Deerfield could accept shares at $3.25, but that is about as likely as a snowball existing naturally in Aruba. Deerfield will simply ask for the cash from the established escrow. This would put MannKind in a bind as its cash position would be about $35 million. In my opinion, if the share price does not get above $3.25, MannKind will need to renegotiate with Deerfield at terms tat are favorable to Deerfield. If you thought that there would be time to sit on those newly approved 140,000,000 shares, you were wrong. In my opinion we will see the company dip into these sooner rather than later. In addition, the covenant that MannKind must have $25 million at the end of Q1 is in jeopardy. This means more negotiation. For clarity, this covenant was relaxed for Q4 of 2017 to $10 million at the end of each month (except November), but not beyond.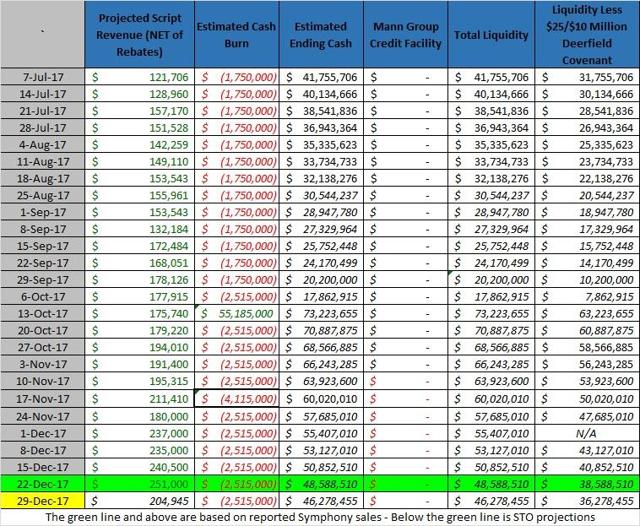 Chart Source – Spencer Osborne
The bottom line is this. MannKind needs to find a way to increase scripts in a substantial manner very quickly. It has now had the benefit of its new label for an entire quarter, and has been advertising more aggressively in selected regions. Management is trying very hard to tell a good story about the Afrezza situation, but the realities are not very impressive as of yet. The company has been in a cash struggle for years now, and cannot seem to get out from under its debt and spending needs. With 140,000,000 new shares authorized, the company can trudge along for quite some time, which unfortunately means that shareholders may simply need to trudge along as well. Is there potential that things can improve? Yes. Is it probable? Not yet. Investors need to watch the next couple of weeks closely. If cash is used to pay the Deerfield debt, then a capital raise in some fashion will be not very far behind. If shares are used, then we will see the dilution beginning early in 2018. MannKind will start the year with about 1.5 quarters worth of cash. In order to give itself the best possible shot, it needs to get its cash balance above 4 quarters. Until that happens, the clouds that exist above this company will persist. Stay Tuned!
Disclosure: I/we have no positions in any stocks mentioned, and no plans to initiate any positions within the next 72 hours.
I wrote this article myself, and it expresses my own opinions. I am not receiving compensation for it (other than from Seeking Alpha). I have no business relationship with any company whose stock is mentioned in this article.
About this article:ExpandAuthor payment: $35 + $0.01/page view. Authors of PRO articles receive a minimum guaranteed payment of $150-500.Tagged: Investing Ideas, Quick Picks & Lists, Healthcare, BiotechnologyWant to share your opinion on this article? Add a comment.Disagree with this article? Submit your own.To report a factual error in this article, click here