Quick Take
M17 Entertainment (YQ) intends to sell ADSs representing Class A ordinary shares for gross proceeds of $115 million from a U.S. IPO, according to an F-1 registration statement.
The firm operates the largest live streaming platform by revenue in developed Asia with a market share of 19.2% in the first quarter of 2018 according to Frost & Sullivan.
YQ is growing topline revenues sharply as it begins to scale, but operating income is not in sight for the time being.
Ill provide an update when we learn further details about pricing and valuation from management.
Company & Technology
Taipei City, Taiwan-based M17 Entertainment was founded in 2015 to operate as a live streaming platform. In the companys home market of Taiwan, according to Frost & Sullivan, M17 represented 36.1% of the live streaming market in developed Asia in 2017.
Management is headed by Co-Founder and CEO Joseph Phua. Prior to M17, Phua was the CEO and Co-Founder of Paktor from 2013 – 2017, Associate for McKinsey & Company in 2012, and Regional Manager of Doris Vinci from 2009 – 2011.
The companys market of developed Asia is defined as the combined regions of Taiwan, Japan, South Korea, Hong Kong and Singapore.
Investors in M17 included Infinity Ventures, Golden Equator Capital, Vertex Ventures, Yahoo! Japan, Majuven, Golden Summit Capital, Vertex Ventures, and KTB Ventures.
The firm has developed a live streaming platform known as 17 Media. The platform was launched in Taiwan in July 2015.
17 Media had 33.3 million registered users as of March 31, 2018. The company also operates Paktor, launched in Singapore in 2013, and Goodnight, M17 Entertainments main dating applications.
Below is an overview graphic of the 17 Media application and its primary functions: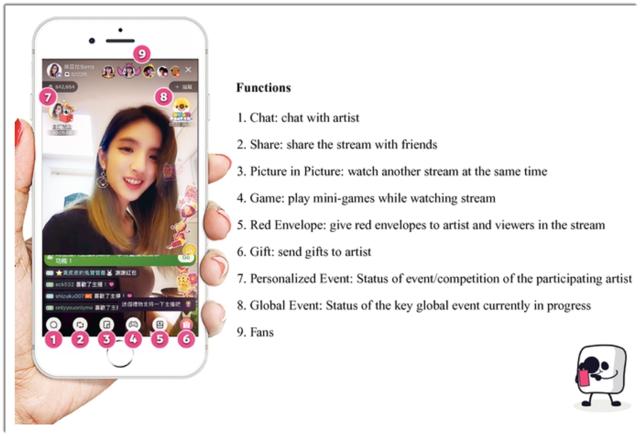 M17 plans to pursue the following strategies to further grow the business extract synergies between different product lines.
M17 is a tech-enabled entertainment company led by media and entertainment executives. The company brings users closer to their favorite artists by enabling users to interact and socialize with artists directly from their mobile devices.
The firm operates within the pure-play live streaming industry, a market segment of the global media and entertainment industry. 78.2% of the content streamed on the live streaming platform during March 2018 was from contracted artists, i.e., not public, user-generated content.
(Source: F-1 statement)
M17 had a team of 123 engineers, computer scientists and technicians as of March 31, 2018.
The companys lead solution, the 17 Media application, provides real-time streaming video shows from thousands of artists that display a wide variety of talents on our platform. Artists present a wide range of talents through singing, instrumental, drawing, lifestyle sharing, make-up tutorials, etc.
The platform allows artists to stream performances at any time and from anywhere with an internet connection.
Management believes that the business model is disrupting the traditional entertainment industry by allowing anyone with talent to display their talents, cultivate a following, make a living and capitalize on the potential to take their talents further.
Artists are attracted to the platform as they have the opportunity to generate significant personal income, gain fame and a wide fan base, and get involved in other areas of the entertainment industry.
Customer Acquisition
M17 conducts a variety of marketing activities to promote their platforms such as advertising on social network media, search engines and web portals, cooperating with application distributors, as well as organizing offline events. The company raises brand awareness among audiences and artists who want to gain more exposure through various media.
M17 uses marketing channels including traditional outdoor media, such as billboards, banners and posters and social network media. Artists who win the companys online competitions are given priority concerning obtaining advertising spots.
Performance-based marketing is also utilized to reach a large number of internet users on Google AdWords, Twitter, Facebook, Instagram and other popular online platforms. Management, however, believes that the most efficient form of marketing for the platforms is through word of mouth referrals and repeat user visits.
Market & Competition
According to a 2016 market research report by Research and Markets, the video streaming market is estimated to grow from $30.3 Billion in 2016 to $70.0 Billion by 2021 at a CAGR of 18.3%.
The main factors driving market growth are a rising usage of online streaming where users are adopting pay TV and OTT solutions for streaming videos. Online streaming is attractive to users as they can skip advertisements, access episodes anytime, and watch events and shows with flexibility in time.
OTT is projected to have the largest market growth rate during the forecast period. The main factor driving this growth is the increasing use of digital platforms for branding and marketing of products.
Major potential competitors that are developing or provide video streaming solutions include:
Adobe Systems Incorporated (ADBE) Amazon Web Services (AMZN) Apple (AAPL) Google (GOOGL) (NASDAQ:GOOG) Hulu MeMe Live BigoLive Netflix (NFLX) Ustream
Management believes that the following strengths set M17 apart from competitors:
in-depth media and entertainment expertise high-quality content across multiple media formats effective content monetization vertically integrated entertainment ecosystem powered by data insights track record of extending its business model across developed Asia Financial Performance
M17 Entertainments recent financial results can be summarized as follows:
Dramatically increased topline revenue Strong growth gross profit dollars Significant drop in gross margin percentage as the firm scales Large increase in cash used in operations
Below are the companys financial results for the past two years (Audited IFRS):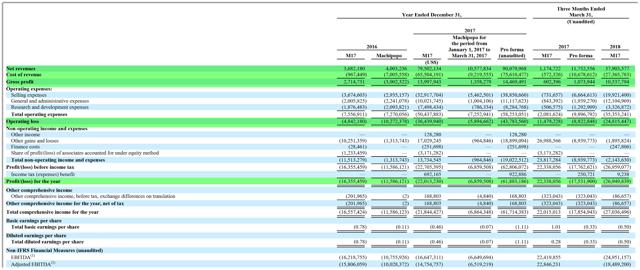 (Source: F-1 statement)
Total Revenue ($)
2017: $79.5 million 2016: $3.7 million
Gross Profit ($)
2017: $14.0 million 2016: $2.7 million
Gross Margin (%)
2017: 17.6% 2016: 72.9%
Cash Flow used in Operations ($)
2017: ($24.9 million) cash used in operations 2016: ($4.2 million) cash used in operations
As of December 31, 2017, the company had $24.4 million in cash and $144.5 million in total liabilities.
IPO Details
M17 intends to raise $115 million in gross proceeds from an IPO of ADSs.
Representing the ADSs will be underlying Class A shares, which will be entitled to one (1) vote per share. Class B holders will be entitled to twenty (20) votes per share.
Multiple share classes are a way for existing shareholders to retain voting control even if they lose economic control of the company in the future.
The S&P 500 Index no longer admits firms that have multiple share classes in its index.
The firm says it will use the net proceeds from the IPO as follows:
for expansion of our business into Japan and other new markets;
for content development, including PGC and new content formats; and
the remainder for strategic merger and acquisition opportunities, though we have not identified any targets, as well as working capital and other general corporate purposes.
Managements presentation of the company roadshow is not currently available.
Listed bookrunners of the IPO are Citigroup, Deutsche Bank Securities, Daiwa Capital Markets, and Mizuho Securities.
Expected IPO Pricing Date: Not yet on calendar.
An enhanced version of this article on my Seeking Alpha Marketplace research service IPO Edge includes my commentary and opinion on the firm's IPO prospects.
Members of IPO Edge get the latest IPO research, news, market trends and industry analysis. Start with a Free Trial.
Disclosure: I/we have no positions in any stocks mentioned, and no plans to initiate any positions within the next 72 hours.
I wrote this article myself, and it expresses my own opinions. I am not receiving compensation for it (other than from Seeking Alpha). I have no business relationship with any company whose stock is mentioned in this article.