LyondellBasell (LYB) is a leading petrochemical company with operations across 18 countries. The company is a major player in polyethylene, polypropylene, and propylene oxide. LyondellBasells products are used in various consumer and industrial end products, such as electronics, automotive industry, construction, and packaging, among several others.
The company has recently acquired A. Schulman – a global provider of advanced polymer solutions – for $2.25 billion. This deal is generating attractive opportunities for growth in markets such as packaging, consumer products, and electronics. Management intends to generate $150 million in run rate cost synergies from the A. Schulman acquisition.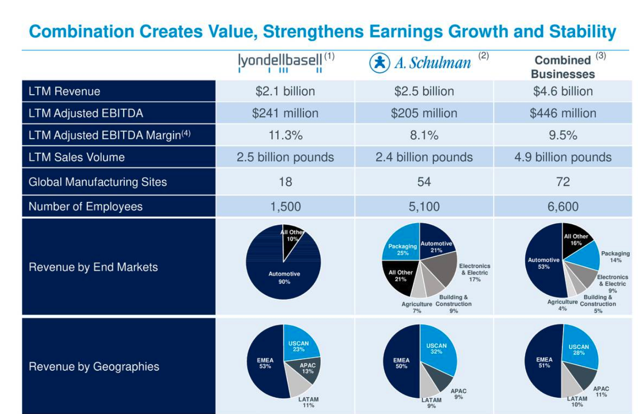 Source: LyondellBasell
LyondellBasell delivered strong sales and earnings during the first quarter of 2018. Revenue amounted to $9.76 billion during the period, an increase of 15.8% year over year. Quarterly EBITDA was a historical record for the company, reaching $1.9 billion and increasing by 18% year over year. Net income amounted to $1.2 billion during the quarter, growing by a vigorous 54% versus the first quarter in 2017.
Since the business is generating more cash than it needs to reinvest, management is generously rewarding investors through dividends and share buybacks. The chart below shows the increase in dividends and the reduction in the amount of shares outstanding over the past five years.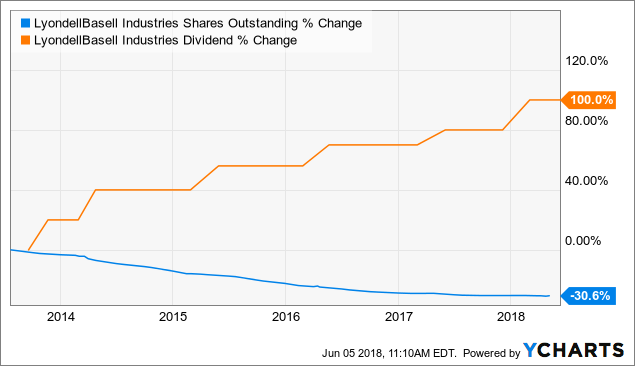 LYB Shares Outstanding data by YCharts
Moving forward, LyondellBasell has recently announced a new share buyback program for as much as much as 10% of outstanding shares over 18 months. The way things are going, it looks like investors in LyondellBasell will be strongly benefited by cash distributions from the company over the coming months.
Attractive Valuation
One of the main reasons to consider a long position in LyondellBasell is valuation, since the stock looks compellingly cheap from multiple points of view.
Wall Street analysts are on average expecting LyondellBasell to make $10.85 in earnings per share during 2019. Under this assumption, the stock is trading at a forward price to earnings ratio around 10.45. This represents a considerable discount versus an average forward price to earnings ratio of 16.5 for companies in the S&P 500 index.
Offering a similar perspective, the table below shows key valuation metrics for LyondellBasell versus Praxair (PX), Ecolab (ECL), Sherwin-Williams (SHW), and PPG Industries (PPG). Looking at forward price to earnings, price to earnings growth, price to sales, price to free cash flow, and dividend yield, LyondellBasell is the cheapest stock in the group across all of the valuation indicators considered.
| | | | | | |
| --- | --- | --- | --- | --- | --- |
| Company | Fwd P/E | PEG | P/S | P/FCF | Dividend |
| LYB | 10.45 | 1.41 | 1.23 | 15.02 | 3.53% |
| PX | 21.33 | 2.48 | 3.87 | 56.83 | 2.09% |
| ECL | 23.99 | 2.46 | 2.94 | 43.5 | 1.14% |
| SHW | 17.67 | 1.98 | 2.2 | 29.87 | 0.89% |
| PPG | 14.32 | 2.08 | 1.72 | 37.67 | 1.76% |
In a nutshell, LyondellBasell is attractively priced, both in comparison to the broad market and versus the sector in particular. Multiple valuation indicators are reaching the same conclusion, and this makes the valuation argument for LyondellBasell particularly solid and compelling.
Strong Fundamental Momentum
Fundamental performance in comparison to market expectations can have a huge impact on a stock. When a company is delivering better-than-expected numbers and forward-looking expectations are also moving upwards, this generally means the stock price is moving in the right direction too.
Wall Street analysts have materially increased their forward-looking earnings expectations for LyondellBasell in 2019 lately. The stock price and earnings expectations were moving in an almost identical fashion from the second quarter of 2017 to January of 2018. However, there has been some kind of disconnect between the two variables in the past few months.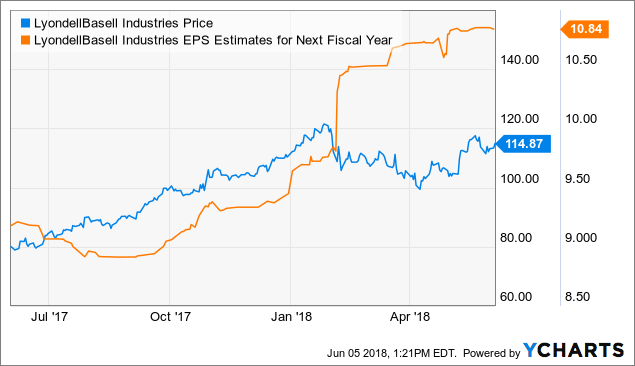 LYB data by YCharts
If the stock price is going to catch up to earnings forecasts over the middle term, this could be a powerful upside fuel for LyondellBasell stock.
Vigorous Relative Strength
Money has an opportunity cost, when you buy a stock with mediocre returns, that capital is not available for investing in companies with superior potential. Besides, winners tend to keep on winning in the stock market, so you want to invest in stocks that are not only doing well but also doing better than other alternatives.
LyondellBasell has materially outperformed relevant benchmarks such as SPDR S&P 500 ETF (SPY) and Materials Select Sector SPDR ETF (XLB) over the past year.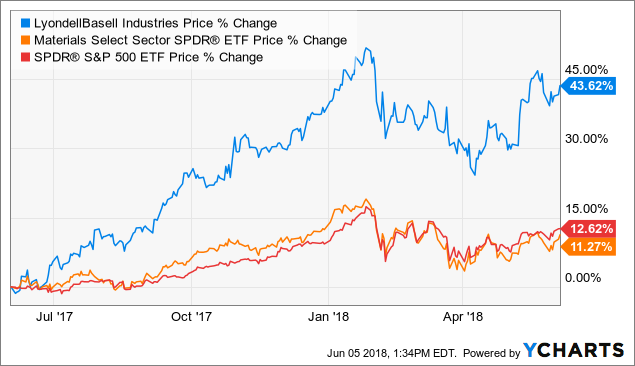 LYB data by YCharts
Putting It All Together
The PowerFactors system is a quantitative investing system available to members in my research service, "The Data Driven Investor." This system basically ranks companies in a particular universe according to the factors analyzed in this article for LyondellBasell: quality, valuation, momentum, and relative strength.
The system has produced solid backtested performance over the long term. The chart below shows how the 50 stocks with the highest PowerFactors ranking in the S&P 500 index performed in comparison to the SPDR S&P 500 ETF since 1999. The backtesting assumes an equal-weighted portfolio, monthly rebalanced, and with an annual expense ratio of 1% to account for trading expenses.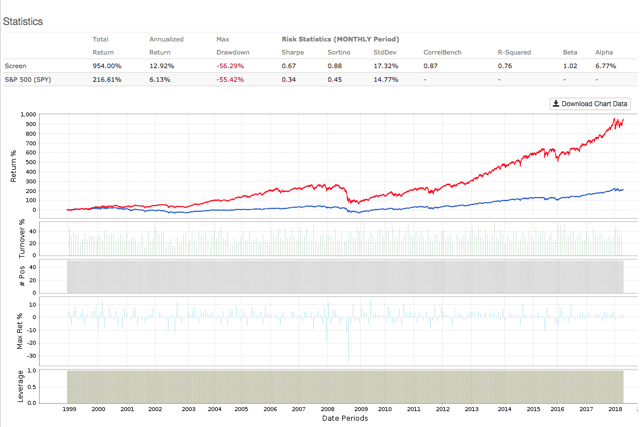 Data from S&P Global via Portfolio123
The system more than doubled the benchmark, with annual returns of 12.92% per year versus an annual return of 6.13% for the ETF in the same period. In other words, a $100,000 investment in the SPDR S&P 500 in January of 1999 would currently be worth around $316,600, and the same amount of capital allocated to the quantitative portfolio would have a much larger value of $1.05 million.
LyondellBasell is one of the 50 stocks currently picked by the system, which means the company is among the best 10% of those in the S&P 500 based on a combination of quantitative indicators that measure financial quality, valuation, business momentum, and relative strength. The stock is particularly attractive in terms of valuation and relative strength.
Past performance does not guarantee future returns, and backtested numbers should always be taken with a grain of salt. However, the numbers are indicating that LyondellBasell stock is clearly cheap, and the stock price is outperforming the sector and the market by a considerable margin. With this in mind, LyondellBasell looks well positioned for attractive returns going forward.
Capitalize on the power of data and technology to take the guesswork out of your investment decisions. Statistical research has proven that stocks and ETFs showing certain quantitative attributes tend to outperform the market over the long term. A subscription to The Data Driven Investor provides you access to profitable screeners and live portfolios based on these effective and time-proven return drivers. Forget about opinions and speculation, investing decisions based on cold hard quantitative data can provide you superior returns with lower risk. Click here to get your free trial now.
Disclosure: I/we have no positions in any stocks mentioned, and no plans to initiate any positions within the next 72 hours.
I wrote this article myself, and it expresses my own opinions. I am not receiving compensation for it (other than from Seeking Alpha). I have no business relationship with any company whose stock is mentioned in this article.