L Brands (NYSE: LB) will report Q3 earnings this Wednesday after market close. While retailers remain under heavy pressure and scrutiny, Q3 earnings and guidance heading into the holiday season are more important than ever. L Brands should release a strong Q3 report and outperform throughout Q4.
Improving SSS Metrics
So far, there have been a few surprise earnings releases – ex: Macys (NYSE: M) and J. C. Penney (NYSE: JCP). Although this does not mean retailers are off the hook for their poor performance this year, L Brands is coming off a hot October and improving SSS metrics. The two charts below show monthly SSS trends for L Brands (on a consolidated basis).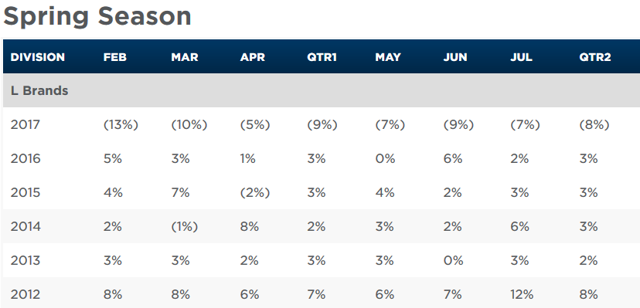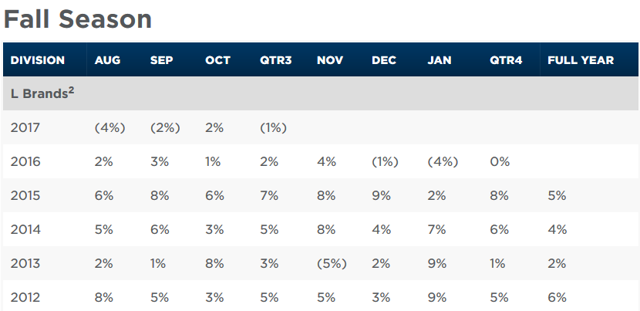 Source: Company Website
Interestingly, they already updated the Q3 SSS result of (1%). Backtracking to Q2 and Q1, SSS came in at (8%) and (9%), respectively, exactly what the chart shows. There should be no major surprises on their upcoming earnings release.
In addition, SSS metrics for Q4 compares against weaker 2016 metrics. December and January were the only two months in FY16 that showed negative SSS metrics. Looking ahead to Q4, assuming an as expected Q3 earnings report, LB is on track to meet FY17 EPS guidance. Back in May, LB increased their FY17 guidance after a strong Q1 report but further revised guidance in August. The revised guidance looks for EPS in the range of $3.00 – $3.20. They also guided Q2 earnings to come in between $0.40 – $0.45 versus actual Q2 earnings of $0.48.

Source: SEC Filings / Morningstar
An early prediction here, LB will beat earnings but maintain FY17 guidance. One of my biggest drivers behind this is that management indicated Q3 EPS to be at the high end of its previous guidance of $0.25 to $ 0.30." Just like JCP did not too long ago (J. C. Penney: Why The Q3 Beat Will Continue Into Q4), management actually beat their pre-announced Q3 guidance, but held their FY17 guidance.
With a stronger-than-expected October sales performance, it would not surprise too many investors if LB beat Q3 expectations.
Q3 Notable News
Besides the stronger October showing, LB had a productive Q3.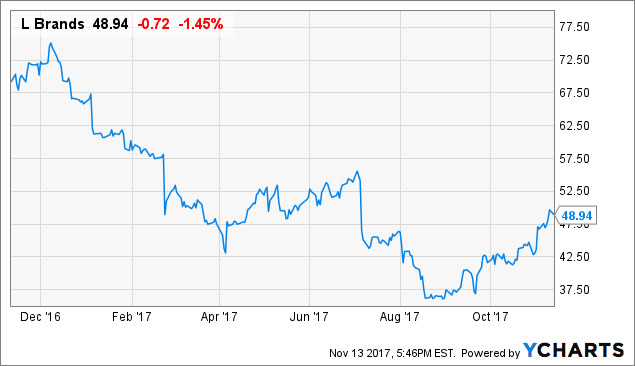 LB data by YCharts
Concurrent with releasing October sales figures, management indicated SSS is down 6% on a YTD basis, while down only 1% during Q3. However, management attributed a 5% and 2% negative impact on sales related to exiting the swim and apparel categories.
They maintained their dividend for the 172nd consecutive dividend, paying out $0.60 per share. This represents an annualized dividend yield of 4.9%, which bodes well for a struggling retail environment.
In addition to maintaining their historic dividend, the board approved a new $250 million stock repurchase program. LB is near the end of their previous $250 million repurchasing program ($10.3 million remaining as of September 18) and the initiation of a new program is a powerful driver behind their recent stock movement.
Overall, management has done a good job navigating through tough waters this year and has managed to maintain relatively stable guidance. Their stock has performed exceptionally well since their Q2 release, despite falling nearly 50% before that.
Summary
With Q3 earnings guided towards $0.25-$0.30 and October SSS reported at +2%, we may be looking at an upcoming earnings beat for LB. Management narrowed their FY17 guidance from $3.10 – $3.40 to $3.00 – $3.20, which is likely due to a challenging retail market in addition to further insight into full year performance.
Their stock has traded around the 13x-14x range with a 3 month performance of +20%. Recent earnings reports from Macys and J. C. Penney makes a beat by L Brands more than plausible.
Look for Q3 SSS of (1%) and a potential upside earnings surprise. Don't expect guidance to be updated but feel strong about management's ability to deliver performance. Although there have not been too many dips recently, this is one name to continue following heading into the holiday season.
Disclosure: I/we have no positions in any stocks mentioned, but may initiate a long position in LB over the next 72 hours.
I wrote this article myself, and it expresses my own opinions. I am not receiving compensation for it (other than from Seeking Alpha). I have no business relationship with any company whose stock is mentioned in this article.
About this article:ExpandAuthor payment: $35 + $0.01/page view. Authors of PRO articles receive a minimum guaranteed payment of $150-500.Tagged: Investing Ideas, Long Ideas, Services, Apparel StoresWant to share your opinion on this article? Add a comment.Disagree with this article? Submit your own.To report a factual error in this article, click here