Introduction
When I previously wrote an article about Kimberly-Clark Corporation (KMB), suggesting that it might deserve a look as an anchor stock for your portfolio, some (in the comments) suggested that KMB's debt-to-equity ratio was too high and that they would stay away.
That particular article partly was motivated by the price of the stock, which then was trading near its 52-week low in the $110-range per share. KMB currently trades around $120 per share, which remains on the lower end of the prior 52-week range of around $110-136. At its current price, Kimberly-Clark continues to offer an attractive annual dividend yield exceeding 3.2%.
In this article, however, I want to specifically address the high debt-to-equity ratio and help readers understand how to better understand KMB's debt load.
Debt to Equity
Here is an excerpt out of Seeking Alpha's key data page for KMB as of December 31, 2017; it is a year-end view.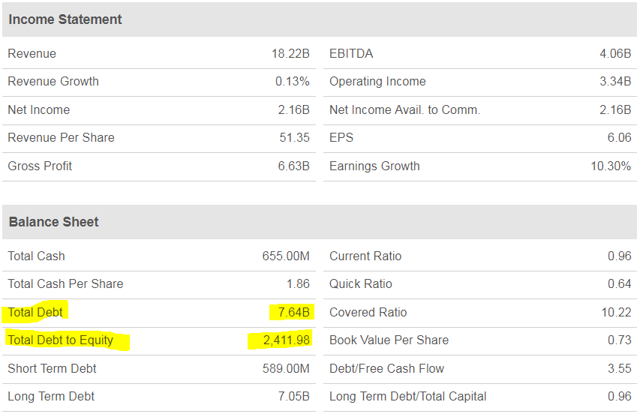 Source: Seeking Alpha key data, KMB. Data is provided by FactSet Fundamentals (third-party). As of 12/31/2017.
Share Repurchases Impact Debt-to-Equity Ratio
The use of debt comes with risks and requires balance. More on that below. That balancing act is as much an art as it is science because no one can predict the future. So, for you as an investor, reading between the lines in how management is using debt is going to be key to separating the winners from the losers. Now, as promised, let's look at Kimberly-Clark.
As you saw above, KMB's debt-to-equity ratio is an astronomically high 2,412. That looks like a huge red flag at a first glance. You also saw that the total debt is $7.6 billion. Also, the business's current ratio is less than 1. Let's add some more color to each of these metrics and more.
I'll take the most recent SEC filing. The balance sheet figures will be as of September 30, 2017.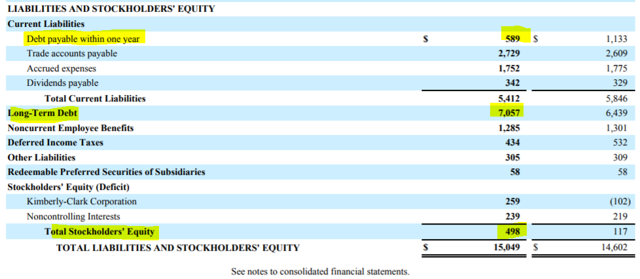 Source: Kimberly-Clark Corporation SEC filing. September 30, 2017, 10-Q.
D/E ratio. Take total debt of $7,646 million and divide by stockholders' equity of $498 million, and you get a D/E ratio of 15.35. That's still a high debt to equity, but not as bad as the 2,400+ ratio in the third-party summary data by FactSet Fundamentals. Things are looking up.
While it is not fully disclosed in the 10-Q, the 2016 10-K (annual SEC filing) shows that as of December 31, 2016, the common stock held in treasury at cost was $(3,629) million representing 22.0 million shares. As of December 31, 2015, the treasury shares at cost were $(2,972) million representing 17.7 million shares. A quick math shows that the shares were bought at average $164.95 per share through year-end 2016.
These share repurchases reduced the total stockholder's equity. Let's do an adjusted D/E calculation inclusive of these treasury stocks. Because of the disclosure, I'll be combining September 30 data with prior-year December data.
Adjusted D/E ratio. Take total debt as of September 30 of $7,646 million and divide by the adjusted stockholders' equity of $498 million + $3,629 million or $4,127 million. Now, the adjusted D/E ratio is 1.85.
That may not be the number you were hoping for, but it's beginning to sound a lot better, right? To add more color to that figure, let's do a similar computation for Colgate-Palmolive Company (CL) as of its recent 10-Q filing for the period ending September 30, 2017.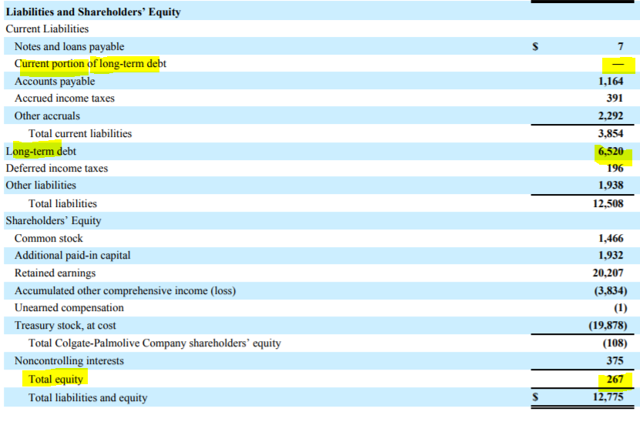 Source: Colgate-Palmolive Company SEC filing. September 30, 2017, 10-Q.
If you run the numbers, CL's D/E ratio is 24.4. Similar to KMB, if you look back at the prior annual report, you'll find that CL holds $(19,135) million in treasury stock. Add that figure back to the total Q3 equity and you get your adjusted base. With that knowledge, CL's adjusted D/E ratio is $6,520 / $19,402 = 0.336. That's pretty impressive. It's not to say that KMB's ratio is not impressive, but it gives you a sense of where these two consumer-industrial stalwarts stand in terms of debt relative to equity.
I want to clarify that adjusted D/E is not a GAAP ratio and it's not as commonly used industry metric as say EBITDA is. After all, the money that was used to repurchase shares was spent and is no longer available. However, what I am doing is to show that the high D/E ratio is not what it seems.
Debt Can Be Scary
Many conservative investors think as much or more about not losing money than about making money. In other words, the conservative investor should be concerned about recovering capital before worrying about return on capital. Warren Buffett said it best when he said that rule No. 1 of investing is "never lose money," and No. 2 is "never forget rule No. 1."
A telltale sign of a red flag that you might lose your money is high leverage without the ability to pay off that debt. You know this intuitively as a consumer. If you take on too much debt to purchase something (say a car or a house), you risk going into default if there is a sudden change in your financial position (such as losing a job). If you were to lose your job, that extra saving you have may allow you to continue to pay your mortgage and other debt while you seek a new job. Otherwise, you might have to make drastic lifestyle changes. You may even lose your home.
A business works in much the same way. When you review a company's financials, you really want to understand what its debt obligations are in the short term and long term, and you want to assess what kind of liquidity cushion the business has. In times of plenty, liquidity may not seem that important (cash is for losers), but in times of distress, liquidity trumps all (cash is king). That's partly why the debt-to-equity ratio matters.
Debt Is Necessary
Liquidity risks associated with poor debt management aside, a debt can be a great tool for those who use it wisely. A debt can provide leverage. That house in the above example might be too expensive for you to buy outright with cash. But, through debt financing, you are able to buy and enjoy that dream house. It's the same for a business. A business may need to borrow money in order to build that next generation plant. But that's an investment or a bet on the future, and it could pay off big. Tesla (NASDAQ:TSLA) needs to spend billions to build that electric car. Intel (INTC) needs to spend billions to build the next generation chip generating plant. That's how they will stay in business and remain competitive. While Kimberly-Clark is less high-tech than Tesla or Intel, the same idea applies. KMB won't necessarily need to modify the manufacturing process at the pace of Intel, but it still needs to renew and modify them to stay competitive.
What is KMB Doing?
Let's revisit those share repurchases. You'll find more info in 10-Q Footnote 4.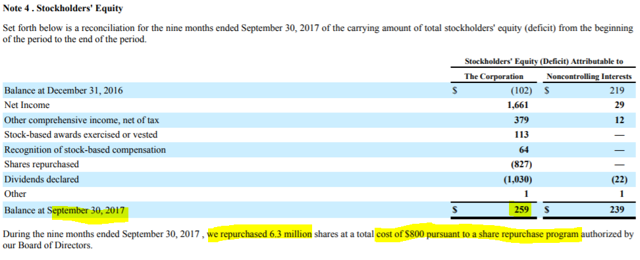 Source: KMB 10-Q, Footnote 4.
You can see the company continued its repurchase activity. For the nine months ended September 30, 2017, the average purchase price was $126.98 per share. Note that the current trading range remains below this repurchase price. (Either management is bad at timing or market has mispriced the shares.)
We noted above that at September 30, 2017, KMB had $7,646 million in debt. Taking our personal finance analogies, let's see if there is a liquidity risk. The above 10-Q shows that debt payable within one year is $589 million. 2016 10-K disclosure shows that the company generated $3.2 billion in cash from operations on $2.2 billion net income. In that same one-year period ending December 31, 2016, the company paid $598 million in debt repayments and paid $1.3 billion in cash dividends. While you could make other fine tuning adjustments, big picture, there is no liquidity concerns for Kimberly-Clark.
What about the longer-term debt picture? Is KMB using its debt financing wisely? Is it generating sufficient return on its debt? Since that would involve further analysis, I'll reserve that for another post.
Conclusion
In conclusion, debt is a double-edged sword. Use of debt must be weighed against potential liquidity risks in the short run. One of the indicators of leverage is the debt-to-equity ratio. KMB's debt-to-equity ratio is not as "bad" as it might seem at a first glance.
In this brief article, we recomputed the debt-to-equity ratio for KMB as well as for a comparable company. We also considered what that ratio might look like if the company had not repurchased a significant number of its own shares.
Certainly, there may be better stock out there. But, based on this analysis, I continue to believe KMB remains a solid dividend stock for any portfolio.
Disclosure: I/we have no positions in any stocks mentioned, and no plans to initiate any positions within the next 72 hours.
I wrote this article myself, and it expresses my own opinions. I am not receiving compensation for it (other than from Seeking Alpha). I have no business relationship with any company whose stock is mentioned in this article.
About this article:ExpandAuthor payment: $35 + $0.01/page view. Authors of PRO articles receive a minimum guaranteed payment of $150-500.Tagged: Investing Ideas, Long Ideas, Consumer Goods, Personal Products, Editors' PicksWant to share your opinion on this article? Add a comment.Disagree with this article? Submit your own.To report a factual error in this article, click here