tags:
SM Energy Company (SM Quick QuoteSM ) has provided multiple operating and fundamental points at Enercom's The Oil and Gas Conference 2021. These provide a better insight into the company's operations for the coming future.
It has already narrowed its 2021 production guidance to the range of 130.1-135.6 thousand barrels of oil equivalent per day (MBoe/d), signaling a rise from the 2020 level of 126.9 MBoe/d. Of the total output, 52-53% will likely be oil. For the third quarter alone, production is expected within 141-143 Mboe/d, of which 53-54% will likely be oil. Coupled with high oil prices, the increased output should boost the company's bottom line.
SM Energy has a strong hedging position. For the second half of the year, the company hedged 75-80% expected oil volumes at $41.61 per barrel to the West Texas Intermediate. Also, it hedged 85% of second half-2021 estimated natural gas volumes. Although the hedges provide lower risk from volatile commodity prices, the company is expected to incur millions of hedging losses due to high current commodity prices. At present, oil price is hovering well above the $60 per barrel mark. This will likely put a dent in its potential cash flow generation.
Moving on from the hedging losses of second half-2021, the company is expected to generate massive cash flow over a five-year period. Based on J.P. Morgan's estimates, the company expects 2022 free cash flow yield within 25-30% for 2022. The free cash flow will likely fund its debt reduction program. The company anticipates net debt to adjusted EBITDAX to be below 1.5X by the next year.
It reiterated the full-year 2021 capital spending plan of $650-675 million. Next year, capital expenditure is expected to decline and remain stable till 2025. Of the total 2021 capital spending plan, 90% will be used for drilling and completion activities. Around 70% of the total capital will be utilized in the prolific Midland Basin, while the rest will be allotted to South Texas.
In the Midland Basin, the company has 82,000 net acres and is running three rigs with two completion crews. Also, it has around 155,000 net acres in the South Texas, where it is carrying out operations with two rigs and one completion crew. Its transportation costs in the region are expected to significantly decline.
Price Performance
SM Energy's stock has increased 150% in the year-to-date period compared with 51.1% growth of the industry.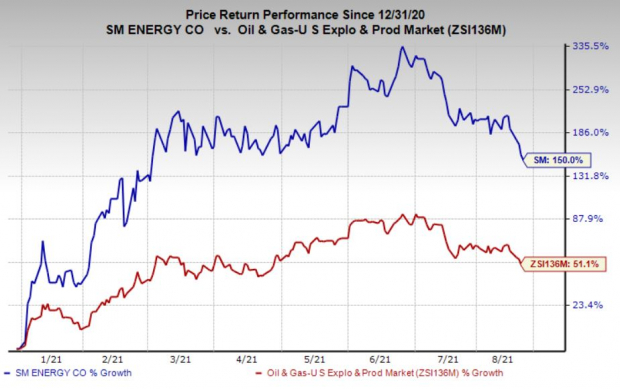 Image Source: Zacks Investment Research
Zacks Rank & Stocks to Consider
The company currently has a Zacks Rank #3 (Hold). Some better-ranked stocks from the energy space include Marathon Oil Corporation (MRO Quick QuoteMRO ) ,Range Resources Corporation (RRC Quick QuoteRRC ) and Equinor ASA (EQNR Quick QuoteEQNR ) . While Marathon Oil sports a Zacks Rank #1 (Strong Buy), Range Resources and Equinor have a Zacks Rank #2 (Buy). You can see the complete list of today's Zacks #1 Rank stocks here.
Marathon Oil's bottom line for 2021 is expected to surge 191.4% year over year.
The Zacks Consensus Estimate for Range Resources' earnings for 2021 is pegged at $1.53 per share, indicating a massive improvement from the year-ago loss of 9 cents.
Equinor's bottom line for 2021 has witnessed three upward estimate revisions and no downward movement in the past 60 days.