It's not great to begin an article with price action, but we're going to make an exception. Have a look at the consumer packaged goods industry over the past year: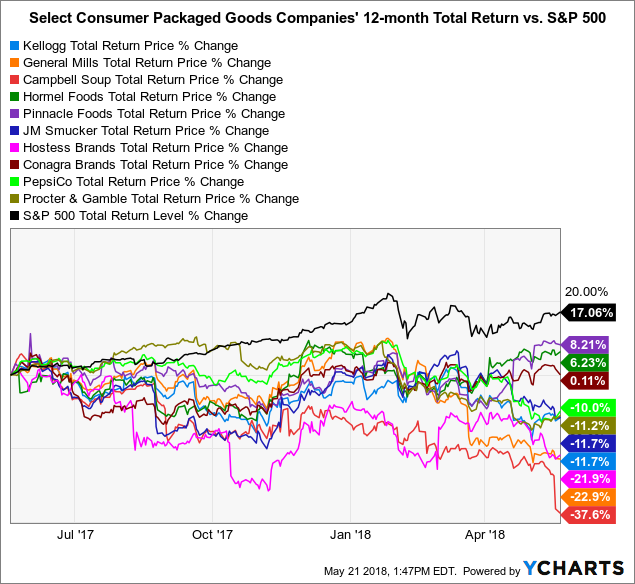 K Total Return Price data by YCharts
That's not very good! This is supposed to be a safe, steady-eddy sort of sector, but we have a situation where three companies are underperforming but at least positive, four are doing poorly, and three are performing badly. The selection may be cherry-picked, but it seems representative.
Kellogg (K) is in the middle of the pack, but it came under scrutiny when Prescience Point Capital Management posted a short idea on the company, available here in PDF form. And even though Kellogg is a simple cereal maker, it has drawn short ideas in the past; Dan Stringer shared his idea a little early, and Jay Unni timed his thesis well.
But as Mike Taylor says on this week's podcast, it's Kellogg! We ate their cereal growing up! They have this guy:

Source: Frosted Flakes
How can you short that?
At the same time, Kellogg is facing industry headwinds. We recorded our podcast before Campbell Soup (CPB) reported earnings and dragged down the sector, but this happened before with General Mills (GIS), and it's happened to even Warren Buffett endorsed companies like Kraft Heinz (KHC). So the context isn't great.
Prescience Point leaves that in the background and focuses on the way Kellogg is accounting for certain financing and sales arrangements. We're talking the minutiae of factoring and reverse factoring, sell-in vs. sell-through, and a stretched balance sheet. It may not be the stuff of headlines, but it could still play a key factor in Kellogg's health going forward.
This week's Behind the Idea looks at Prescience Point's case and tries to decide what really matters about this short thesis.
Topics covered:
2:00 Setting the table for the consumer packaged goods industry and the general Prescience Point thesis 4:50 Assessing the decline of cereal, and Mike puts on his Peter Lynch hat 10:45 What's going on with the accounting pt. 1 – looking at factoring 17:15 What's going on with the accounting pt. 2 – the issue of incentives 24:30 What's going on with the accounting pt. 3 – the reverse factoring issue and are we double-counting? 30:30 Managements role in the decline, and the future of the food industry 38:10 What is the quality of the short thesis? What matters here? 46:30 Looking back at a past Prescience Point short call for perspective
We hope you enjoy the podcast. If you have a chance, subscribe on iTunes and rate us or leave us a review. We're also available on SoundCloud and Stitcher. Hat tip to T-table for suggesting this article for Behind the Idea. If you have any favorite articles you want covered, or any feedback about our podcasts, send me or Mike a direct message, or comment below. We're having a guest on for next week's podcast and open to suggestions if you have anyone you'd like us to interview.
What do you think about Kellogg's prospects? Has the game changed for these industry giants? Will we really eat healthier in the years to come, and is it a good idea to take eating cues from your favorite quarterback? Let us know what you think.
Disclosure: I/we have no positions in any stocks mentioned, and no plans to initiate any positions within the next 72 hours.
I wrote this article myself, and it expresses my own opinions. I am not receiving compensation for it. I have no business relationship with any company whose stock is mentioned in this article.
Additional disclosure: Neither Mike nor I have any positions in any stocks named.