General Electric (NYSE:GE) stock is up about 90% in the past year, but it has been treading water around a split-adjusted $100 per share since the spring. After fully pricing in expected earnings growth in 2022, investors have been hesitant to bid up the industrial giant's shares much higher.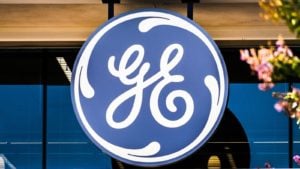 Source: Sundry Photography / Shutterstock.com
Last month, I said investors should wait for lower prices before buying due to the risk of earnings falling short of expectations. But after giving the situation another look, two other catalysts could help prevent GE stock from falling below $100 per share.
The first is GE's pending sale of its aircraft leasing unit, a move that could help unlock shareholder value. Second, a possible ramp-up in spending by the federal government could give GE stock an indirect boost as well.
Now, don't take this to mean I think shares will pop in the coming months. Instead, it's a situation where strengths and weaknesses cancel each other out. There's enough to keep GE stock steady around $100 to $105 per share. Just not enough to send it higher in the near term.
GE Stock Already Trades on Next Year's Results
The key issue with General Electric today is that upcoming earnings growth is already accounted for in its valuation. The consensus estimate projects the company will generate around $4.33 per share in earnings in 2022.
At today's prices, that gives GE stock a forward price-to-earnings (P/E) ratio of around 24.5. That's in line with the valuation of a similar name, Honeywell (NASDAQ:HON), which trades at 23.9 forward earnings. But other diversified industrial companies trade at even lower valuations, such as 3M (NYSE:MMM), which has a forward P/E ratio of 16.9.
It goes without saying that General Electric needs its earnings to meet or beat these estimates. If the company disappoints, GE stock could take a big hit.
In the past, I have questioned whether General Electric's earnings will come in above $4 per share next year, mostly due to the risk of inflationary pressures. Inflation that ends up being more than just "transitory" could affect performance across all its business units.
A repeat of last year's Covid-19 lockdowns, due to the Delta variant, is a big risk as well. This would be a major setback for the recovery of the company's flagship aviation unit.
That said, there are a few positives to counter these negatives. They may not be enough to send shares higher soon, but they could help prevent GE stock from falling below $100 per share.
Plenty in Play to Keep GE Stock Steady
As I mentioned above, there are two positive catalysts on the horizon for General Electric.
The first catalyst is the pending sale of its aircraft leasing unit. As Barron's reported on Aug. 27, Barclays analyst Julian Mitchell sees this as something that could result in "valuation upside." According to Mitchell, once GE sells this unit, investors may be more willing to value the company at a higher multiple in line with its peers in the aviation, healthcare and renewable energy sectors.
Admittedly, it's questionable whether this happens. Given Wall Street's preference for pure plays, a diversified company like General Electric will likely have a hard time getting to a price on par with its sum-of-the-parts valuation.
Fortunately, the second catalyst seems more likely to play out.
As fellow InvestorPlace contributor Larry Ramer wrote on Sept. 3, both the infrastructure bill and the proposed federal budget could provide an indirect boost to GE's power and renewable energy segments. Additionally, the desire of the Biden administration and Congressional Democrats to expand government healthcare spending may benefit the company's healthcare unit.
Strength in these areas could counter any further headwinds with the company's aviation unit. This, in turn, may ensure that General Electric's turnaround carries on, its earnings soar above $4 per share next year, and the company's current valuation stays intact.
The Bottom Line on GE Stock
Despite my prior pessimism, there may be enough in play to ensure GE stock stays at its current price levels. But with regards to its next move higher, that may take time.
Shares are fully priced based on 2022 projections. Earnings will need to come in at or above the high end of analyst estimates, currently at $4.88 a share, in order for the stock to see another immediate boost.
In the long run, GE stock could continue to rise. But in the short term, expect shares to hold steady at or around today's prices.
On the date of publication, Thomas Niel did not have (either directly or indirectly) any positions in the securities mentioned in this article. The opinions expressed in this article are those of the writer, subject to the InvestorPlace.com Publishing Guidelines.
Thomas Niel, contributor for InvestorPlace.com, has been writing single-stock analysis for web-based publications since 2016.