Note: Although we generally like Seaspan (SSW), I believe the pricing has shot past its fair valuation of about $8/sh. Our target of $8 already accounts for SSW's lucrative time-charters and it already assumes a significant valuation improvement for its Panamax vessels. SSW is still a good firm, but it is past what we believe is its fair valuation.
At Value Investor's Edge, we make money by purchasing firms below their fair value. With SSW sitting above, even with bullish prospects already baked in, this one is a clear sell above $9.00.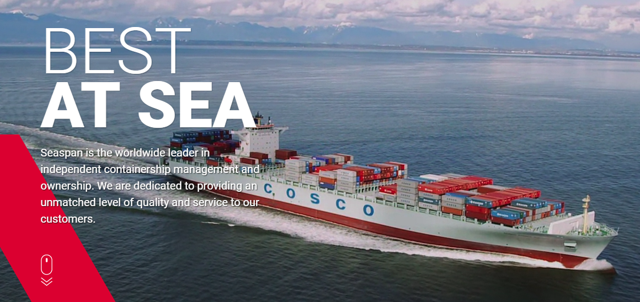 Seaspan Overview
Seaspan Corp. (SSW) is the world's largest containership leasing company, with a fully-delivered fleet of 112 vessels ranging between 2,500 TEU and 14,000 TEU. SSW charters its ships to multiple top-tier shipping lines, but the bulk of its long-term exposure is with Asian firms, most of which have heavy government support.
Key counterparties include China's COSCO, Taiwan's Yang Ming, European heavyweight MSC, and Japan's MOL and K-Line. SSW's closest publicly-traded comparable is Costamare (CMRE); Seaspan is larger, has more modern assets and has a much more robust charter backlog.
Seaspan currently pays a $0.125/qtr. dividend for an effective yield of close to 5.5% in its current trading range. The company used to pay out triple this amount, but in response to challenging market conditions and the bankruptcy of a medium-sized counterparty, it decided to cut the dividend and focus on the balance sheet. This focus led to hefty dilution, but it has since applied the majority of these new proceeds to a massive takeover transaction, which we covered bullishly in private and eventually public research reports.

Q1-18 Earnings Review
As part of our coverage on Value Investor's Edge, we provide earnings previews and reviews for nearly 50 firms in the maritime sector. We've included our research commentary below, originally posted on May 3rd.
Overall Earnings Results
SSW reported results mostly as-expected, but the two weeks of operating with the newly acquired GCI fleet was also offset by related expenses, which led to a slightly smaller q/q EBITDA improvement than I'd been hoping for. I expect we'll see substantial gains into Q2-18 and I remain bullish about the general trajectory of this firm even as it has surpassed my 'fair value' target of $8/sh. The slide below shows the clear improvements over the past year; however, we've also seen a significant increase in shares, so EPS is down.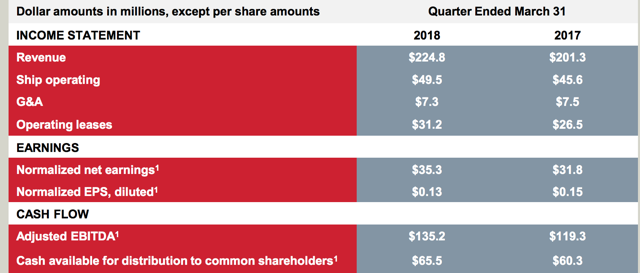 Source: SSW Q1-18 Conference Call
SSW has used the enhanced liquidity from its recent share dilutions to fund its GCI acquisition, which means it hasn't had the necessary liquidity to redeem the privately-traded SSW F-Series ahead of its higher payout. Seaspan issued $140M of these to private investors in 2016. They paid 6.95% and were convertible into common units at $18. If SSW did not redeem them or acquire the remainder of GCI by the close of 2017, the payout rate would increase to 10.5%.
Since SSW did not meet those terms, the payout rates have increased, adding roughly $5M in annual interest expenses. I find it slightly suspicious that the GCI deadline was December 31 and it ended up closing the deal in early-March anyways; however, it's quite possible that SSW had been aiming for December initially and simply couldn't conclude all the required financing in time. The 10.5% is now a significant drag compared to its other financing costs, so I expect these to be redeemed within the next year.
I already privately and publicly covered the GCI acquisition, so there's not much to add for the quarter… I viewed the transaction as significantly bullish and trajectory-shifting, and thus far the market has clearly agreed.
New Sheriff in Town
Seaspan has had substantial management turnover during the past two years as the CEO, CFO, General Counsel, and Chairman have all been switched. It's no secret, especially with hindsight applied, that the old team had misaligned interests and nearly drove SSW into full crisis due to a heavily levered balance sheet combined with disastrous events including the Hanjin bankruptcy.
This shift in focus and strategy was clearly communicated on the conference call, and I think we're in much better hands. They are considering adding some related business exposure to SSW, which I'm not sure exactly what that means, but perhaps some on-land logistics or port services could be added?
The new management team is much more focused on an industrial leasing model as opposed to a sort of 'pipeline MLP' approach of major payouts. TradeWinds picked up on this commentary in its recent headline, and although I think "blisters" is far too strong of verbiage, it's clear from the conference call commentary that SSW was in dire condition a couple years ago.

Going forward, under new management, I believe SSW has a chance to trade at considerably higher levels than its peers and even above its NAV or my 'fair value' estimate. If Q2-18 comes as expected and we continue to see rational leadership, a handle of $10/sh or higher could be feasible. Explicitly, the discussion about staying conservative on dividends but favoring repurchases under the right conditions was very encouraging.
It's also encouraging to see the company will continue to stabilize its balance sheet while acquiring assets utilizing equity trading above NAV. The company claims to have 8-10% of the market and I could easily foresee SSW owning 20-25% by the early 2020s if it executes well. The big liners will want solid partners and I think there's room for both SSW and Costamare to do quite well.
There's also a lot of discussion about its somewhat controversial (due to age) 29-year-old CFO hire, Ryan Courson, who I personally am very excited about. I believe he might be one of the sharpest CFOs in the industry and I hope he'll be around for quite some time.
Focus Question Review
Do we finally start seeing nice q/q profitability rolls? SSW has 25 Panamax containers on short-term employment, all of which I've been expecting to see improved results from. During Q4-17, SSW reported $127M in adjusted EBITDA and during Q1-18, this improved, albeit only slightly, to $135M. This included about two weeks with the GCI vessels, but also included related expenses for the acquisitions. I'm a bit disappointed with this result, but I expect we'll see considerable improvements into Q2.
Is dilution done? SSW has been issuing a lot of new shares over the past year, especially related to the Fairfax financing deals. During Q1, the company signed another $250M financing deal with Fairfax, but the new debt and warrants won't kick in until January 2019. I suspect the company will place a majority of the proceeds towards the SSWN unsecured notes refinancing in April 2019.
Conclusion & Price Target (From Earnings Review)
Big picture, SSW was in line with reasonable expectations. I believe the firm is fairly valued around $8/sh, but it has potential to trade to $10/sh or higher if market tailwinds continue. Although Seaspan is no longer cheap, it is finally being managed in a smart way. This was one of the most refreshing conference call transcripts I've read… finally a team that understands corporate finance and equity management!
Forward Valuations
I believe SSW is still fairly valued around $8.00, with maximum near-term bullish upside likely sitting around $10.00. This is one of the best management teams in the business and I suspect it will do an excellent job of managing equity, but it still has a lot of deleveraging to do, and its stock trades at a fairly steep premium (around 150%) to our estimate of charter-inclusive net asset valuations.
Although I'm generally bullish on most shipping sectors, and I'm also hoping for positive trade discussions and developments between the US and China, container shipping is by far the most exposed to any sort of trade escalations.
With SSW at $9.00, it is trading beyond 'fair value' and is almost hitting maximum near/medium-term bullish levels already. This is baking in a lot of good news. Additionally, although I totally agree with the capital allocation strategy at SSW, there isn't likely to be meaningful dividend increases anytime soon. These stocks rarely hold premiums to NAV without strong dividends.
I think it is very difficult to justify keeping exposure to SSW above $9/sh, and we were very happy to close our position at $9.00, for a trough-to-peak return of 85%, in roughly a year ($5.14 to $9.00, plus $0.50 in dividends). In full disclosure, we did add significantly to our position in the mid-$6s and we took some profits in the $8s, so our actual total booked profit was 43.5% over a holding period of 9-11 months.
Conclusion: Avoid SSW Above $9; Fair Value of $8.00.
Overall we're actually quite impressed with SSW, but we're focused on making money in the markets and continuing to trounce the overall shipping sector. We don't do that by purchasing fully or overvalued names. Time to move on and look for the next ones.
We will continue to cover SSW very closely, including full earnings previews and reviews. If the situation changes, we will update and respond accordingly.
Latest Research – Two Weeks Free!
Value Investors Edge focuses on deep-value opportunities in shipping, industrials, midstreams, international opportunities, and special situations. Each member of our analyst team is singularly focused, which means you benefit from the strongest expertise in a single sector while also gaining access to opportunities in related markets. We seek opportunities to exploit market disconnects while providing regular previews and reviews on the sectors we cover.
Youll also join a community of investors committed to helping keep one another informed about the best opportunities and news impacting the markets. Click here to sign up, and see for yourself why we have 96% 5-star reviews.
This week only – we are offering free trials to celebrate our 3-Year Anniversary on Seeking Alpha along with $300/off the first year.
Disclosure: I am/we are short SSW.
I wrote this article myself, and it expresses my own opinions. I am not receiving compensation for it (other than from Seeking Alpha). I have no business relationship with any company whose stock is mentioned in this article.