Hanesbrands Inc. (HBI) has been notable over the past couple of months for a couple of reasons: first, the news that its Champion brand is considering more brick-and-mortar stores in the face of declining foot traffic; and second, the 3.17% rise in its share price on May 15, with 8.02 million shares trading that day. This notability naturally draws one to consider Hanesbrands as a prospective investment.
Since it spun off from the now-defunct Sara Lee Corporation (SLE) in 2006, Hanesbrands has established itself as an apparel marketer and manufacturer, with a portfolio of apparel brands across t-shirts, innerwear, casualwear, activewear, socks, and hosiery. Its success derives from the obvious fact that people cannot function in modern society without being clothed, and companies which cater to this need will benefit their shareholders.
Hanesbrands does just that, catering to customers by offering branded activewear and undergarments which are marketed under familiar brand names such as Abanderado, Bali, Bonds, Champion, DIM, Hanes, Gear for Sports, Just My Size, L'eggs, Lovable, Maidenform, Nur Die/Nur Der, Playtex, and Wonderbra.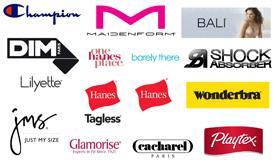 Image taken from the Intimate Apparel Journal's November 2014 edition.
These products are about as sure a long-term bet as one can find. People arent going to stop wearing bras and underwear anytime soon, and theres almost no chance of technological obsolescence. The fact that Hanesbrands has enjoyed steady revenue over the past five years testifies to its profitability.
| | |
| --- | --- |
| Year | Revenue ($) |
| 2013 | 4.63 billion |
| 2014 | 5.32 billion |
| 2015 | 5.73 billion |
| 2016 | 6.03 billion |
| 2017 | 6.47 billion |
However, due to disappointment concerning full-year profit guidance, Hanesbrands' share price fell below $19 on February 8 for the first time in a long time.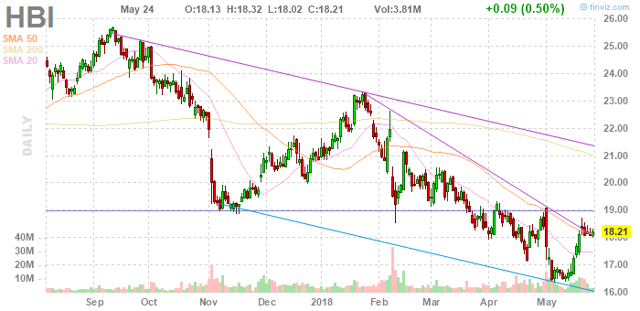 Image taken from FinViz.com
There are concerns about Hanesbrands that do merit consideration. The balance sheet is in poor shape due to the debt that has been incurred to fund acquisitions such as Maidenform for $575 million in 2013 and Pacific Brands Ltd. for approximately $800 million in 2016. As a result, Hanesbrands has a debt-to-equity ratio of 6.41, which is not helped by the negative free cash flow margin of -10%. Furthermore, Hanesbrands' decision to open more brick-and-mortar stores, as noted above, goes against the trend towards e-commerce and thus seems counterproductive.
However, these concerns do seem to pale by comparison with the long-term strategy that Hanesbrands unveiled at its May 15 investor day meeting. As CEO Gerald W. Evans Jr. put it:
We have expanded our brand portfolio, diversified our business internationally and across channels, and increased the leverage of our powerful global supply chain to deliver more consistent organic growth and higher cash-flow generation…We have a lot of momentum and are re-energizing our Sell More Spend Less Generate Cash strategy to unleash our full potential for shareholder value.
Priorities that the company intend to address with immediate effect are reducing company debt and ending integration charges for previous acquisitions, plus returning the domestic Innerwear business to growth, which would offset the debt-to-equity issue and the negative FCF issue. In addition, Hanesbrands are committed to driving double-digit growth for the online/customer-direct channel, meaning that while brick-and-mortar will have a place, e-commerce is also part of the long-term plan. To quote CFO Barry A. Hytinen:
Over the next few years, we expect to see meaningful EPS growth from our disciplined capital allocation strategy and modest operating margin expansion…We are well positioned with strong brands, a proven business model, a commitment to deleverage, strong cash generation, and a balanced capital allocation strategy.
Long-term, therefore, Hanesbrands seems to be working towards getting its house in order, and is consequently on sale, trading in the high-$10 range with a price-to-earnings ratio of 12.60, a forward P/E ratio of 9.45, and offers a dividend yield of 3.31% with a payout ratio of 34.1%. The dividend has been consecutively raised for four years, and the low payout ratio suggests that this trend of rising dividend payments will continue going forward.
While Hanesbrands is trading lower than it has been, the question of whether or not it is fairly valued now must be addressed. Earnings per share over the past twelve months was $1.44, and EPS growth over the next five years is estimated to be 2.08%. Using an 11% discount rate – the stock market average – I calculate fair value for Hanesbrands Inc. to be $22.22. The stock is undervalued by 18% at this time.
DISCLAIMER: The author is not a financial professional and accepts no responsibility for any investment decisions a reader makes. This article is presented for information purposes only. Furthermore, the figures cited are the product of the author's own research and may differ from those of other analysts. Always do your own due diligence when researching prospective investments.
Disclosure: I/we have no positions in any stocks mentioned, and no plans to initiate any positions within the next 72 hours.
I wrote this article myself, and it expresses my own opinions. I am not receiving compensation for it (other than from Seeking Alpha). I have no business relationship with any company whose stock is mentioned in this article.