iRobot (NASDAQ: IRBT) shareholders have been on a wild ride this past year. The stock began the year in the high $50s and proceded to almost double, topping at $109 in July after Q2 earnings trounced estimates. Since then, the stock has experienced huge big gyrations in both directions as both bulls and bears pushed their case regarding the future of the stock. As the year is coming to a close, the bears seem to be having their way as the stock is currently sitting at $66 per share, not far from where it started the year.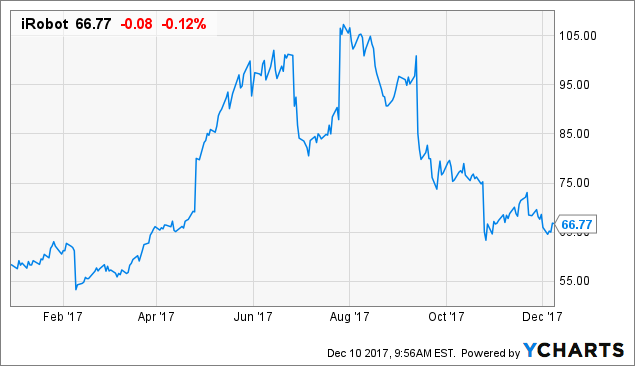 IRBT data by YCharts
As I see it, there are three basic reasons why the swings have been unusually pronounced.
High Short Interest Emotional Investment/Confirmation Bias-Many authors who have written about iRobot have written numerous articles with subsequent articles often serving the purpose of strengthening or justifying their previous stance. We are all human and confirmation bias is a powerful force. Even the great investors(think Warren Buffett and Coca-Cola) are affected by this powerful force at times. One-trick pony-While iRobot technically has three product lines, the Q3 report showed 89.8% of its revenue coming from the robotic vacuum cleaner segment. That means two things. First, when there is only one product involved, any news, good or bad, is magnified, leading to magnified stock movements. Secondly, because at least for the time being, Roomba essentially is iRobot, I will be focusing on the robotic vacuum cleaner segment and we develop an investing thesis.

SOURCE: IROBOT THIRD QUARTER REVENUE BREAKDOWN IN MILLIONS
A lot of the noise surrounding iRobot seems to be based more on emotions than numerical projections. The bears have won the last round. Let's dig into the details and examine whether the recent stock price is justified or whether this maker of home robots deserves a better fate from the market.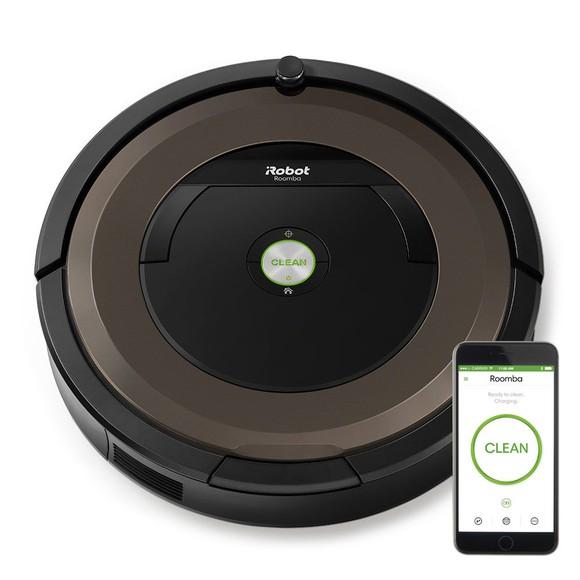 SOURCE: IROBOT
The Bull Case: A Rapidly Growing Market, Dominant Market Share, and a Trusted Brand
There is no doubt that iRobot's main product is positioned in a rapidly growing market. The question is just how rapid that market growth will be. Estimates, expectations, and hopes vary wildly. Sandler Research estimates that the robotic vacuum cleaner market will experience 15.3% annualized growth through 2020. Technovia has a similar forecast. iRobot is looking at things through a different lens. iRobot is targeting a market they refer to as immediately addressable. The immediately addressable market, according to management, consists of 27 million U.S. households and would represent 300% market growth. We know there will be growth. The key will be whether the next two years bring 30% market growth as Sandler and Technovia predict, or if iRobot will succeed in addressing the much larger market depicted below.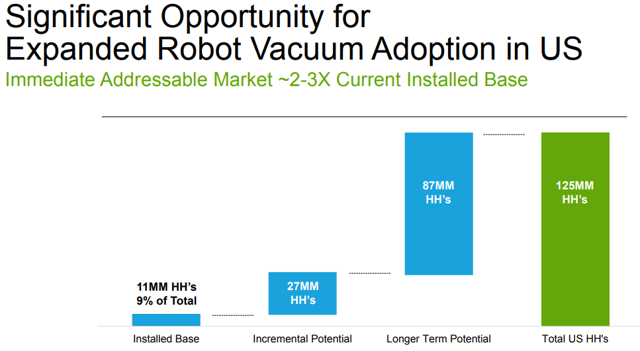 SOURCE: IROBOT
Right now, iRobot has an absolutely dominant market share in the robotic vacuum cleaner industry. At the end of 2016, the company commanded 88% of the market in North America and 64% of the market worldwide.
Maintaining that market share will not be easy but iRobot has an impressive patent portfolio and believes those patents are potent in fending off the competition. On four separate recent occasions, CEO Colin Angle has commented on the importance of its intellectual property. iRobot recently won a patent dispute and has vowed to vigorously defend its patent portfolio. The clearest indication of how management feels is illustrated in this comment Angle made in an interview with Reuters:
The patents are a huge part of our competitive moat. It is getting really hard not to step on our intellectual property.
While iRobot technically was not the first company to bring a robotic vacuum cleaner to market, there is no doubt that the Roomba was the first cleaner to gain widespread name recognition. Therefore, Roomba enjoys the perks that come with "first mover" status. That is important since research has shown that when all other things are equal, buyers tend to gravitate toward a known entity.
Other Positives to Note:
Management recently raised full-year guidance. Gross margin actually increased over the last three years. An Aging population could be a tailwind. Estimates for 33% revenue growth in 2017 blow away Technovia and Sandler Research's expectations for market growth. The acquisitions of two distributors should provide some margin protection. Lots of cash and no debt. Four consecutive earnings beats.
The Bear Case: Commoditization and Competition Coming on Like Gangbusters
With the recent performance and all the positives listed above, it is reasonable to wonder why, as the title of this article states, the company's stock cannot get any traction. I will say the battle between the bulls and the bears is interesting. I would estimate about 85% of all the articles I have read in the last 6 months have been bullish. Yet analysts have become more bearish as evidenced by the four downgrades and absolutely no upgrades since mid-March. And while analysts have turned more bearish, there is no doubt that the biggest and most vocal bear of all is Spruce Point Capital Management.
Before I get into the specifics of the bear case, here is a little history of the Spruce Point/iRobot relationship. Spruce Point has been dogging iRobot for three and a half years, issuing strong sell recommendations all along the way. Spruce Point is currently puffing its chest with a lot of "I told you so" type comments as iRobot's stock price has almost been cut in half since July. While Spruce Point does have some valid points, it is also worth noting that Spruce Point began publishing its hit pieces in May of 2014. Since the first hit piece, even with the recent drop, iRobot's stock has more than doubled the return of the S&P. Enough on Spruce Point, however, let's dig into the bearish arguments behind the drop and see if they have any staying power.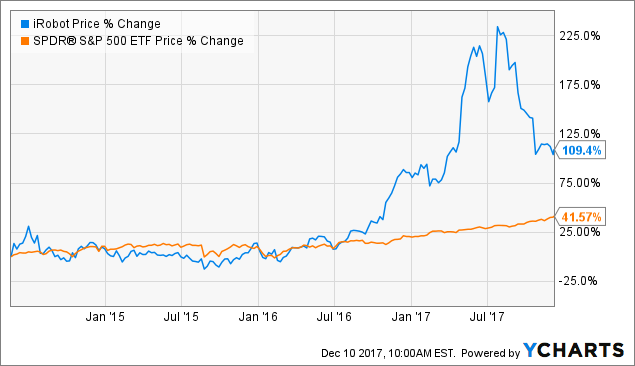 IRBT data by YCharts
The first bear argument is that iRobot's only meaningful revenue source, the Roomba, is becoming a commoditized home appliance. Let's explore.
Below, we have an image from iRobot's investor presentation showing its expectations with regard to new product growth. Right now, the Roomba is in the "explosive growth" stage. That is hard to deny. iRobot acknowledges that any products with explosive growth will at some point transition into the "commoditization stage". The big question is the time frame. While management believes growth will accelerate for the foreseeable future, the bears feel commoditization is happening as we speak.
A quick search on Amazon.com (NASDAQ: AMZN) gives us some good information. A quick search in the home and kitchen area for robotic vacuums under $200 shows over 1200 choices and lists 51 distinct brands. Everybody and their sister is making one. iRobot doesn't really care. Alison Dean said over and over at the Morgan Stanley Laguna Conference that iRobot is and will continue to be a premium focused company and they do not compete at the lower end of the price scale.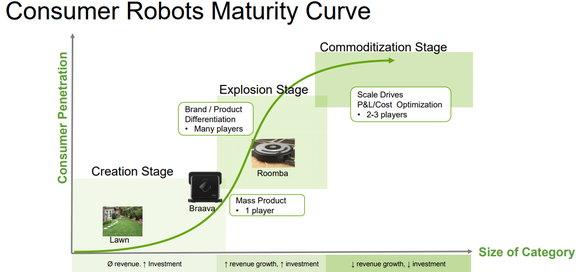 SOURCE: IROBOT
With that in mind, let's zero in on the premium price points and, as Dean did at the Laguna Conference, let's separate that larger market into two separate markets. First, we'll look at the lower end of the premium market, which we will define as the $300-$600 price range. This price point, coincidentally, is where iRobot's two newest Roomba's were launched. After that, we'll look at the market priced $601 and above.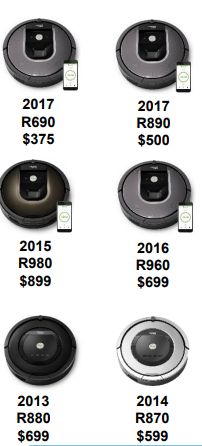 SOURCE: IROBOT
This lower end of the premium market shows 227 choices and again, 51 different brands. iRobot's chart defines the explosion stage as having only one real player. The commoditization stage is defined as having 2-3 players. We won't know if any of these other manufacturers are becoming legitimate players until the new market share numbers come out in a couple of months but we do know a lot of competitors are throwing their hats in the ring and….five of those competitors are marketing six or more products at this price point.
At the higher end of the premium range, Roomba clearly stands out. There are only 73 models and 21 distinct manufacturers listed. Significantly, Roomba models occupy six of the first seven spots on the page.
Author's Note: The Amazon numbers listed above are large. If one does his or her own search, one would find the numbers are modestly inflated because of computer recognition error. On common thing I saw was vacuums with model numbers that fell into my searched price range were included. i.e. If there was a Samsung 550 vacuum priced at $200, the model number 550 would help it gain inclusion in the lower premium range as well as it's correct category. In all, I would estimate these numbers would be reduced by 20% if we went through one by one.
As far as competition, we need to determine if any of the competitors have what it takes to significantly impact market share. The bears certainly believe so and judging by recent stock action, so does Mr. Market.
The biggest contender to take meaningful market share is Shark Ninja but there are others as well. Shark Ninja is already a trusted brand name and has a history of entering markets in an aggressive fashion. Shark Ninja has poached four high-level iRobot employees, including Patty Cho, Senior Director of Brand Marketing. Samsung (OTC: OTC:SSNLF) and Neato Robotics appear to be taking up more shelf space in retail stores and Ecovacs is the market leader in China and has increased its market share in Asia from non-existent to 26% in just three years.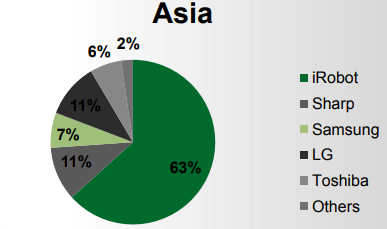 Market Share in Asia-End of 2013
Other evidence Roomba may no longer be the only meaningful game in town:
Gross margins have declined from 52% to 48% this year. iRobot has had a tough time cracking the code in China. Some reports indicate iRobot is offering more discounts than in the past. Shark-Ion was on the cover of Kohl's cyber Monday advertising flyer. The highest rated robotic vacuum on Amazon is a Minsu. The highest rated premium vacuum on Amazon is a bObsweep.
What's Coming Up?
The obvious thing to mention here is that we are in the midst of the holiday shopping season. The second thing to mention is that earnings will be reported in the second week of February. At first glance, it seems odd that the Q4 estimates are well below that of Q3. However, we do know that gross margin percent is expected to be roughly 500 basis points lower than Q3, primarily due to the impact of the Robopolis acquisition. Regardless, the company has a history of underpromising and overdelivering so it would be reasonable to expect iRobot's earnings to at least come in at the high end of guidance, which is $2.00 per share. I would expect them to be a little higher.
New Products
The whole conversation will change if iRobot comes up with a second meaningful revenue source. In the past couple years, the Looj was a failure and I think we can say the same about the Mirra Family of pool cleaners. The Braava family contributes a modest 10% of revenue but appears to be on a slight decline already so iRobot remains a Roomba story.
There is also talk about smart home but no real specifics as to how and when that will be monetized. Alison Dean says we are in "early days" and really in an exploration phase. Dean indicated that the next new product to market will likely be a robotic lawnmower.
"We've publicly disclosed we are working on a robotic lawnmower, so that's the next physical product we think is important to our future."
Since none of us know the timing or how much a robotic mower would move the needle, we need to, by and large, leave it out of our analysis but if it was to become a meaningful revenue source, the bear case would be close to extinction.
Conclusion
While everyone expects the robotic vacuum cleaner market to grow, expectations vary wildly with regard to just how pronounced future growth will be and how much of that growth iRobot will claim. On one extreme, Spruce Point Capital calls the company a "one trick pony" with a stagnant product. On the other extreme, iRobot CFO Alison Dean talks about 300% market growth in the relative near future and likens robotic vacuums to the microwave, noting that there are microwaves in almost every house and apartment today. Sandler Research, Technovia, and others are somewhere in between.
Since I would hardly call the robotic vacuum cleaner market stagnant and I have a hard time seeing it becoming as prevalent as the microwave, I am going to use the numbers in between. In order to go further with projections, we also have to decide what PE ratio the company deserves when the robotic vacuum market matures and what margins we can expect.
Starting with market growth, if we take the top end of revenue estimates and multiply by .898, we get projected Roomba revenue of $790,240,000 for 2107. If we give iRobot 63% market share this year, the overall robotic vacuum market would be $1.254 billion. If that market grows by 15.3% until 2022, the robotic vacuum market would become a $2.556 billion industry. At this point, and I may get crucified on the message boards because of this, I am going to apply a 45% global market share to iRobot, which would give Roomba a 2022 revenue number of $1.15 billion.
I am going to leave the valuation as is for two reasons. The current PE of 32 feels a little high but when you back out the net cash, the PE becomes closer to 27. You'll notice in the chart of iRobot's self-identified peers below, six have valuations lower than that(Fitbit's (NASDAQ: FIT) numbers are buried) and four are higher. I also am holding margins firm even though my sense is there will be a little margin contraction with increased competition.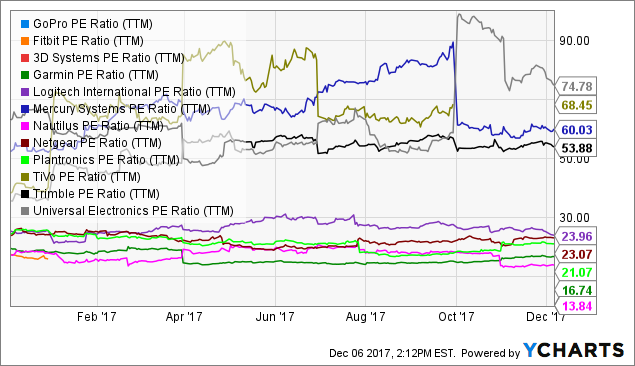 GPRO PE Ratio (NYSE:TTM) data by YCharts
When the dust settles, using those numbers, the results have iRobot achieving a 5.5% compound annual growth rate for the next five year. As a value investor, I will stay away because 5.5% is a modest gain and there is considerable uncertainty involved. However, if you are a growth investor who is convinced the robotic vacuum market will grow faster, iRobot will continue to command above 55% market share, or another product will generate meaningful revenue, Robot stock should be on your radar.
Disclosure: I/we have no positions in any stocks mentioned, and no plans to initiate any positions within the next 72 hours.
I wrote this article myself, and it expresses my own opinions. I am not receiving compensation for it (other than from Seeking Alpha). I have no business relationship with any company whose stock is mentioned in this article.
Editor's Note: This article discusses one or more securities that do not trade on a major U.S. exchange. Please be aware of the risks associated with these stocks.
About this article:ExpandAuthor payment: $35 + $0.01/page view. Authors of PRO articles receive a minimum guaranteed payment of $150-500.Tagged: Investing Ideas, Long Ideas, Consumer Goods, AppliancesWant to share your opinion on this article? Add a comment.Disagree with this article? Submit your own.To report a factual error in this article, click here