Iran and Russia just took a page out of Venezuela's playbook.
Like Caracas announced on Dec. 4, Moscow and Tehran are looking into cryptocurrencies as a means of upending the U.S. petrodollar's reign over the global oil market, Cointelegraph reported on Dec. 11.
For its part, crypto's rise in popularity of late does make for an enticing investment choice, especially with Bitcoin's 150% surge over the past month.
ICOs (initial coin offerings) abound as well. In fact, investors have poured in excess of $3 billion into over 200 ICOs this year, according to data from Coinschedule.com on Oct. 22.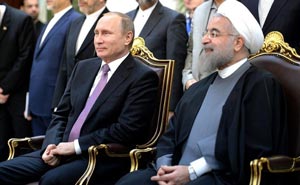 Second, purchasing and selling oil contracts via crypto would also be a pragmatic move. Cryptocurrency is bought and sold anonymously through the use of blockchain technology (the public ledger for all crypto transactions).
This perk is especially enticing for Iran, Russia, and Venezuela, as it would allow them to buy and sell oil contracts incognito. The world would be none the wiser to any "cut-or-glut" oil schemes they might try to pull off.
Indeed, it makes sense that these three countries are at least threatening to revert their oil transaction to crypto coins. They're losing profits thanks to the petrodollar.
Should cryptocurrency actually upend the U.S. tender one day soon – especially if further sanctions on Russia or Iran are decreed – then investors will need to be ready.
Here's how you come out on top.
Prepare Now for the Gold Opportunity of a Lifetime
Money Morning Capital Wave Strategist Shah Gilani says right now there's not much correlation between Bitcoin and gold.
But that will soon change.
"What's going to happen if Bitcoin keeps rising and creating positive futures trading, allowing traders and investors to be more prudent in their position-taking, is that gold will probably drift lower," Shah says.
"Calm trading in a rising Bitcoin would elicit more commentary and build perceptions about how Bitcoin is a store of value, and how it's more profitable to hold than gold," he adds.
Major oil players exchanging barrels for Bitcoin would only add to this commentary.
At when this chatter erupts, investors must act.
Shah says he'd look to buy gold and gold miners as they drift lower.
"Because by the time the Bitcoin dam breaks (and it will break)," he warns, "gold will be incredibly cheap and gold miners insanely oversold…"
Read more about Shah's crypto-centric profit plays, including his strategy to play the CBOE and CME markets, right here…
Saudi Arabia's $100 Billion Plan to End Big Oil
Billionaires have been dumping oil stocks at a frantic pace.
Warren Buffett sold $3.7 billion worth of oil holdings, Bill Gates unloaded nearly $1 billion, and George Soros closed out multiple positions.
A former intelligence operative believes it's connected with the new fuel Saudi Arabia is pouring $100 billion into.Click here to find out more…
FollowMoney Morningon Twitter@moneymorning,Facebook, andLinkedIn.
Join the conversation. Click here to jump to comments…