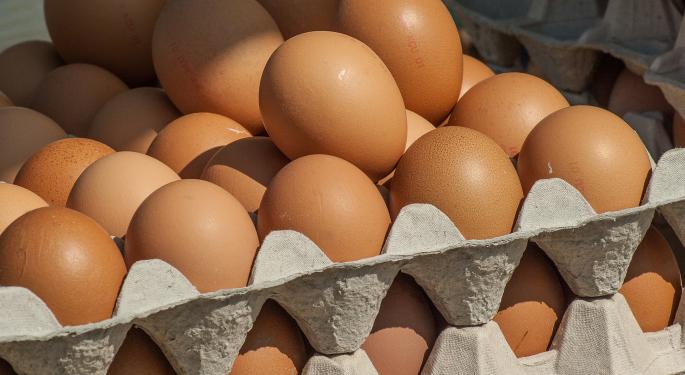 Related CALM Why These 4 Stocks Were Tumbling After Hours Earnings Recap For March 28 Magic Formula Portfolio Achieves Alpha In Q1 (Seeking Alpha)
Shares of egg producer Cal-Maine Foods Inc (NASDAQ: CALM) fell 2 percent over concerns on falling consumer demand for eggs.
However, industry expert Angie Setzer of Citizens Grain Elevator thinks otherwise.
"To be honest I don't see consumer demand for eggs waning, but the transition towards cage-free seems to be picking up steam. Like anything else in the food industry consumer sentiment will drive market trends and change the way some aspects of the business are handled," Setzer told Benzinga.
"The million-dollar question as we look ahead is whether or not the cage-free push is something that has staying power, or if consumers will feel that their voices have been heard enough that they begin to focus on the next food crisis du jour," she added.
Related Link: Wal-Mart Says All Of Its Eggs Will Come From Cage-Free Sources By 2025
Setzer said Cal-Maine will make necessary changes to production to remain competitive if the concern over loss in market share is "great enough."
"Demand for eggs, however, in my opinion will remain steady, if not grow in the years ahead. Eggs are a protein packed power food, if they can survive the cholesterol scare of the 90's they will be able to continue to see demand remain through the cage-free concerns of the 2010's," Setzer noted.
Image Credit: Public Domain
Posted-In: Angie SetzerAnalyst Color Commodities Top Stories Markets Trading Ideas Interview General Best of Benzinga
© 2016 Benzinga.com. Benzinga does not provide investment advice. All rights reserved.

Related Articles (CALM) Why These 4 Stocks Were Tumbling After Hours Earnings Recap For March 28 Mid-Afternoon Market Update: Dow Jumps 50 Points; Pandora Shares Slide Mid-Day Market Update: Qlik Technologies Surges Amid Potential Sale; VirtualScopics Shares Decline Mid-Morning Market Update: Markets Mostly Flat; Cal-Maine Foods Profit Beats Views Cal-Main Foods Spikes 6% Following Q3 Earnings Beat
View Comments and Join the Discussion! View the discussion thread.
Get Benzinga's Newsletters
Zing Talk: Benzingas Top Stories
Morning Market Primer
Weekly ETF Outlook
Weekly Options Outlook
Daily Ratings Summary
Technical Chart of the Day
Weekly Economic Outlook
Sign up for email alerts on CALM
Trending Recent
1
UA: No, Under Armour Shares Are Not Down 50%

Never underestimate the power of a good quarter to move a company's stock in the right direction. This dynamic was apparent with NetApp (NASDAQ:NTAP) on Thursday, as its shares were trading more than 4% higher in late-afternoon action following the publication of its first-quarter 2022 figures.<

tags:

After a strong run, Cisco Systems  (CSCO)  stock has been cooling off lately.

At one point, shares were up 3% on Wednesday, then flipped to a decline of 1.4%, before settling lower by 0.54%.

The stock got off to another strong start on Thursday, rallying almost 2% i

tags:

The price-drop curse remains in place.

After falling immediately following the release of 10 of its past 11 quarterly reports, the share price of video gaming retailer GameStop (NYSE:GME) is down -- again -- in Wednesday's after-hours trading, following the post-close release of the

New York State Common Retirement Fund trimmed its holdings in RBC Bearings Incorporated (NASDAQ:ROLL) by 6.6% in the second quarter, according to the company in its most recent Form 13F filing with the Securities & Exchange Commission. The fund owned 31,075 shares of the industrial product

Shares of the large cryptocurrency exchange Coinbase Global (NASDAQ:COIN) fell 2.35% in trading today for no obvious reason other than movement in general cryptocurrency prices and the broader market. 

So what

Most stocks in the cryptocurrency space tend to move with prices for broader c

2023-05-29 01:30:06

2023-05-28 21:30:31

Here's Advertisement

2023-05-28 19:30:13

2023-05-28 17:30:02

2023-05-28 07:31:11

2023-05-28 05:30:18

2023-05-28 01:30:11

2023-05-27 19:30:15

2023-05-26 17:30:04