I thought investors would have bored themselves to death talking about Trump months ago.
But I was dead wrong.
Turn on the financial news and youll see Trumps fingerprints on every single market discussion. Were more than 12 months removed from the election, yet the Trump-O-nomics alerts still flash across the screen on CNBC at least once a week. And even though Trumps policies were banned from your familys Thanksgiving table, most investors continue to look for ways his administration could move the markets.
The Trump bug has burrowed into Wall Streets brain, too. Even the smartest money managers in the business are stuck on politics. Everywhere you turn, Trump continues to influence the talking points of all the so-called smartest guys in the room
Back in the spring, I showed you how professional money managers were tuned in to Trump because their clients demanded it. Believe it or not, its the Trump detractors who have caused the biggest stir on Wall Street. Like shock-jock Howard Stern, Trumps staunchest critics are paying closer attention to his rhetoric than his biggest fans.
Thats right when it comes to investing in the age of Trump, his supporters arent the ones throwing wrenches in the markets gears.
Half the country wants Trump to fail, one prominent fund manager told me back in March. They arent putting their money to work.
Common sense says investors cant resist a roaring market. Surely, even the biggest Clinton supporters in the country would gladly stay along for the ride as the gains pile up.
But thats simply not true, according to many of the professionals Ive chatted with this year. The anti-Trump crowd has yanked its money out of the market at a frantic pace. Money managers attempting to play potential policy changes are getting more than an earful from their clients.
It all comes down to partisan politics. They dont like Trump. And they dont want their money in so-called pro-Trump investments. In our hyper-politicized world, taking sides is all that matters.
Unless you want to make money
I dont care if youre president of the Hillary Clinton fan club. If you let your political beliefs sway your investing decisions, the markets going to run you over.
The major averages are sitting at all-time highs right now. If you sat this rally out because of your political views (or worse, if you bet against the market), your investment accounts suffered.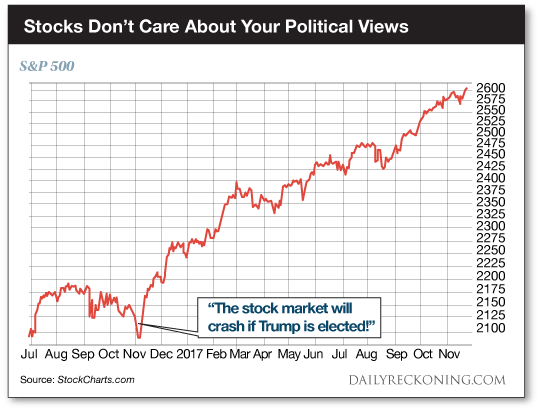 dailyreckoning.com/wp-content/uploads/2017/11/StocksPolitics-DR-300×228.png 300w" sizes="(max-width: 540px) 100vw, 540px" />
Unfortunately, the internets made it all too easy to bury your head in the partisan sand. With the click of a mouse, you can limit your information intake to only the websites and commentary that confirm to your viewpoints. Forget reality
Engaging in so-called group thinkgetting information solely from like-minded peopleis one of the biggest mistakes an investor can make, on par with getting information from a single source, and perhaps riskier, because multiple sources agreeing can make a conclusion seem far more sure than it actually is, MarketWatch reports.
As Morningstars John Rekenthaler notes, investing by conviction without digging in to what anyone else is saying is a recipe for disaster.
His solution?
Court opposing views. Consider the view of those who disagree.
The wealthiest investors in the world are always extremely critical of their best ideas. They actively seek out sources that disprove their investing thesis. If their arguments cant stand up to scrutiny, theyll change their minds.
Thats why you need to get out of your political bubbleespecially if youre anti-Trump. Youre fighting the tape to your own portfolios detriment.
Ultimately, your success in the markets hinges on your ability to shut out the political noise and stick to your trading rules. But if you also shut out every single viewpoint that challenges your own opinions, youre probably costing yourself big bucks.
Sincerely,
Greg Guenthner
forThe Daily Reckoning