Peter Krauth
Between Bitcoin prices surging to nearly $17,000 and oil prices reaching yearly highs, it's no wonder gold prices have fallen this week. And now the Federal Reserve is set to hike interest rates this week…
According to the CME Group, the probability of a Fed rate hike on Dec. 13 is currently at 90.2%. That's powering the U.S. Dollar Index (DXY), which has gained nearly 100 basis points in the past week.
These are all formidable headwinds for the gold price.
But there's light at the end of this tunnel, and the tunnel may be shorter than you think…
Why the Price of Gold Has Fallen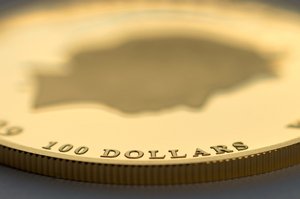 moneymorning.com/wp-content/blogs.dir/1/files/2017/12/hundred-dollar-coin-75×50.jpg 75w" sizes="(max-width: 300px) 100vw, 300px" title="Gold prices" />Before we show you how the Fed's rate hike decision will move gold prices, here's a look at last week's gold price action.
Gold's start to the last trading week was innocuous. In late Sunday evening trading, gold gave up about $5, then opened a few dollars lower, at $1,273, on Monday, Dec. 4. Slight DXY weakness helped gold as the trading day wore on, and the metal clawed back to close at $1,276.
Urgent: Executive Editor Bill Patalon just saw something on his precious metals charts he's only seen twice in 20 years. He calls it the "Halley's Comet of investing" – and it could lead to windfall profits. Read more…
Tuesday punished gold, as the DXY enjoyed a new surge that took it up to 93.45. So gold, which opened at $1,273, quickly sold off to $1,264 by 11:00 a.m., then attracted some bargain hunters. That helped buoy gold prices, which managed to regain $2 from the late-morning low, to close at $1,266.
Wednesday would bring similar action as Tuesday, only milder. Gold opened at $1,266, then ground slowly lower as the DXY peaked at 93.63 around midday. Although the DXY reversed a little, to 93.55 by 5:00 p.m., gold selling pressure continued, and the metal closed at $1,263.
Here's the U.S. Dollar Index action of the past week.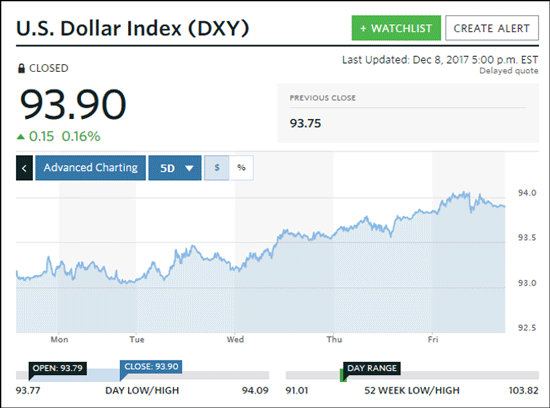 moneymorning.com/wp-content/blogs.dir/1/files/2017/12/pk1-300×223.png 300w, moneymorning.com/wp-content/blogs.dir/1/files/2017/12/pk1-75×56.png 75w" sizes="(max-width: 550px) 100vw, 550px" title="gold" />
On Thursday, gold selling intensified, as technical traders saw gold prices below $1,260 as a signal to jump ship.
News that U.S. jobless claims fell by 2,000, to 236,000, supported expectations of a December Fed rate hike. The DXY peaked just before 8:00 a.m. at 93.73, then weakened to 93.55 just after 1:00 p.m., and then reversed higher to 93.75 by 5:00 p.m. That would cause the price of gold to open at $1,256 and rapidly drop to $1,246 by 3:00 p.m., rebounding slightly to $1,247 at 5:00 p.m.
Unless we see any real further weakness in the days ahead – and we may – Thursday may turn out to have been gold's final sell-off capitulation. At least Friday's gold price action didn't pull the metal still lower.
And that was with the DXY, which rose further, spending the early morning hours well above 94. The DXY dropped back to 93.9 around 9:00 a.m., climbing back above 94 around 11:00 a.m., then retreated to 93.9 into late afternoon. Through this, gold opened at $1,248, and with a little movement both up and down, it still closed at that same price.
Now, let's look at how gold will respond to a new interest rate hike, including our latest gold price prediction…
What a Rate Hike Will Do to Gold Prices
Join the conversation. Click here to jump to comments…

Peter Krauth
About the Author
Browse Peter's articles | View Peter's research services
Peter Krauth is the Resource Specialist for Money Map Press and has contributed some of the most popular and highly regarded investing articles on Money Morning. Peter is headquartered in resource-rich Canada, but he travels around the world to dig up the very best profit opportunity, whether it's in gold, silver, oil, coal, or even potash.
… Read full bio