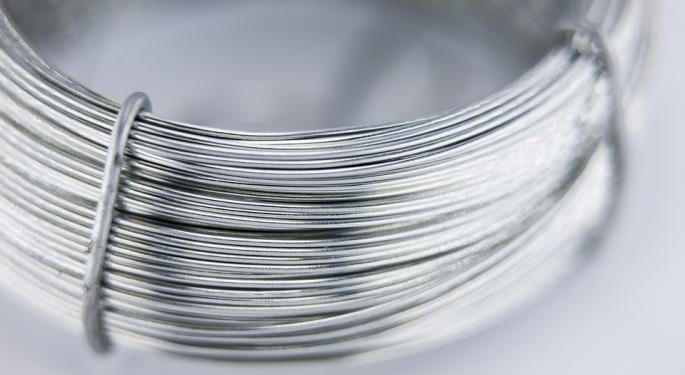 Related CENX 35 Stocks Moving In Monday's Mid-Day Session Benzinga's Top Upgrades, Downgrades For October 30, 2017 Century Aluminum Shows Rising Price Performance With Jump To 81 RS Rating (Investor's Business Daily)
JPMorgan's analyst Michael Gambardella downgraded Century Aluminum Co (NASDAQ: CENX) from Overweight to Neutral and reduced its price target from $22 to $14.50, citing alumina cost headwinds as the main reason for the downgrade.
Alumina prices should ease from peak prices later in 2018, but the profitability and margins of Century Aluminum Co are going to be under pressure for the next few quarters, said Gambardella. He decided to decrease his 2017 EPS estimate from 58 cents to 36 cents because of higher alumina and carbon raw material costs. He is also expecting higher logistics costs due to issues with the Ohio River locks.
Gambardella also lowered his 2018 EPS estimate from $1.98 to 88 cents. His estimate is assuming alumina prices of $465/t in first-quarter 2018, $349/t in second-quarter 2018, $349/t in third-quarter 2018 and $332/t in fourth-quarter 2018, up from the previous estimate of $300/t for the full year. Gambardella estimates that every $10/t increase in the alumina price above a starting price of $300/t is going to have a negative $14 mm impact on annual EBITDA.
The company reported earnings on Oct. 26. It failed to meet EPS expectations because of higher SG&A costs and hedging losses. EBITDA and revenue were roughly in line with expectations.
At time of publication, shares of Century Aluminum were down 11.30 percent at $13.47.
Related Link: 12 Stocks Moving Following China Import News
Latest Ratings for CENX
DateFirmActionFromTo
Oct 2017
JP Morgan
Maintains
Neutral
Oct 2017
JP Morgan
Downgrades
Overweight
Neutral
Oct 2017
BMO Capital
Maintains
Market Perform
View More Analyst Ratings for CENX
View the Latest Analyst Ratings