Earlier this month, the Hewlett Packard Enterprise (HPE) declared a cash dividend of $0.075 per share of common stock, which represents a 15.4% increase from the previous dividend of $0.065. This years income was 318M, with its EPS growing 35.5%. HPEs performance this year, while unspectacular, was still good overall, and it is taking the right steps to continue expanding its sales and growth.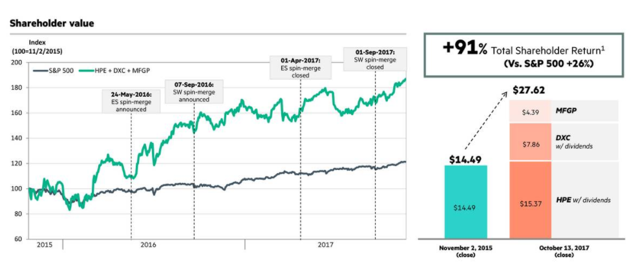 (Chart taken from HPE Securities Analyst Meeting 2017)
HPEs performance in the past few years has been trending upwards, with the company steadily growing at a small but steady rate. Looking at the chart, we can see how HPE, in conjunction with DXC (NYSE:DXC) and Micro Focus (OTC:MFGP), outpaced the S&P 500. Since November 2015 to October 2017, the total shareholder return was of 91%, while S&P 500 had a 26% return. In previous years, HPEs return was near that of S&P's, so this seems like a clear improvement.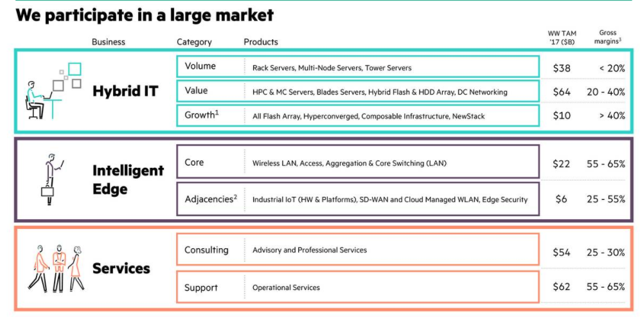 (Taken from HPE Securities Analyst Meeting 2017)
HPE is also expanding its reach and market. With new technologies emerging, it is looking to be a frontrunner in several categories. In the chart above, it's clear HPE has diversified its earnings, taking on a lot of different sectors in the information and technology sector.
With AI (Artificial Intelligence) becoming mainstream and vital for many companies to stay competitive, HPE is also looking to develop its AI business. It recently announced a new set of artificial intelligence platforms and services, with the objective of helping companies implement AI and deep learning, providing both hardware and software, as well as everything necessary to use AI. For many companies that dont have the infrastructure or resources necessary to develop and implement their own AI systems, this is a great opportunity. It announced four products: HPE Rapid Software Installation for AI, HPE Deep Learning Cookbook, HPE AI Innovation Center and Enhanced HPE Centers of Excellence (COE). By making AI more accessible for thousands of companies, HPE is looking to capitalize on a market almost no one has ventured in.
In the press release, Pankaj Goyal, vice president, Artificial Intelligence Business, Hewlett Packard Enterprise, said:
We live in a world today where were generating copious amounts of data, and deep learning can help unleash intelligence from this data. However, a one size fits all solution doesnt work. Each enterprise has unique needs that require a distinct approach to get started, scale and optimize its infrastructure for deep learning. At HPE, we aim to make AI real for our customers no matter where they are in their journeys with our industry-leading infrastructure portfolio, AI expertise, world-class research and ecosystem of partners.
According to an article written by Matt Hogan, HPE is one of the most undervalued stocks top money managers are buying. According to his research, Jeffrey Smith of Starboard Value purchased $86.1 million in shares, which represents 5.1% of the portfolio, while David Einhorn purchased $73.8 million, equivalent to 1.2% of his portfolio. Hogans research seems to indicate that HPE is currently undervalued and money managers have a good outlook regarding the companys future performance.

(Chart taken from TipRanks)
Using estimates from 20 different analysts, TipRanks calculated an average target price of $15.11 for HPE, which represents a 10.78% upside. The high estimate is of $17.5 and the low of $13. The analysts recommending to buy are from Oppenheimer ($17 estimate), Jefferies ($17.5), Deutsche Bank ($16) and Raymond James ($17). While most analysts are recommending to hold rather than buy, the average price target still seems to indicate buying is a good option at the moment.
Taking into account everything Ive looked at, I believe HPE might be undervalued. While many believe HPEs performance in the past few years has been underwhelming, I believe it is taking the rights steps to grow the company. With the development of its AI branch and the continued growth of other areas, I believe it is setting itself up for success.
Disclosure: I/we have no positions in any stocks mentioned, and no plans to initiate any positions within the next 72 hours.
I wrote this article myself, and it expresses my own opinions. I am not receiving compensation for it (other than from Seeking Alpha). I have no business relationship with any company whose stock is mentioned in this article.
About this article:ExpandAuthor payment: $35 + $0.01/page view. Authors of PRO articles receive a minimum guaranteed payment of $150-500.Tagged: Investing Ideas, Long Ideas, Technology, Networking & Communication DevicesWant to share your opinion on this article? Add a comment.Disagree with this article? Submit your own.To report a factual error in this article, click here