Investment Thesis
Hertz (HTZ) finds itself in a transition period. While management has made it quite clear that stakeholders should not expect any sustainable growth before 2019, its Q3 2017 results were not at all bad. Management's previous lack of transparency was tentatively addressed in its earnings call as they attempt to calm markets with regards to its previous liquidity raises. Nevertheless, 2017 and 2018 will be periods of increased investment for Hertz. Presently, shareholders remain impatient and despondent on Hertz' turnaround progress which can be seen in the recent share price movement. Without much evidence of progress, its shares remain cheap and it is the case of investing now and waiting, for Hertz to bear fruit in 2019.
My Background Psychology on Hertz
What follows is a brief background to my evolving thinking on Hertz – feel free to jump this section if you are not interested in witnessing my underlying psychological thoughts on this company.
Back in July 2017, I wrote an article titled, The Market Is Wrong To Rally On Recent News. That article concluded with the following statement:
In spite of the recent rally, which would have provided some respite to shareholders, I suspect that it will not be long lasting. Overall, the company finds itself in a very interesting spot in terms of valuation and I can certainly understand the appeal to the bull side, which is that at this price the stock is undervalued and it could easily double. However, I personally am concerned that its increasing indebtedness as well as shareholder dilutions, combined with its declined revenues, make this investment risky and I prefer to avoid this stock.
A few days later, in August 2017, having had some time to go away and think over my position I wrote a different article titled, Reversing My Opinion Going Into Q2. I opened that article by saying:
I have reversed my opinion and believe that Hertz is in fact undervalued and that there is a margin of safety at the current price. I know that I may come across as being a fickle and inconsistent investor but this is absolutely not the case. I have had a lot of time to think over my position and believe that investors might be rewarded from the current valuation of Hertz. This decision on my part was not easy, but at least now I can see the reasons why Hertz might fail to succeed as a profitable investment.
Now, before we get started I want to highlight one thing. I have not missed that earnings will come out tomorrow and they will, most likely, be terrible. But I'm not investing in Hertz for a quarter. I'm here for a while.
Ultimately, I become a shareholder as I was unperturbed by the company's multi-year transitional period and uncertainty over its execution while its share price remained depressed and potentially carried a margin of safety.
Then, in my last published article on Hertz, just after its Q2 2017 results, I published an article titled, There Is Still Plenty Of Uncertainty Facing Hertz. I concluded that analysis by saying,
Hertz is difficult to value with a truly uncertain path ahead. I suspect that the market is being too negative on Hertz. There will, undoubtedly, still be some nasty surprises to percolate through the rest of 2017 and its shares will continue to be extremely volatile upwards and downwards.
Recent Developments
Hertz Q3 results were not too bad. Objectively analyzed, for what could have been truly terrible results turned out to be surprisingly satisfactory. Readers should remember that fiscal 2017 has been earmarked to be a period of elevated investment. Thus, to see adjusted corporate EBITDA for Q3 2017 at $321 million vs. $329 million in the same period a year ago was satisfactory indeed. While results are expected to continue to be lumpy, at least the results appear to point towards a stable enterprise. Having said that, as one might expect in a transition year, free cash flow was negative, coming in at $418 million, which was painful. Meanwhile, cash from operations for the trailing 9 months were relatively flat compared with the same period a year ago, with $1,977 million versus with $2,051 million. Therefore, this at least shows that Hertz can generate a strong amount of cash flow from operations, once it stops investing as aggressively into the business, this will translate into strong free cash flow.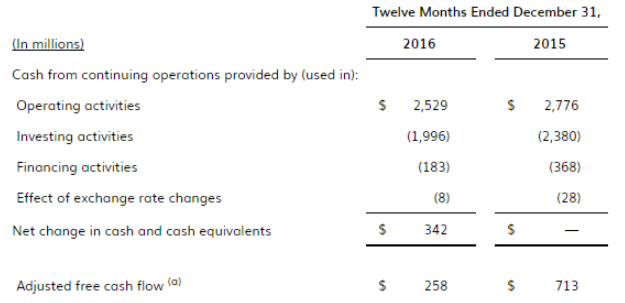 Source: 2016 full year results press release
Although it might well sound like common sense, it is important to state that it is unlikely that Hertz will be as free cash flow generative as it was in the recent past. However, at $1.7 billion market cap, the market is practically saying that it does not believe that Hertz will ever generate any free cash flow, which is undoubtedly an exaggeration. It will generate some free cash flow going forward, it will just take time.
International Opportunity
Interestingly, Hertz did not spend a lot of time in the earnings call going over its adjusted EBITDA growth in its International segment. Although it is the smaller of the two segments, when it comes to generating EBITDA, it is on par with its U.S. segment. More specifically, it had 5% YoY growth which landed Hertz with $158 million in adjusted EBITDA. Moreover, its international segment carries with it quite strong margins, with adjusted EBITDA margin of 22%. This is possible because most of the Internal revenue is from franchises, without the corporate overhead.
Debt
Hertz is practically drowning in too much debt. Painful as it is to say it, this is a fact. As a friend of mine told me the other day, Hertz could easily blow up at a moment's notice. Hertz' CFO Tom Kennedy is actually aware of this issue and stated that Hertz is committed to deleverage its balance sheet, by improving their operating performance. And true to form, Hertz' maintenance covenant ended Q3 2017 2.58x compared with the covenant threshold of 3.25x. Furthermore, under Hertz' efforts to reduce its commitments, this has offered Hertz additional breathing room, with its pro forma leverage early in November at 1.55x versus its threshold of 3.00x. Thus, for now, this is not an immediate danger. Nevertheless, Moody's debt profile rating for Hertz remains at non-investment grade (HTZ3975861).
Growth Opportunity
I wish to make one thing clear; I am not a growth investor. I take on businesses that on a normalized year produce free cash flow and do not pay a lot for those businesses. Essentially, I'm willing to buy businesses with plenty of uncertainty in their underlying operations. However, I think that Hertz has a real decent management team and some growth opportunity; but this will take time. For now the business is just unloved, with too much debt and very cheap. But two years down the road, it will be different, very different but so too will be its share price.
Moving on, what come out of an extraordinarily long earnings call was that this management was very open about the underlying problems which Hertz (and its other brands; such Dollar and Thrifty) are facing. That there are numerous levers which Hertz must pull to get revenue to increase and keep costs down. However, importantly, while Hertz plans to keep continuing to significantly invest in its fleet management system throughout 2018 and very early 2019, this will ultimately lead the way towards Hertz gaining some market share.
Meanwhile, as was highlighted in the earnings call, management believes that the car rental industry has some growth.
I think there is a natural 4% to 5% growth in this industry. What sometimes tampers that is corporate travel as companies have pressure on their expenses and they — one of the areas [that] they quickly look to is don't get on a plane [but instead] have a conference call. But, I think what we have seen over time is a consistent mid to low single digit growth and Hertz just needs to get more of its fair share in that space.
Thus, it will take two years for Hertz to be less about surviving the downturn, and position itself to benefit from the sectors' tailwinds.
Dealer Direct
Also, a lot of emphasis was made in the earnings call, that investors do not fully realize that Hertz is the 10th largest car reseller in the U.S. Compared with the market valuation and attention that other car resellers get, Hertz' valuation of this business is 'untapped' and underappreciated by investors. That Hertz' reselling channel carries a lot of 'intrinsic value within the company' that is not being fully utilized. Part of Hertz business model is attempting to resell cars which are approximately 2 years old through Dealer Direct. CFO Tom Kennedy went to great length to explain how Hertz is investing in the tools to allow Dealer Direct's website to make it easier and more convenient for customers to interact and buy, whether through its brick and mortar retail channels or through its online platform. Basically, the way Hertz is currently disposing of its cars, there is some levers to improve the price at which the cars are ultimately disposed of. This will improve Hertz' long-term costs margins and finally, significantly improve its free cash flow generation capabilities.
Fleet Management System
It has been widely reported that Uber (EXCHANGE:PRIVATE) and Lyft (EXCHANGE:PRIVATE) are supposed to disrupt the car rental system. While a lot of that is potentially true, ultimately, Hertz too has a ride-hailing service. While it currently it accounts for approximately 7% of Hertz' volume, management felt that ride-hailing business on net was a positive. However, CEO Kathy Marinello pointed out, with pride, that apart from car rental companies, neither Uber, Apple (AAPL), Google (GOOGL) has a large fleet management system. Marinello went on to say that Hertz' is
uniquely positioned both in the ride-hailing as well as in the autonomous world.
Moreover, seen as how Uber continues to be unprofitable, I suspect that there could, in time, be some interest from some companies wishing to use Hertz' fleet management system to target the autonomous car market. However, according to FT
right now ride-hailing accounts for just 0.4 per cent of passenger car miles travelled in the US
So for all the noise which ride-hailing makes in the press, it is really a non-factor for Hertz. However, the fact remains, that Hertz will continue to invest in updating its fleet management system throughout 2018 and early 2019 and that it could be a strong tool to ensure Hertz' fleet is used at maximum capacity.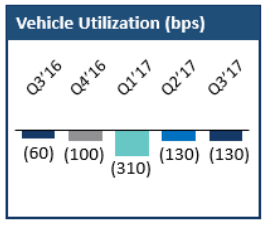 As can be seen in Hertz' investor presentation, total vehicle utilization was 81% vs. 82% 3Q:16. By improving its fleet management system, with better technology and telematics, Hertz will be able to know, not only the physical location of every car but its fuel in the tank or any bumps on the vehicle and whether the vehicle needs some maintenance or not.
Valuation

Here is the real icing on the cake, which is that Hertz is trading just so cheaply. As I hope I have made amply clear in the analysis, Hertz has many problems. Least of all is any tangible evidence that the turnaround is indeed strong. After years of seeing Hertz' valuation imploding, shareholders are disenchanted and this is understandable. Note, that there should minimal reason for Avis (CAR) to trade on a P/Cash Flow basis for nearly double what Hertz trades at. Also, what is very clear in the table above is that Avis is currently trading for nearly half its 5 year average. There is just such wide animosity towards this sector. When I think there should not be and that investors are leaving profit on the table with Hertz.
Takeaway
We are now close to the end of 2017 and Hertz' shares have certainly been highly volatile and offered plenty of opportunity for investors to average down their position. Sadly, Hertz will not be rewarding for those who seek fast money. However, patient investors which feel comfortable to invest now with total disregard for Hertz vicissitudes might well see a profitable return on investment in 2019.
Author's note: If you have enjoyed reading this article, please click "Follow" to get more articles of mine in real time.
Disclaimer: Please do your own due diligence to reach your own conclusions.
Disclosure: I am/we are long HTZ.
I wrote this article myself, and it expresses my own opinions. I am not receiving compensation for it (other than from Seeking Alpha). I have no business relationship with any company whose stock is mentioned in this article.
About this article:ExpandAuthor payment: $35 + $0.01/page view. Authors of PRO articles receive a minimum guaranteed payment of $150-500.Tagged: Investing Ideas, Long Ideas, Services, Rental & Leasing ServicesWant to share your opinion on this article? Add a comment.Disagree with this article? Submit your own.To report a factual error in this article, click here