This site uses Akismet to reduce spam. Learn how your comment data is processed.
The Dow Jones Industrial Average shot up another 190 points within 10 minutes of Tuesday's opening bell. A sharp fall in Boeing Co. (NYSE: BA) stock was offset by rallying tech stocks.
More on Boeing's uncertainty and the tech stocks carrying the Dow Jones today below.
Here are the numbers from Monday for the Dow, S&P 500, and Nasdaq:
| | | | |
| --- | --- | --- | --- |
| Index | Previous Close | Point Change | Percentage Change |
| Dow Jones | 25,650.88 | 200.64 | 0.79% |
| S&P 500 | 2,783.30 | 40.23 | 1.47% |
| Nasdaq | 7,558.06 | 149.92 | 2.02% |
Now, here's a closer look at today's Money Morning insight, the most important market events, and stocks to watch.
The Top Stock Market Stories for Tuesday
Two big stories will headline a busy Tuesday. The first is across the Atlantic Ocean, where the British Parliament will wrangle over Prime Minister Theresa May's last-minute deal with Europe on a soft "Brexit." Late Monday, May won legally binding support from the EU ahead of Tuesday's vote. The Prime Minister secured three documents – a joint statement, a joint instrument, and a unilateral declaration – all aimed at addressing one of the biggest challenges to the split between Britain and the EU: the border between Northern Ireland – a British province – and Ireland. Boeing stock continues to slide – falling another 3.2% — after a downgrade from Raymond James Financial Inc. (NYSE: RJF). The company is reeling after a second Boeing 737 MAX 8 plane in five months crashed. Although the Federal Aviation Commission has said that the planes are airworthy, the U.S. agency expects it will order design changes to the planes' systems and signaling. With that in mind, Raymond James anticipates that the latest crash will lead to delays in orders. Also, Australia has joined China and Ethiopia on a list to suspend the jet from service until the crash in Ethiopia has been investigated. Here in the United States, California Senator Dianne Feinstein called on the U.S. government to suspend all 737 Max 8 flights.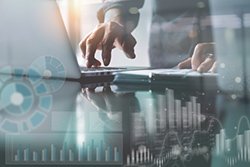 moneymorning.com/wp-content/blogs.dir/1/files/2019/03/using-laptop-75×50.jpg 75w" sizes="(max-width: 250px) 100vw, 250px" title="dow jones industrial average" /> Despite a fall in Boeing stock, Apple Inc. (NASDAQ: AAPL) shares popped 3.47% and Facebook Inc. (NASDAQ: FB) rose 1.46% after both received positive new ratings from analysts. Nvidia Corp. (NASDAQ: NVDA) also went to bat with a 6.97% surge after announcing its purchase of Mellanox Technologies Ltd. (NASDAQ: MLNX) for $6.8 billion. Mellanox stock rose 7.78% at the same time. These rallies could give the Dow Jones Industrial Average the life it needs to continue its long-term bullish streak. Finally, oil prices pushed higher Tuesday thanks to a dip in exports out of Saudi Arabia and Venezuela. As we've noted, the Saudi government is looking to press crude prices higher by reducing OPEC output and limiting shipments to Asia. Those cuts come as economic sanctions continue to weigh on the Venezuelan oil market. The United States imported 500,000 barrels of Venezuelan crude in November 2018, but sanctions will dry up that flow of oil to the United States. With oil prices set to rise in the coming months, we've identified the top energy stock to buy in March. Best of all, it's under $10 per share.
Stocks to Watch Today: DKS, AMZN, SFIX, TSLA
Dick's Sporting Goods Inc. (NYSE: DKS) fell more than 7% Tuesday morning after the retail firm issued weaker 2019 fiscal guidance than Wall Street had anticipated. The retailer reported an adjusted EPS of $1.07 (beating the Street by a penny) and topped revenue expectations. However, same-store sales fell by 0.3% year over year, while net sales were off 1.8%. This is yet another company experiencing the retail Cold Freeze as consumers turn to online channels like Amazon.com Inc. (NASDAQ: AMZN).
See Now: Our founder just released his No. 1 pick for 2019. Don't miss this. See the urgent briefing here…
Shares of Stitch Fix Inc. (NASDAQ: SFIX) popped more than 24% as the personal retail firm crushed earnings expectations after the bell Monday. The firm reported earnings per share of $0.12 on top of $370 million. Wall Street had expected EPS of $0.05 on $365 million in revenue. Shares surged after the firm hiked its full-year outlook and announced that its active client base increased by 18% year over year. Tesla Inc. (NASDAQ: TSLA) CEO Elon Musk is ready to take on the U.S. Securities and Exchange Commission. Musk's lawyers argued Tuesday that recent tweets by the outspoken CEO about the company's production output did not violate a gag order and agreement with the agency. Musk claims that he should not be held in contempt, while his lawyers say that SEC is infringing on the CEO's First Amendment rights. Look for earnings reports from Cohu Inc. (NASDAQ: COHU), Momo Inc. (NASDAQ: MOMO), Switch Inc. (NASDAQ: SWCH), and Zagg Inc. (NASDAQ: ZAGG).
This Is How You Can Grow Incredibly Rich Buying Straight-Up Stocks
Right now, even with all the market uncertainty, there's truly a ridiculous amount of money to be made from stocks if you follow this secret.
We're talking about gains like 663%… 628%… even 818%.
This method is unique in the entire history of investing – and for a limited time, you can learn how to use it for yourself and have an opportunity to hit as many peak gains as possible right away.
Click here now.
Follow Money Morning on Facebook and Twitter.
Join the conversation. Click here to jump to comments…