Prospect Capital Corporation (PSEC) is an interesting BDC to buy for a high-risk income portfolio, but only if the price is right. I believe Prospect Capital makes for a promising trading vehicle, potentially allowing income investors to earn high risk-adjusted returns in case the BDC's shares start to trade at a 25 percent plus discount to NAV again. An investment in PSEC at today's price point implies a 10.14 percent dividend yield.
Prospect Capital's shares have regularly traded at exaggerated discounts from net asset value, allowing opportunistically minded income investors to capture capital gains as well as high dividend income. Obviously, Prospect Capital is a higher risk business development company since the BDC slashed its dividend payout in 2017 on the back of insufficient net investment income, but that doesn't mean investors can't make money here.
Prospect Capital cut its monthly dividend from $0.08333/share to $0.06/share in August, triggering a major sell-off in the stock. The 28 percent decline in the monthly distribution rate was a major shock for investors…most of whom were attracted to Prospect Capital because of its high dividend yield and monthly distribution frequency.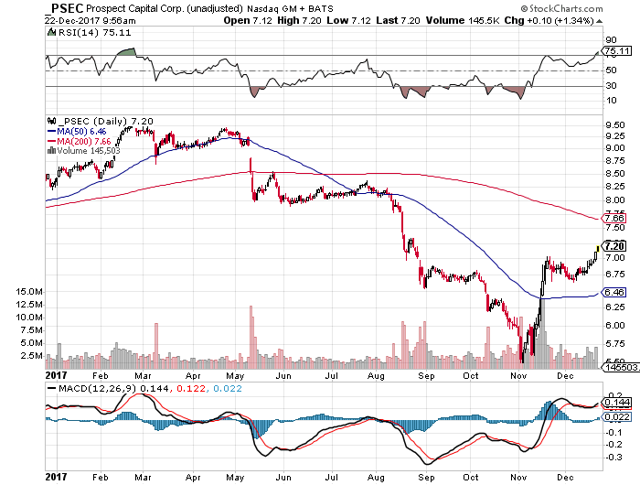 Source: StockCharts.com
The sell-off, however, was a good opportunity to gobble up shares at a discounted valuation.
The key here, and especially heading into 2018, is to not see Prospect Capital as an investment that is required to produce long-term dividend income. Instead, it makes sense to see Prospect Capital more as a trading vehicle in 2018…an income vehicle that can be bought when the net asset value discount spirals out of control, and that can be sold when the gap between net asset value and share price narrows again.
Prospect Capital has a high degree of volatility, especially around earnings report dates, which is when investors tend to speculate more about Prospect Capital's dividend coverage. That said, though, since Prospect Capital just realigned its dividend with Net Investment Income in the second half of 2017, there is a good chance that the BDC will at least manage to cover its dividend in the next several quarters.
Investment Strategy For 2018
Heading into 2018, my investment strategy with respect to Prospect Capital is to buy the BDC's shares when they sell for an exaggerated discount to net asset value (maybe because of deteriorating dividend coverage, a loan default, a stock downgrade etc), somewhere in the range of 25-35 percent, and hold the shares until investor sentiment reverts….which it always has in the past.
Prospect Capital offered income investors numerous entry points on the back of deteriorating investor sentiment over the short haul in the last several years, and often investors could gobble up shares for a 30 percent or higher discount to NAV.
See for yourself.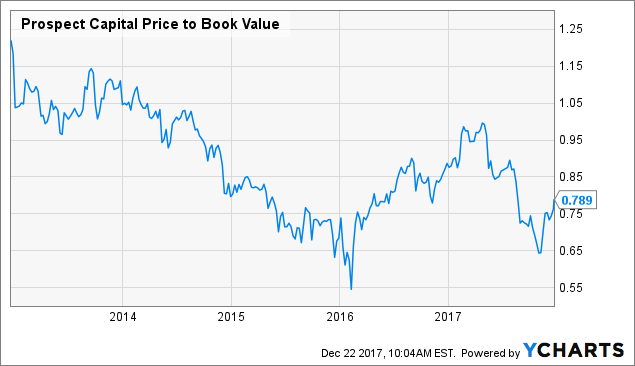 PSEC Price to Book Value data by YCharts
If 2018 is going to be anything like 2017, investors will get plenty of chances to gobble up Prospect Capital on the cheap.
Your Takeaway
Prospect Capital is an income vehicle as much as it is a trading vehicle. I have never been a long-term investor in Prospect Capital, and I have often recommended the business development company to investors when the BDC's shares sold for an excessive discount to net asset value. That way, investors get a decent dividend on a monthly basis, but they are also in a position to capture capital upside tied to a reversal in investor sentiment. Heading into 2018, investors need to be prepared to buy the dips. Anything below $6.50 is a good entry point in my opinion.
If you like to read more of my articles, and like to be kept up to date with the companies I cover, I kindly ask you that you scroll to the top of this page and click 'follow'. I am largely investing in dividend paying stocks, but also venture out occasionally and cover special situations that offer appealing reward-to-risk ratios and have potential for significant capital appreciation. Above all, my immediate investment goal is to achieve financial independence.
Disclosure: I am/we are long PSEC.
I wrote this article myself, and it expresses my own opinions. I am not receiving compensation for it (other than from Seeking Alpha). I have no business relationship with any company whose stock is mentioned in this article.
About this article:ExpandAuthor payment: $35 + $0.01/page view. Authors of PRO articles receive a minimum guaranteed payment of $150-500.Tagged: Investing Ideas, Long Ideas, Financial, Asset ManagementWant to share your opinion on this article? Add a comment.Disagree with this article? Submit your own.To report a factual error in this article, click here