While most investors remain fixated on the tech sector and the cryptocurrency boom, energy is looking like strong bet in 2018.
Oil quietly topped $62 a barrel this week, posting new three year highs. This weeks move caps off an impressive four-month comeback that has shot crude to gains of more than 32%. Sure, the days of $100 oil are long gone. But as this furious energy rally proves, the oil age isnt dead just yet.
In fact, were seeing evidence that a raging energy bull is set to hand alert traders double-digit gains as first-quarter trading heats up.
Lets get down to business
The financial media are blaming oils recent rebound on protests in Iran and tightening inventories. While these two factors are certainly adding fuel to the energy rally, the sparks that ignited this run showed up in the market more than three months ago.
Toward the very end of the third quarter, oil topped $50 a barrel for the first time since May 2017. As oil-related stocks posted their strongest trading week of the year, we took our cue to rotate into the sector.
When the dust finally cleared, the September oil comeback had turned into the catalyst for a new energy rally.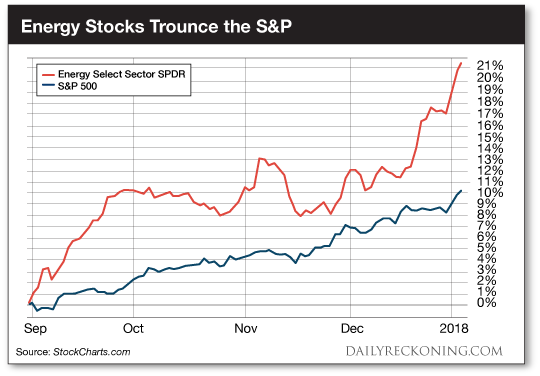 dailyreckoning.com/wp-content/uploads/2018/01/EnergyStocksTrouncetheSP-DR-300×209.png 300w" sizes="(max-width: 540px) 100vw, 540px" />
When we compare the energy sectors recent run to the S&P 500, its not even close. The Energy Select Sector SPDR (NYSE:XLE) has jumped more than 20% since Sept. 1. The S&P is up a little more than 10% over the same timeframe.
Heres how this unexpected comeback story played out:
Six months ago, no one wanted anything to do with oil stocks. Crude was slumping to new 52-week lows as recently as June, threatening to tumble into a new bear market. The energy sector was faring even worse as oil continued to slide.
By mid-June, the energy sector had dropped more than 16% from its December highs. Digging a little deeper, we uncovered more grim energy stats. Bespoke Investment Group noted over the summer that the energy sector underperformed the S&P by more than 23% over the past year. Such a wide performance gap is quite unusual. Since 2000, Bespoke notes that this margin of underperformance has only happened twice.
Poor energy stocks just couldnt catch a break. The latest slump came right on the heels of an oil price that was consistently victimized by a whipsaw market in 2016 that featured huge swings from below $30 to $50 and back.
Oils choppy performance certainly didnt help attract any hot money into the energy sector. Until our signal three months ago, oil patch names remained stuck in a nasty downtrend while the broad market has maintained its strong uptrend.
But just look how quickly the narrative has changed. Six months ago, talking heads were discussing the end of oil. Now that the market is proving the status quo wrong, were seeing a burgeoning turnaround play mature into a new bull market.
Sincerely,
Greg Guenthner
forThe Daily Reckoning