Money Morning Technical Trading Specialist D.R. Barton, Jr., has been a consistently bullish voice for months now. You can see it in his charts – charts that reflect an unprecedented, 89-year record string of days without a 3% drop in the markets.
Right now, D.R. is having an impressive streak of his own. His tight grasp of the all-important market narrative has brought his paid-up subscribers the opportunity to bank 51 triple-digit gains in 2017 – that's more than one per week at this late November date.
With no real end in sight to the markets' upward motion, our Members have been wondering if it's even possible for stocks to sink to any degree. So we thought it would be particularly useful if we asked this enthusiastic trader…
"Can this market even drop from here?"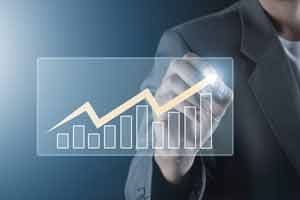 moneymorning.com/wp-content/blogs.dir/1/files/2017/11/man-drawing-chart-75×50.jpg 75w" sizes="(max-width: 300px) 100vw, 300px" title="Market" />
Now, of course the markets could drop sharply behind some mechanical event: a cyberattack, a violent conflict erupting, or political upheaval of some kind. That's always a possibility, however remote.
But it's not clear whether there's a market case for a big, multi-percent, one-day drop at this point. After all, as D.R. likes to say, markets just don't fall out of bed from record highs.
The way he sees it, there are two leading candidates for "Black Swan" out there right now…
Big Pullbacks Are Getting Rare… but Not Impossible
When we asked, D.R. said…
Join the conversation. Click here to jump to comments…