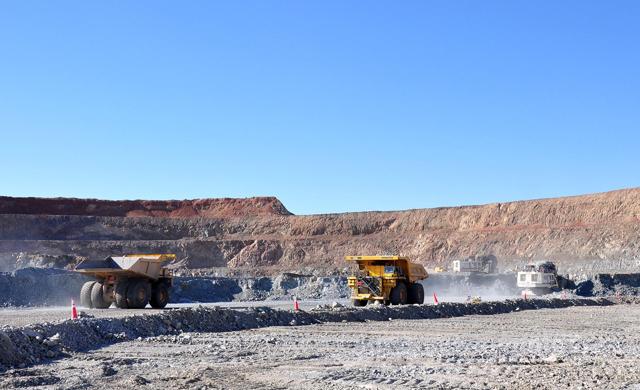 source: Turquoise Hill website
For some time the share price of Turquoise Hill (TRQ) has been floundering around, as demand for copper has been restrained, as well as gold, which is the secondary metal it mines for.
That combination has keep the share price of the miner at a little over $3.00 per share for some time. That appears to have changed as the price of copper appears to have found a bottom and demand from China will likely continue to increase over the next 12 months at least.
The market is just starting to reward Turquoise Hill for the strength in copper, with the company soaring in value since the first week of December.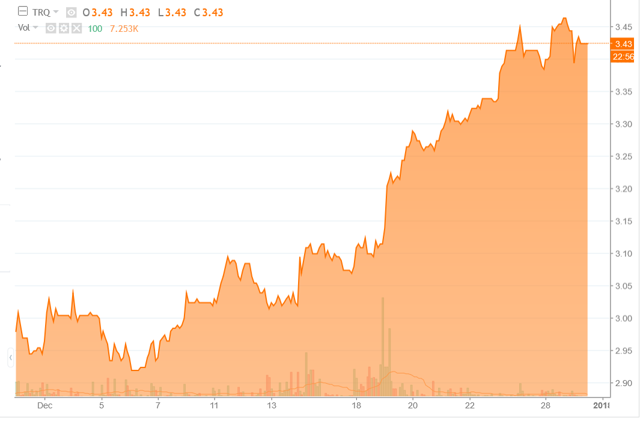 source: Seeking Alpha
Copper prices and demand
The price of copper has jumped 30 percent in 2017, maintaining levels at close to a four-year high. It was trading at $7,286.50 a ton on December 28.
As I mentioned, Turquoise Hill hasn't moved in conjunction with the price of copper, as it's trading only slightly above where it stood last year, and that only because of its recent big upward move. I expect that to change heading into 2018.
One of the positive catalysts for copper to continue to move up in 2018 is the 30 plus labor contracts that will expire in 2018. Expectations are a number of them will slow supply down while new deals are hammered out. The bulk of the contracts set to expire are in Peru and Chile. The total supply represented by the contracts are about five million tons of copper supply.
Increasing demand from China and tightening supply in 2018 should provide a higher ceiling for the price of copper.
Chinese demand for copper
China accounts for approximately 40 percent of global copper demand, which is estimated to come in at about 23 million tons in 2018.
Wanting to remove some of the pollution associated with copper production, state-run copper producer Jiangxi Copper was told to cut production by the Chinese government. That should continue to be a short- and long-term catalyst for copper prices.
In November, Chinese refined copper imports jumped 19 percent from the same period in 2016, ending the month at 329,168 tons.
China also is considering a ban on scrap metal after the end of 2018, which would probably increase the amount of refined copper it imports. That should also support copper if that's how it plays out.
Citi analysts said this in a note:
We expect copper demand growth will remain solid on the back of stronger global growth, and that China will support its "old-economy" growth engine with a notable first quarter 2018 credit impulse.
Christoph Eibl, chief executive at Tiberius Asset Management, said this about industrial metals in general:
China will again next year play a critical part in what happens to industrial metals. Capacity cuts and solid demand next year mean we are optimistic.
Copper will obviously be a significant part of that demand.
Conclusion
Turquoise Hill is poised to meet the growing demand for copper by China, being only a short distance from its border with its control of the Oyu Tolgoi mine in Mongolia.
The giant copper mine, which is getting closer to the completion of the underground phase of its development, will supply China for many years. With the price of copper expected to continue to rise, and China cutting back on internal production, it fits in well with the timing of the completion of the underground development of the mine.
As those who follow the cyclical nature of commodities know, the cure for low prices is low prices. The reason for that is production isn't sustainable at low prices over a prolonged period of time. That means the market eventually rebounds and prices once again climb. Copper and other commodities appear to be in that stage now, and a growing number of investors think we may be in the early stages of a commodity bull market. I think they're right. Copper will be part of that rebound, and Turquoise Hill will be a beneficiary of that.
Investors wanting more exposure to copper should take a much closer look at Turquoise Hill, as it's positioned very well to deliver copper to resource-hungry China, and is close to boosting its supply once it is able to sustainably produce copper from the underground portion of the Oyu Tolgoi mine.
I believe Turquoise Hill is close to starting to meet expectations of what it can deliver to the market and investors in the near future. Once it starts to take off we're not likely to see the company trade under $4.00 per share for a long time.
Disclosure: I/we have no positions in any stocks mentioned, and no plans to initiate any positions within the next 72 hours.
I wrote this article myself, and it expresses my own opinions. I am not receiving compensation for it (other than from Seeking Alpha). I have no business relationship with any company whose stock is mentioned in this article.
About this article:ExpandAuthor payment: $35 + $0.01/page view. Authors of PRO articles receive a minimum guaranteed payment of $150-500.Tagged: Investing Ideas, Long Ideas, Basic Materials, Industrial Metals & Minerals, CanadaWant to share your opinion on this article? Add a comment.Disagree with this article? Submit your own.To report a factual error in this article, click here