Amazon (AMZN) trades at what most deem rich multiples due to the concept that growth remains endless. Investors are willing to overlook the lack of current profits for future profit streams.
The problem with the online retail giant is that the company is increasingly running into competition with other tech giants and finally facing competition pushes from the giant retailers. The biggest problem is that Amazon has possibly already saturated the market and isn't even profitable yet.
Prime Membership Saturated
Several studies are starting to show that Amazon is running into a market already saturated with memberships for key demographics. First, Piper Jaffray reported that 82% of wealthy U.S. households already had Prime memberships. Consumers with incomes above $112,000 are the ones most likely to value the paid membership and spend heavily on the site.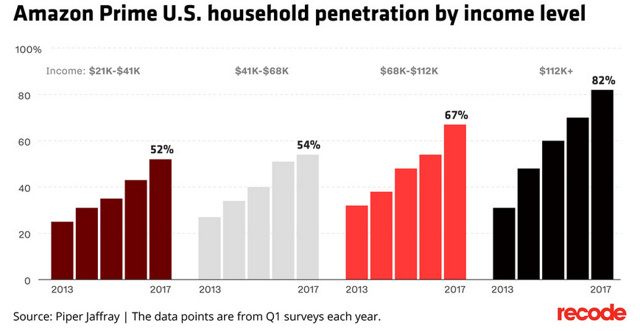 Now Morgan Stanley suggests that survey data is showing a sharp reduction in the growth rates of Prime memberships. In fact, the respondents with memberships didn't grow this year and have seen very little growth in two years now. The amount reached 35% to start 2016 and peaked at 40% last Q4.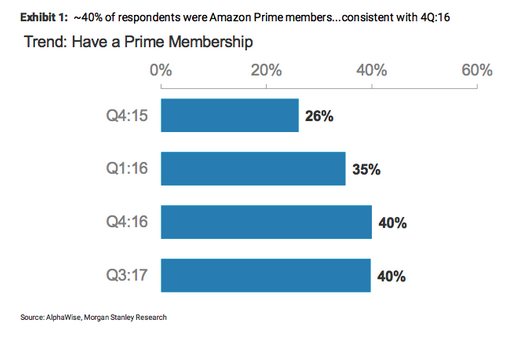 The survey only involves 1,000 U.S. adults so the results might not accurately reflect the real growth rate.
Maybe most troubling is that the Morgan Stanley analyst sees the growth avenues for new memberships being lower-income and older households. These segments offer limited growth potential without discretionary income and spending levels that will require 3-4 memberships to match a high-income family.
Lack Of Income
The biggest problem with the Amazon investment thesis is that the company already has reached the massive size of $175 billion in sales without generating anything meaningful in profits. The company is increasingly facing direct competition with tech and retail giants that already generate billions in profits providing a competitive advantage while Amazon is left without any cash after the Whole Foods deal.
In the tech world, Apple (AAPL) produces massive profits while Alphabet (GOOG, GOOGL) and Microsoft (MSFT) produce far in excess of the online retailer while competing directing in cloud services.

AMZN Net Income (NYSE:TTM) data by YCharts
The retail world is similar with Wal-Mart (WMT) and even warehouse membership giant Costco (COST) having larger income streams to fuel growth initiatives.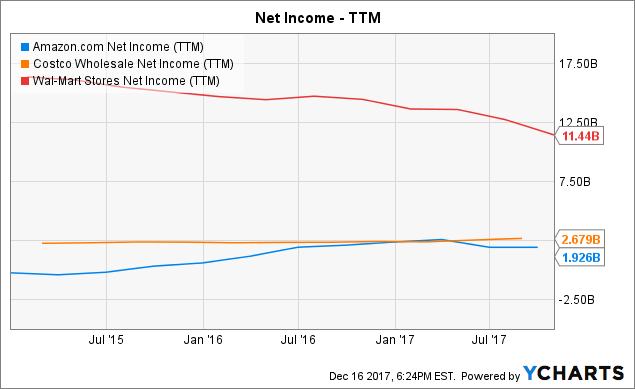 AMZN Net Income (TTM) data by YCharts
The problem is that the competitors actually have the ability to lower prices whether in retail or cloud services and pressure Amazon. The online retail giant doesn't have the financial position to battle these companies that in general are producing $10 billion or more in annual profits.
All while, Amazon has already captured a large portion of the market without hardly turning a profit. The company could generate large profits by leveraging the next $175 billion in revenues, but these large players mentioned above will increasingly dictate whether Amazon is able to succeed.
Amazingly, the equation shifts because Amazon built market share by not generating much in the way of profits. The status quo just doesn't work in this investment equation.
Takeaway
The key investor takeaway is that all indications show that Amazon is already saturating key membership income levels. If the online retail giant was generating large profits, one could make a strong investment case for using leverage to grow those profits on solid revenue gains.
The opposite situation is likely to occur where Alphabet, Microsoft and Wal-Mart increasingly attack Amazon with price cuts to limit the ability of the online retail giant to produce large profits while the industry giants remain highly profitable and benefit from the current market conditions. For this reason, Amazon remains the least appealing stock in this group of tech and retail giants.
Disclosure: I am/we are long AAPL.
I wrote this article myself, and it expresses my own opinions. I am not receiving compensation for it (other than from Seeking Alpha). I have no business relationship with any company whose stock is mentioned in this article.
Additional disclosure: The information contained herein is for informational purposes only. Nothing in this article should be taken as a solicitation to purchase or sell securities. Before buying or selling any stock you should do your own research and reach your own conclusion or consult a financial advisor. Investing includes risks, including loss of principal.
About this article:ExpandAuthor payment: $35 + $0.01/page view. Authors of PRO articles receive a minimum guaranteed payment of $150-500.Tagged: Investing Ideas, Long Ideas, TechnologyWant to share your opinion on this article? Add a comment.Disagree with this article? Submit your own.To report a factual error in this article, click here