We are seeing a sweeping change in unconventional well designs by US E&Ps. The move from sliding sleeves back to plug and perf was only part of the transition. The increase of source rock contact to the wellbore has been the most important reason to increasing production per foot. This continues to improve and with it initial production.
We have covered recent results by EOG Resources (NYSE:EOG) and Devon (DVN). Concho (CXO), Newfield (NFX), Marathon (MRO), Conoco (COP) and Occidental (OXY) are also well represented. Cimarex (XEC) is another operator showing improvements. It has acreage in the Delaware and STACK plays, both are two of the best in the country. XEC has been a gas focused play, but has been increasing fluids production. Newer well designs are seeing better success in deeper geology with larger percentages of natural gas. Although the location may produce less oil as a percentage, more cumulative barrels are seen.
We pulled Cimarex's locations in Oklahoma, Texas and New Mexico brought on line since January of 2016. All locations have produced at least 20 KBO.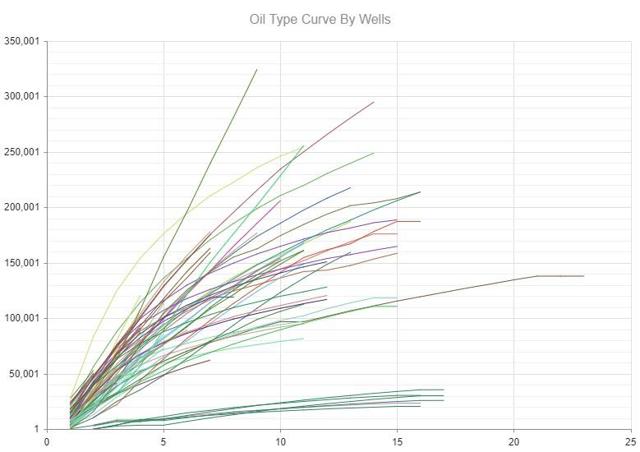 Source: Welldatabase.com
This provided 79 XEC locations. 43 are in Texas, 21 in Oklahoma and 15 in New Mexico. Its Vagrant and Klein locations have been outperformers based on oil production.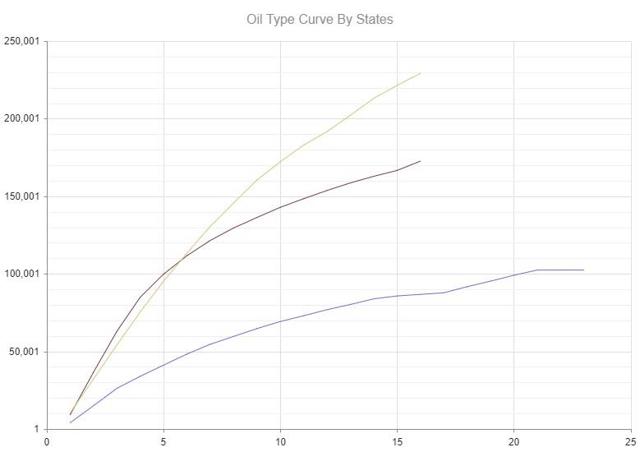 Source: Welldatabase.com
Texas produces the best oil curve, followed by New Mexico and Oklahoma.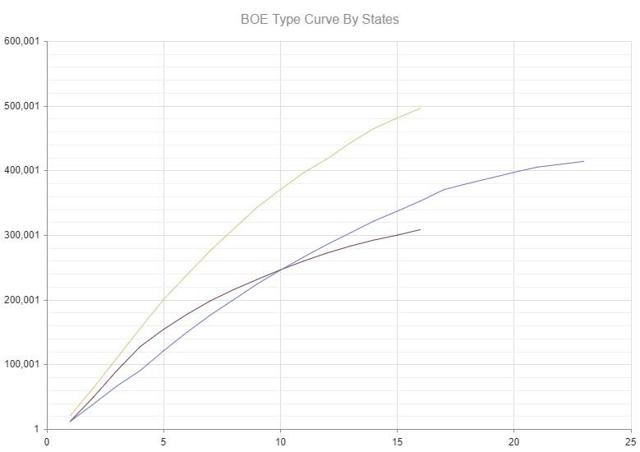 Source: Welldatabase.com
This changes significantly when based on BOE. Texas has performed the best, but Oklahoma moves to second.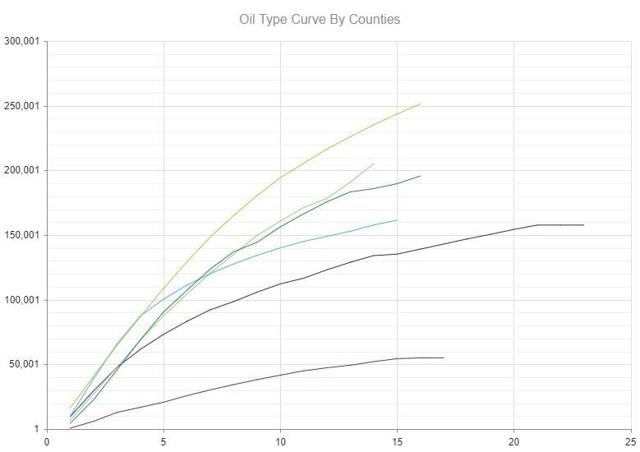 Source: Welldatabase.com
We see better separation by oil curve when broken down by county. The top county is Reeves followed by Culberson, Lea, Eddy, Blaine, and Canadian counties. The average Reeves location produces 216 KBO in 12 months. The Delaware outperforms from and oil perspective, but the SCOOP/STACK has a completely different resource makeup.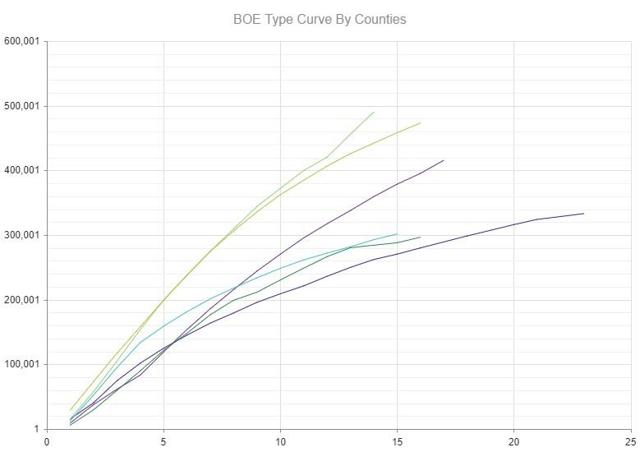 Source: Welldatabase.com
The county breakdown based on BOE produces a shift in rank. Culberson is followed by Reeves, Canadian, Eddy, Lea and Blaine.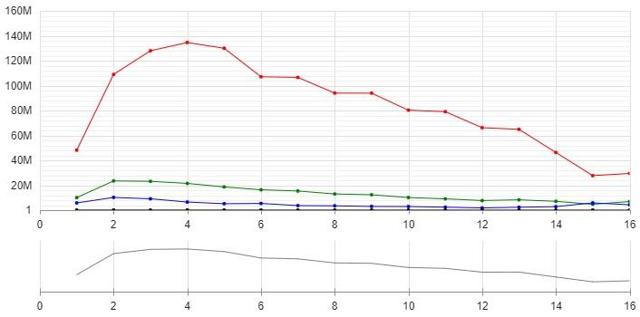 Source: Welldatabase.com
The average Delaware Basin well produces 208 KBO and 1.35 Bcf in 16 months.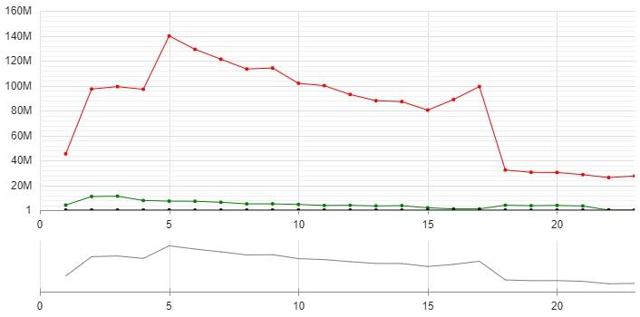 Source: Welldatabase.com
The average Meramec/Woodford location produces 87 KBO and 1.6 Bcf in 16 months.
While it is difficult to know exactly how good the SCOOP/STACK is, but the Delaware outperforms by a wide margin for Cimarex. More importantly, its Vagrant well has produced over 460 KBO in 12 months of well life. We continue to see very good results out of the Eagle Ford and Delaware Basin. While there is a contention this is a data error or anomalous, we are seeing results over differing areas and operators. Well results are improving, and should continue to do so well into next year.
Disclosure: I am/we are long NFX, EOG, DVN, CXO, XEC.
I wrote this article myself, and it expresses my own opinions. I am not receiving compensation for it (other than from Seeking Alpha). I have no business relationship with any company whose stock is mentioned in this article.
Additional disclosure: This article is limited to the dissemination of general information pertaining to its advisory services, together with access to additional investment-related information, publications, and links. Well data is provided by WellDatabase. Accordingly, the publication of articles should not be construed by any consumer and/or prospective client as a solicitation to effect, or attempt to effect transactions in securities, or the rendering of personalized investment advice for compensation, over the internet. This information is provided for guidance and information purposes only. This information is not intended to provide investment, tax, or legal advice. The information contained herein has been compiled from sources deemed reliable and it is accurate to the best of our knowledge and belief. However, I cannot guarantee its accuracy, completeness, and validity and cannot be held liable for any errors or omissions. All information contained herein should be independently verified and confirmed. Hartstreet LLC does not accept any liability for any loss or damage whatsoever caused in reliance upon such information. Readers are advised that the material contained herein should be used solely for informational purposes. Information presented is for educational purposes only and does not intend to make an offer or solicitation for the sale or purchase of any specific securities, investments, or investment strategies. Investments involve risk and unless otherwise stated, are not guaranteed. Be sure to first consult with a qualified financial adviser and/or tax professional before implementing any strategy discussed herein. Welldatabase.com provided the data for this article. There might be a delay between upcoming articles because we are working on securing investments for Hartstreet LLC.
About this article:ExpandAuthor payment: $35 + $0.01/page view. Authors of PRO articles receive a minimum guaranteed payment of $150-500.Tagged: Investing Ideas, Long Ideas, Basic Materials, Independent Oil & GasWant to share your opinion on this article? Add a comment.Disagree with this article? Submit your own.To report a factual error in this article, click here