TransDigm (NYSE:TDG) has corrected ~9% after scaling its all-time high in September this year. With the year coming to an end, 2016 will become the first since 2009 where the stock failed to see a double-digit growth in its value. Including the special dividend, returns have crossed double-digits this year as well. The important question that is piercing long-time investors though, is whether the company has now become too large to grow at the blistering pace it did since it became public in 2006. While the company's earnings guidance disappointed investors, its projected free cash flows were above analyst consensus. Its business model and operating margins remain as solid as ever. While conceding that the company might experience growth pangs in the near term, I continue to remain bullish on the stock.
End-market conditions
70% of TDG's revenues come from commercial aviation. The sector has witnessed bit of softening with Boeing (NYSE:BA) and Airbus (OTCPK:EADSY), TransDigm's major customers, expecting orders to slow down for three years. And yet they also have backlogs stretching into more than a decade of production. Therefore it seems these airframers are likely to hit a temporary pause where they burn off order backlogs while waiting out the downcycle.
TransDigm's margins seem sustainable
With operating margins of ~40%, TDG's operating margins are the best in the industry. But is this sustainable? I think it is. Only 10% of the company's commercial aftermarket parts generate a revenue greater than $2 million. Customers have fewer incentives to pull the plug on a relatively small supplier given that the cost of experimenting with a new one could be catastrophic. This also allows the company to stay under the radar when customers are trying to reduce costs during cyclical downturns.
Using the right multiple
I am uncomfortable using the P/E ratio to do a multiples analysis on TransDigm. In fact I feel that such an analysis is flawed. The P/E ratio is distorted by differences in capital structures among peers used for comparison. And given the amount of debt on TDG's books, the difference in capital structures of peer companies and TDG will always be high. I have always preferred to use the enterprise value/ ebitda ratios for comparisons with outliers like TDG. The multiple takes care of the differences in capital structures with the downside that the ranges tend to be narrower. For example, if the P/E range in a peer group is 50x – 70x, using the ev/ebitda ratio the ranges would probably lie between 40x – 45x. This may be slightly counterintuitive in a manner that why should different companies having different operational characteristics have no remarkable difference in their multiples?
Valuation factors and convergence
That brings us to the critical idea of convergence. The dependence of company value on expected growth as well as its returns on capital has significant backing under finance theory. However, neither of these factors can persist forever. In mature industries, investors are right to believe that company growth rates and returns should converge to industry averages. If at all a company enjoys a better multiple in comparison to peers it must validate the persistence of at least one of the factors impacting company valuation.
Let's look at the case of TransDigm. My peer group involves companies listed in the illustration. It has been constructed considering market cap and industry similarity factors. There are certain idiosyncratic dissimilarities given that it is almost impossible to construct a peer group that has exactly the same characteristics as TransDigm. If you can suggest a better addition kindly drop in a comment.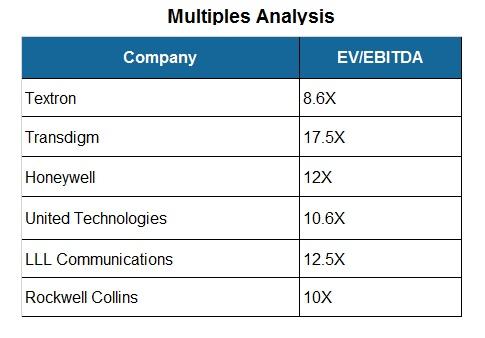 As seen in the picture, ev/ebitda of the companies in the group vary between 8.55X – 12.5X. However, with an ev/ebitda of 17.5X, TransDigm is a clear outlier here. The company's ev/ebitda multiple is more than twice of that of Textron (NYSE:TXT), and 40% greater than LLL Communications (NYSE:LLL).
Higher multiple is for quality
I continue to believe that higher multiples for the company are justified. The company's spectacular industry leading operating margins are more than twice of all the companies used for comparison. The key question mark is on TDG's acquisitive growth component which is anyone's guess at the moment. Based on my calculations, anything above a 6% growth in free cash flows should justify a valuation above $250. And since the company is expected to do a lot better than that, I have a buy call on TDG.
Disclosure: I/we have no positions in any stocks mentioned, and no plans to initiate any positions within the next 72 hours.
I wrote this article myself, and it expresses my own opinions. I am not receiving compensation for it (other than from Seeking Alpha). I have no business relationship with any company whose stock is mentioned in this article.