Continued from my last note, our investment thesis for Goldman Sachs (NYSE: GS) remains a Buy as they have continued to post stronger results after 2017 ended. We believe that the bank has a runway for growth based on the increasing backlog in the investment banking division, an increase in Marcus loans and FICC revenues posting a turnaround. In our view, most of the business lines are expected to post gains during the year as volatility in the market returns and M&A activity picks up. We believe that management can address shortfalls in trading to close the gap with US peers.
Clarity Money provides clarity on the business
On April 15th, GS formally announced and closed the acquisition of Clarity Money, a personal finance app. Clarity Money is the most recent step the firm has taken to bulk up its consumer finance platform, which, in our opinion, has the potential to become an industry leader based on the functionality it has. Clarity Money is a personal financial management tool that uses artificial intelligence, machine learning, and data science to improve the financial health of users through canceling wasteful accounts, creating a savings plan, tracking spending habits, finding appropriate credit cards, and connecting users with investing solutions. Ultimately, we anticipate that this area of the business could become much more meaningful for Goldman Sachs over time. We believe Clarity Money will provide the company insightful customer financial information which will better position the firm to recommend products and underwrite credit more intelligently, also paving the path to add more products and capabilities over time.
Investment banking revenues remain strong
Its good to see big deals making a comeback, and this is its sweet spot, especially with a multiplier effect with add-on financing and risk management services. There is a wide breadth of activity by industry (such as tech, healthcare, fintech, energy), geography, and motive for both offensive consolidation (synergies) and defensive de-consolidation (activism effect). Goldman seeks to go down market to mid-market companies access to capital markets expertise (investment banking) in order to generate $500m in IB fees. As of 1Q18, the investment banking backlog increased compared to 4Q17 due to significantly higher estimated net revenues from potential advisory transactions, mostly related to M&A.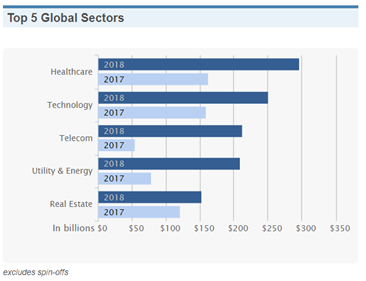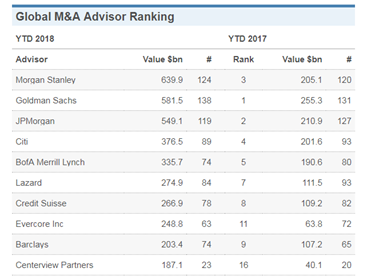 Source: WSJ
Trading revenues to improve in the long-term
Given current market conditions we foresee that trading is not likely back to the levels at the start of the decade, when the business line ICS (which is mostly FICC and equities) had $17-$21bn of revenues. That said, trading has already improved in 1Q18 and should show progress over the next three years. FICC trading revenues of $2.1b in 1Q18 were up 23% yoy due to significantly higher FX, higher commodities and credit and partially offset by lower rates and mortgage. The bank currently seeks more additional business in electronic execution and has onboarded key quant clients, and looks to gain more macro clients. In our view, stronger hedge fund creation and more volatility are macro factors that could help trading. We strongly believe that we are entering a multi-year period in which there will be several tailwinds to FICC reflecting a combination of solid global GDP growth, deregulation, central bank unwind, and rising interest rates. While GS has lost share more recently, we believe they are very well positioned for this type of environment.
Valuation
We believe that the stock is undervalued compared to its peers and given the runway for growth, we expect the stock to trade higher than the current price of $237/share. Using the forward P/E multiple of the entire group 11.66x and the estimated EPS of $23.76, we expect the shares to trade in the $270-$280 range in the next twelve months.

Risk Factors
Goldman is exposed to falling asset values globally, lower volumes of financial assets, a higher regulatory burden, trading losses, mark-to-market losses, credit losses and lost share. The bank also has headline risk, when negative articles or news is published.
Conclusion
All business segments picked up in 1Q18 and the strategic addition of Clarity Money shows us the GS is moving in the right direction towards unlocking that magical $5 billion number and diversify its portfolio. We feel that the shares are undervalued as compared to its peers. Our BUY thesis reflects the upside in the FICC business, the $5b-plus of firm-wide growth efforts and the fact that there are more growth efforts underway (beyond the $5b).
Disclosure: I/we have no positions in any stocks mentioned, and no plans to initiate any positions within the next 72 hours.
I wrote this article myself, and it expresses my own opinions. I am not receiving compensation for it (other than from Seeking Alpha). I have no business relationship with any company whose stock is mentioned in this article.