Gold continues to trade in a narrow range, but there are signs that a big breakout is on the cards.
As of writing, the yellow metal is trading at $1282/Oz levels; up 0.28 percent on the day. The yellow metal has had a hard time gaining altitude this month, despite the sharp flattening of the yield curve.
However, Bollinger Bands indicate a bullish squeeze (bullish breakout) could happen anytime.
Daily chart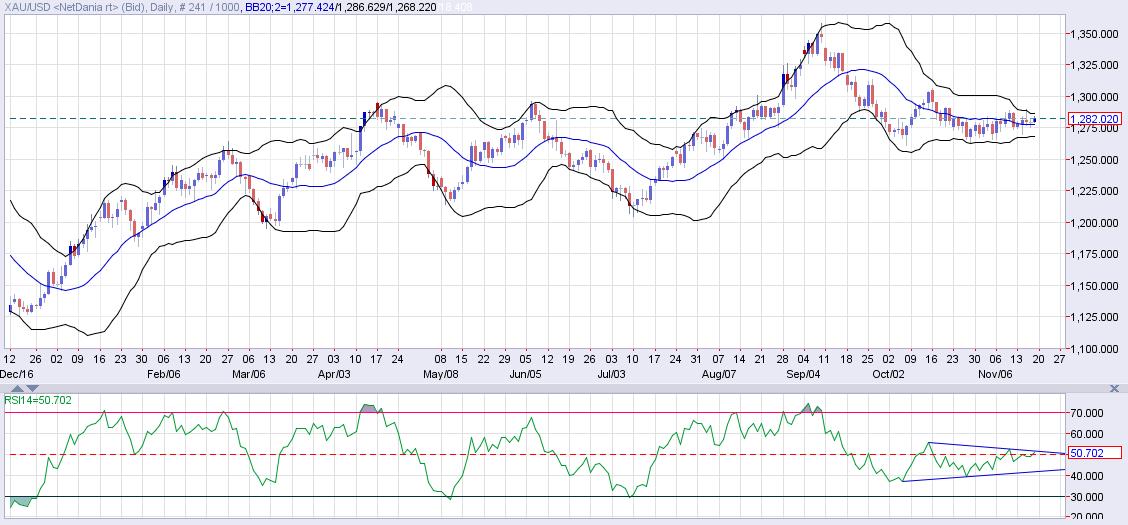 The chart above shows-
Currently, the gap between the Bollinger bands ($18.64) is the narrowest in at least 4 years.
The RSI is likely to break higher in favor of the bulls.
The narrowing of the Bollinger bands is referred to as "the Bollinger bands squeeze", which occurs when the volatility falls to low levels. Usually, the squeeze ends up with a strong breakout on either side.
As discussed here – the squeeze is likely to end up with a bullish breakout, which could yield $1300-$1306 levels.
However, if there is a bearish squeeze, the prices could drop to $1250 levels.