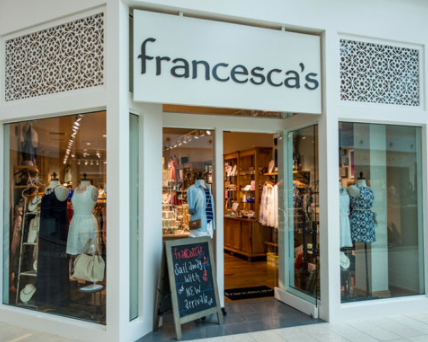 Image credit
Huge guidance cuts are a way of life, it seems
Well, that wasnt so good. Not even one day after I published an article saying that Francescas (FRAN) had a strong risk/reward, the company updated its guidance for the fourth quarter and boy, was it ugly. Sales guidance for the critical Christmas quarter was whacked by $7M and EPS was cut in half. Considering the majority of FRANs earnings come from the fourth quarter, this is exactly what it didnt need. The stock was hammered and for good reason, but back at the lows at $6, I still think it represents intriguing value even if I have a little egg on my face right now.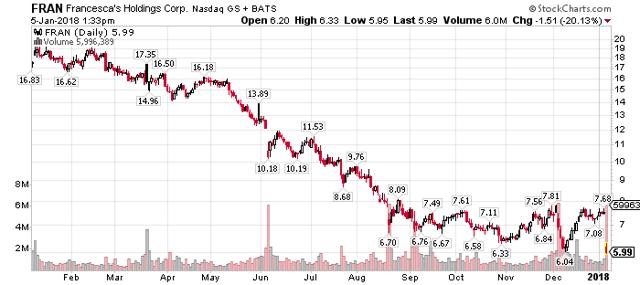 The stock is at its low again
First, this is the level where FRAN bottomed in early December and judging by the price action on Friday, it looks like investors have at least a temporary line in the sand here. Im certainly not going to say it wont go lower but until $6 breaks, the bulls have something to shoot for. The top of the range is currently around $7.70, which is roughly 28% higher from here and thats the first target for those of us that are bullish. It was very close to that level yesterday so it isnt like thats a stretch but for now, obviously the bears are in charge.
Earnings estimates are coming down
The immediate impact is two-fold. First, it reduces this years earnings estimates from 68 cents to something like 50 cents. That makes the stock more expensive immediately and that is why it was crushed the way that it was. A 20% cut in value of the stock is still less than what FRAN took off of earnings for this year given its guidance so to be fair, the damage could have been worse. That also means that next years estimates are sure to come down as well after the analyst community has a chance to digest the news but for now, the stock is going for 12 times the 50 cent estimate I just laid out. What happens next year is anyones guess but if we assume the same 12% EPS growth that was forecast on the new 50 cent base, youre looking at 56 cents or so in earnings next year or a valuation of less than 11 times next years earnings. Those are fairly pessimistic numbers but Im sure there are more pessimistic bears out there that would tell me Im delusional. Given that tax reform will greatly lower FRAN's current 40% rate, 12% EPS growth seems very low. Barring yet another unforeseen disaster, the valuation does look pretty compelling at $6, as it did in early December the last time we were here.
Sentiment stinks even more now
Second, and perhaps more importantly, it further erodes sentiment. Ive mentioned FRANs poor sentiment before and it has only gotten worse with the guidance cut. How many times have we seen FRAN do this in the past couple of years? Too many times and this is what happens when investors lose faith in a management team. The stock has been hammered and rightfully so but when this sort of thing happens over and over again, investors lose patience. That creates cheap stocks but it also means it takes a lot of time to earn back the trust of investors. FRAN has a long road ahead of it after yet another guidance cut.
But FRAN is cheap in a bunch of ways
But what about other ways to value the company? FRAN has no long term debt and while its book value is only about $112M against a market cap of $270M or so, I think FRAN could be a target not for a strategic buyer, but for someone that would want to fix it and resell it later on. With FRAN still being profitable and having no debt, it is a ripe target for a buyout firm that could stop store expansion, close underperforming stores and fix the ones that remain while focusing on building the online business. Management has been so focused on hitting its store growth goals that it seems to have ignored everything else and that is why the stock is going for six bucks. A new, focused management team would be able to right the sins of the past and theyd have to pay a premium to the current $6 to do so.
Something else interesting that I found in reviewing FRANs recent financials is that it is producing something like $20M to $25M annually, principally in order to open new stores and remodel existing ones. Since the bulk of its capex is related to new stores, once the store growth stops which wont be long given it is already in excess of 700 units that means capex will almost certainly decline pretty substantially. That will free up cash to potentially do more meaningful buybacks and in particular, at these low prices.
But apart from that, FRAN is carrying roughly $85M of PP&E on its balance sheet, adding to it only slightly because it is depreciating it at a rate of roughly $20M per year against ~$25M in new capex. Using my example above, when store growth is done and capex slows, depreciating $20M per year will see PP&E on the balance sheet fall fairly quickly until it is eventually near zero. The upshot of this occurring is that this depreciation directly reduces earnings so if its PP&E is depreciated down over time, there wont be as much left to reduce earnings. In other words, the $20M or so in depreciation each year is hugely negative given that net income is only going to be roughly around that number this year. Imagine even $5M or $10M in additional pretax earnings from lower depreciation; that alone is a sizable sum for a company with a $270M market cap. Thats a longer term thing but this is what a buyout firm would be looking at; the upside is potentially large just on an accounting basis, even if the business doesnt actually improve. This rapid rate of depreciation has also shrunk FRAN's book value under what it would otherwise be, so keep that in mind if you think ~2.5X book is a lot for a struggling retailer.
Lower taxes will help as well
In addition, on the earnings FRAN has today its tax rate will fall pretty dramatically in 2018 and beyond. Were all aware of the reasons why but FRAN pays right at 40% in income taxes. Under the new scheme, it should be just over half that amount (I assume) and that is another reason to be bullish despite the deluge of bad news weve received lately.
FRAN is no sure thing but the risk/reward is clear
Look, Im not trying to pull the wool over your eyes and Im not a perma-bull. I see a small retailer that has focused too much on growth and not enough on taking care of business but that, thankfully, is something that can be mended. Management has had years of missteps at this point but they seem genuinely alarmed and that is the first step to admitting you have a problem, and then eventually fixing it. Plus, at $6 I think FRAN has a lot of value for a buyout firm that wants to flip it later down the road. There is some relatively low-hanging fruit available as Ive detailed here and at this point, Id welcome a buyout. FRAN could be worth $20 again someday but it will require management to refocus. If you think of FRAN like an option with a maximum risk of $6 and reward of $14 if it reaches $20 again, its not so bad. And before you think I'm insane for suggesting such a thing, a return to $1.25 in EPS would need just a 16 PE to get to $20; that's not outlandish in any way. Just know this is hardly a sure thing and if youre willing to embrace that, you just may be handsomely rewarded in the process.
Disclosure: I am/we are long FRAN.
I wrote this article myself, and it expresses my own opinions. I am not receiving compensation for it (other than from Seeking Alpha). I have no business relationship with any company whose stock is mentioned in this article.
About this article:ExpandAuthor payment: Seeking Alpha pays for exclusive articles. Payment calculations are based on a combination of coverage area, popularity and quality.Tagged: Investing Ideas, Long Ideas, Services, Apparel StoresWant to share your opinion on this article? Add a comment.Disagree with this article? Submit your own.To report a factual error in this article, click here