If there is one stock that has managed to figure out how to transform itself to adapt to the cloud business, it is Adobe (NASDAQ:ADBE). Since Adobe began transitioning its offerings onto a SaaS model, the stock's performance has steadily climbed. It has climbed nearly 80% since a year ago, and analysts believe that there is more to come.
Adobe's Financials
Adobe's fourth quarter revenues grew 25% over the year to $2.01 billion, ahead of the market's projections of $1.95 billion. Subscription comprised 85% of its revenues, compared with 34% a year ago. Revenue from products brought in 10% for the quarter and the remainder came in from Services & Support. EPS of $1.26 also was ahead of the Street's estimated $1.15 per share for the quarter.
By segment, revenues from Digital Media Solutions grew 29% to $1.39 billion. Total Digital Media Annualized Recurring Revenue (ARR) grew to $5.23 billion at the end of the quarter, driven by strong growth in both the Creative Cloud and Document Cloud segments. Creative revenues grew 30% to $1.16 billion with its ARR growing to $3.15 billion. Document Cloud revenues grew 23% to $235 million. The Digital Marketing segment brought in $572.7 million in revenues driven by the experience Cloud business where revenues grew 18% to $550 million. Revenues from the Print and Publishing segment brought in the remaining $43.6 million in revenues.
Adobe ended the year with revenues growing from $5.85 billion a year ago to $7.3 billion. Net income per share increased from $2.35 a year ago to $3.43 for the year.
For the current quarter, Adobe expects revenues of $2.40 billion, significantly ahead of the Street's forecast of $2.04 billion. Non GAAP earnings per share are estimated at $1.27, again ahead of the market's forecast of $1.24. For fiscal 2018, Adobe forecast revenues of $8.725 billion, marginally ahead of the Street's estimates of $8.69 billion. It expects to end the year with an EPS of $5.50 compared with the market's projected EPS of $5.47.
Adobe's Product Expansion
During the last quarter, it announced the release of new applications across the design, video and photography segments. Key product launches included the introduction of Adobe XD – an end-to-end UX and UI design; Adobe Dimension to simplify 3D design; Adobe Character Animator that brings 2D puppets to life; and Adobe Lightroom CC, a photography cloud service that works across desktop, mobile, and the web. It also introduced a premium version of Adobe Spark to help its clients communicate their ideas visually.
Adobe also is investing in the Artificial Intelligence segment through Adobe Sensei. Adobe Sensei will become a critical differentiator for Adobe, as it has access to Adobe's massive volume of content and data assets, along with access to Adobe's expertise in creativity, documents, and experiences. Adobe is focusing on making Sensei a foundational part of its creative and enterprise customer offerings.
Analysts are very pleased with Adobe's performance. The added AI features along with expected price increases next year are making them very bullish on the stock. Richard Davis with Canaccord Genuity raised his price target to $195 from $185, R.W. Baird's Rob Oliver reiterated an Outperform rating and hiked his price target to $200 from $180. Its stock is currently trading at $174.97 with a market capitalization of $86.25 billion. It touched a 52-week high of $186.27 last month. It has been climbing throughout the year from the 52-week low of $102.47 a year ago.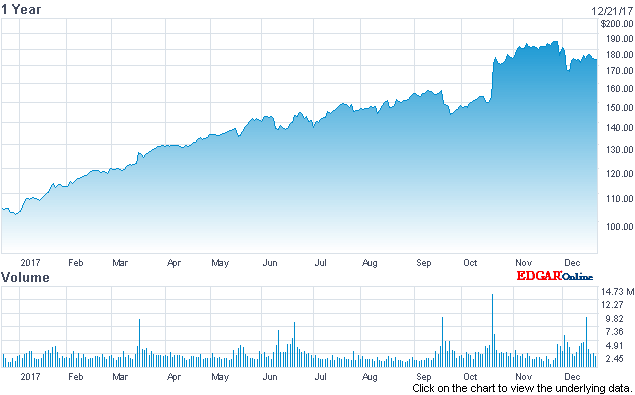 About this article:ExpandTagged: Investing Ideas, Long Ideas, Technology, Application SoftwareWant to share your opinion on this article? Add a comment.Disagree with this article? Submit your own.To report a factual error in this article, click here