Back in February, in my inaugural article here on Seeking Alpha, I suggested a buy/write of Fly Leasing (FLY) as a possible strategy for the Irish company. A few days back, I listened to the earnings conference call released last week, and my analysis remains the same.
More Good – Though Under Some Pressure – Performance
On the value front, the balance sheet and income statement may not tell the whole story. Much of the current negative EPS relates directly to a $22 million write-down on an aircraft which until recently was providing lease income and is expected to continue to do so for another three years. Liquidity remains quite solvent with current liabilities remaining at less than half of available cash reserves.
As the company continues to look for sufficiently favorable deals to purchase more aircraft, it remains open to employing the cash stockpile elsewhere; possibly more share buybacks or a dividend. As management has been quite choosy in additional inventory purchases, both events seem fairly likely.
Past articles on SA have suggested a privatization; not something I took as being seriously considered in the earnings call, though not something I'd be surprised to see happen either. Nonetheless, given the past propensity of management to continue with share buybacks and the current undervalued state of share prices, I think the company is more likely to expand its current share buybacks.
FLY continues to increase the leasing income – the proverbial bread and butter of its business – ending the third-quarter at $87.6 million. It continues to maximize fleet utilization almost immediately placing one of two aircraft taken from an airline in financial distress back into service, and the other being under negotiation for a new lease.
Fiscally Conservative Management
Management reported a $22 million write-down on a 2001 aircraft. When questioned about this during the earnings call, CEO Colm Barrington reiterated the write-down was because the company believed the aircraft in question, once through a pending lease, would be sufficiently old a part-out would likely be necessary, and as such, the company would rather take the loss on the current balance sheet value now instead of later.
Market Valuation
So, if FLY is so great, why does the market consistently undervalue it? Management places valuation at about $18 per share. My earlier article placed valuation at $17.17 per share. While I'm no longer as certain of the earlier stated valuation, I am still comfortable with a valuation of $15 per share, especially given that current negative earnings are driven largely by the above discussed $22 million write-down.
I believe part of the reason for the poor market performance is – regardless of my own appreciation of the practice – management understating current book value. As seen below, with exception to the start of the graph, price to tangible book estimates have remained below 1 for much of the tracked time frame.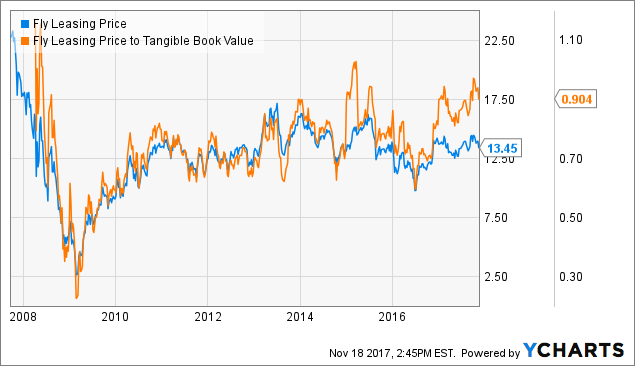 FLY data by YCharts
Additionally, there may be some concerns given the relationship of BBAM and FLY. However, BBAM owns a significant amount of FLY shares; any scheme to defraud FLY investors by BBAM would be self-damaging.
At any rate, I am reasonably confident in FLY's valuation at current prices that as long as the price is below $15, I'm still bullish. Going forward, my strategy will remain a buy/write with a $15 OTM call.
Disclosure: I am/we are long FLY.
I wrote this article myself, and it expresses my own opinions. I am not receiving compensation for it (other than from Seeking Alpha). I have no business relationship with any company whose stock is mentioned in this article.
About this article:ExpandAuthor payment: $35 + $0.01/page view. Authors of PRO articles receive a minimum guaranteed payment of $150-500.Tagged: Investing Ideas, Long Ideas, Services, Rental & Leasing Services, IrelandWant to share your opinion on this article? Add a comment.Disagree with this article? Submit your own.To report a factual error in this article, click here