First Majestic Silver Corporation (NYSE: AG) is a Canadian silver miner operating in Mexico with its 15 subsidiaries. The following map provides a birds eye view of its key projects along with their operational status. Some of these projects are operational while others are in the exploration and development stage.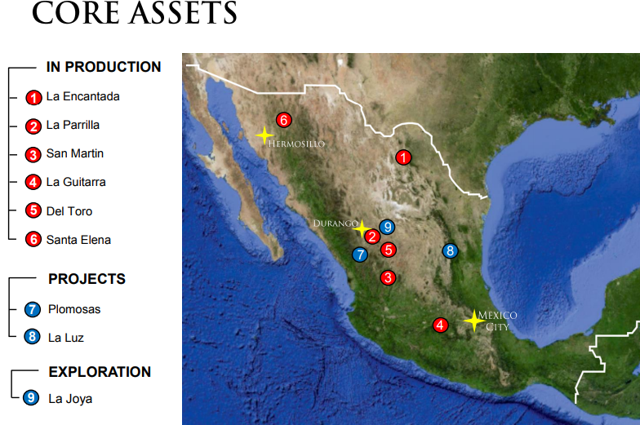 Source: Corporate Presentation
The table below present key information about the operational projects for the past year 2017 and until the time that AG publishes the results for the full year, it seemed appropriate to have a full year review of its operations.
| | | | | | |
| --- | --- | --- | --- | --- | --- |
| Mines | FY 2017 silver production estimate (million Oz) | FY2017 expected AISC ($/Oz) | Estimate of proven and probable reserves (Ag million Oz) | Measured and Indicated reserves (Ag million Oz) | Inferred Resources (Ag million Oz) |
| La Encantada | 2.3 to 2.5 | 14.68 to 16.07 | 31 | 31.9 | 5.8 |
| La Parilla | 1.8 to 1.9 | 14.37 to 15.65 | 11.4 (AgEq)(1) | 15.2 (AgEq) | 32.4 (AgEq) |
| San Martin | 1.7 to 1.8 | 9.46 to 10.29 | 15 | 20.1 | 22.6 |
| La Guitarra | 0.6 to 0.7 | 19.64 to 21.28 | 9.1 | 9.8 | 6.3 |
| Del Toro | 1.3 to 1.4 | 9.32 to 10.00 | 13.5 (AgEq) | 16.0 (AgEq) | 16.9 (AgEq) |
| Santa Elena | 2.2 to 2.3 | 6.23 to 6.71 | 11.1 | 12.9 | 2 |
AgEq denotes silver equivalent in terms of lead, zinc and other precious metals
In this article I have chosen the LA PARILLA project for discussion which is the oldest project run by AG. Moreover, it features comparatively better statistics in my opinion.
La Parilla- An introduction:
La Parilla is located in Durango State of Mexico and operated by AGs wholly owned subsidiary First Majestic Plata, S.A de C.V. This is an underground mining project which is located approximately 76 km on the southeast of Durango City and consists of 41 mining concessions. The mine is spread over 69,478 hectares and is operated by AG since 2004 when it acquired the mining rights in the district together with a plant with processing capacity of 180 tpd or approximately 66,000 tons per annum. The current mining operations in the La Parilla district include those at the Rosarios, Quebradillas and San Marcos deposits (encircled in red in the image below).
La Parilla- Drilling update as at 31st October 2017:
In a technical update released on December 20, 2017 concerning the La Parilla mining project, AG disclosed the drilling results in the district, latest by 31st October, 2017. It is noticeable that while previous operators in the La Parilla district had only drilled 16,634 meters consisting of 73 drill holes, AG has drilled another 90 core holes spanning about 23,000 meters, in 2017. This activity is in addition to the total post-acquisition drilling activity of 122,040 meters comprising of 588 core drill holes.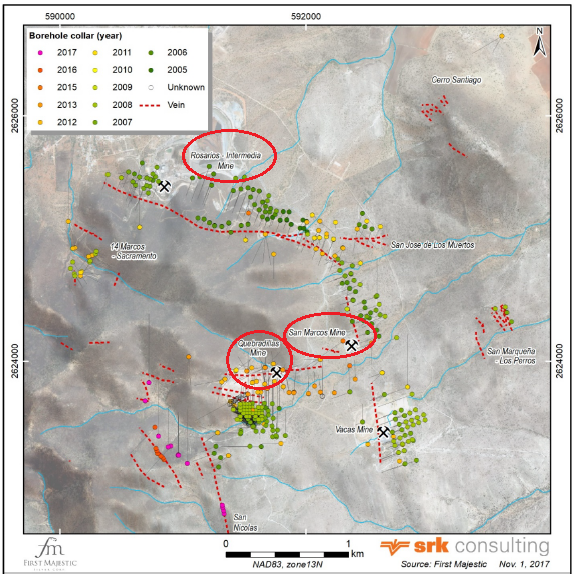 Source: Report NI 43-101 on La Parilla mining operations
There are three categories of drill holes used including:
Delineation holes- for guiding and supporting the mine operations. These holes are drilled using a core diameter of 36.4 mm, Infill holes- for improving quality of known resources. These holes are drilled using core diameters of 47.6 mm and 63.5 mm, and Exploration holes- for identifying new mineralization. The core diameters used here are the same as used for drilling infill holes. First Majestics Concessions in La Parilla:
As mentioned earlier, AG has obtained 41 concessions from the Mexican authorities for its operations in La Parilla, and the majority of these agreements have a long life. Following table provides useful details about these concessions: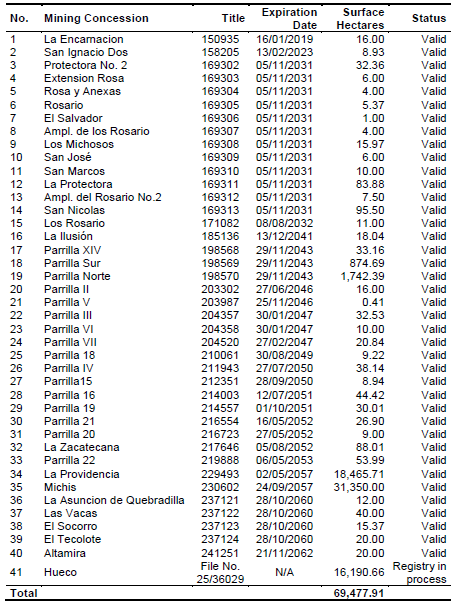 Courtesy: First Majestic Silver
It can be seen that the life of these concessions range from 01-44 years. Further, the concession named Hueco is in the process of registration and once registered will help out in extending the mining operations. The map shows a cross-section of the areas of these concessions including Hueco (in the yellow field).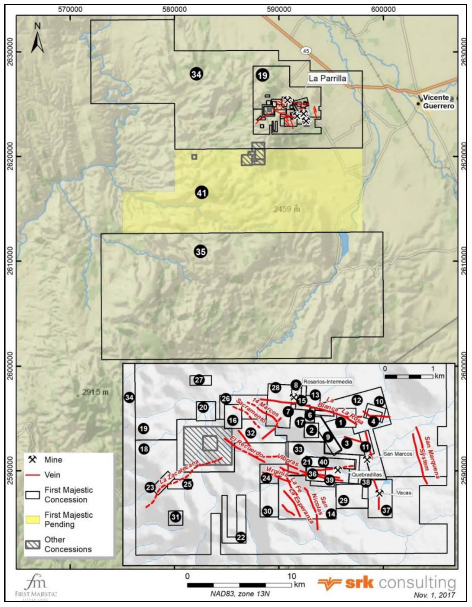 Courtesy: First Majestic Silver
On the other side of the coin, the production pattern of the La Parilla mine depicts that during the last 4 years the annual production has suffered a setback.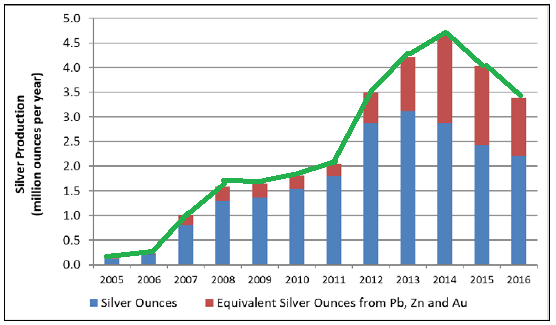 Courtesy: First Majestic Silver
However, it is commendable that during AGs operating tenure of La Parilla mine which spans over 12 years, it has successfully extracted more metal than historically mined in the region. It proves AGs commitment to grow its annual production to meet its goal of producing 20 million ounces of silver each year. The table below identifies the historical production quantities and average grades:
Period

Extracted Silver

Average Grade

Estimated average production (grams)

Estimated average production (oz)

Estimated average production (million oz)

Prior to 1960

700,000 tons of silver ore (estimated)

395 g/t

276,500,000

9,753,258

9.75

Between 1960-1999

230,500 tons of silver ore (estimated)

235 g/t

54,167,500

1,910,704

1.91

Total

11.66

Between 2005-2016

–

20.7

7.6 (AgEq)
The data for the completed FY 2017 is not available at the time of writing this article hence I have included the production activity up to the 3Q2017. As seen in the 3Q2017 presentation below (encircled in red), the total production from La Parilla for 9-ME 30th September 2017 amounts to 1.3 million ounces of silver.
Source: Corporate Presentation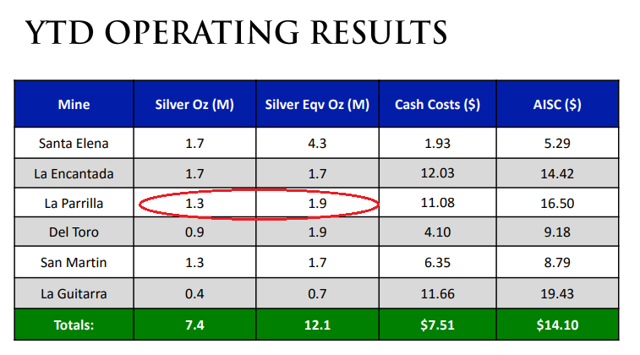 For the purpose of estimation, if we average out this production over three quarters, then the quarterly production comes out to be approximately 0.43 million ounces of silver. If the same amount is taken as the estimated production for 4Q2017 then La Parilla mine will produce a total of approximately 1.73 million ounces of silver in the completed year 2017. Then again, this is just an assumed production and the actual production may vary significantly.
If we work out the total production from all mines of AG using the same approach as above, then the total estimated production for 2017 leads out to be 9.86 million ounces of silver.
First Silvers role in a global silver market:
Given the global annual silver demand averaging about 1.0 billion ounces of silver, we can identify the significance of First Majestic Silver as a key player in the global silver market.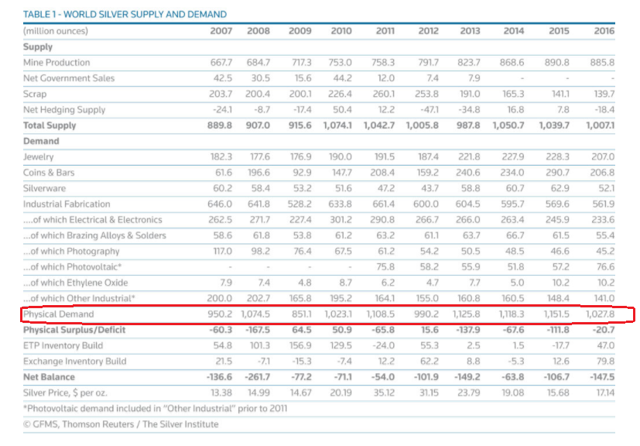 Courtesy: The Silver Institute
As previously discussed First Majestics aim is to achieve an annual production of about 20 million ounces of silver from all of its mines. For the FY 2016, it produced a total of approximately 11.9 million ounces of silver with a 3-year CAGR of 2% (see image below) thereby effectively producing about 12% of the global silver demand.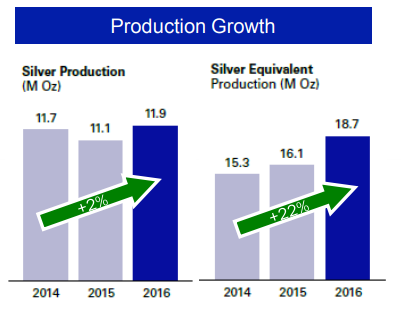 Source: Corporate Presentation
As discussed above, the expected total output of pure silver from AGs projects will be around 10 million ounces of silver, and that makes up around 10% of the global demand.
It should also be noted that over the past 10 years, the global silver market has been in deficit of over 500 million ounces and assuming the demand and supply imbalance theory to hold true in case of silver, we can assume the silver prices to increase to put the market in equilibrium. The chart below affirms my expectation:

Source: BullionVault
Further, there is little threat to the position of Uncle Silver given its traditional uses in the industries of jewelry, coins and bars, silverware and the more significant usage in industrial fabrication which is supplemented by a demand deficit.
Disclosure: I/we have no positions in any stocks mentioned, and no plans to initiate any positions within the next 72 hours.
I wrote this article myself, and it expresses my own opinions. I am not receiving compensation for it (other than from Seeking Alpha). I have no business relationship with any company whose stock is mentioned in this article.
About this article:ExpandAuthor payment: Seeking Alpha pays for exclusive articles. Payment calculations are based on a combination of coverage area, popularity and quality.Tagged: Investing Ideas, Long Ideas, Basic Materials, Silver, CanadaWant to share your opinion on this article? Add a comment.Disagree with this article? Submit your own.To report a factual error in this article, click here