Facebook (NYSE: FB) recently began implementing its long-talked about content moderation protocols, yet at the moment, the implementation appears to be cautious, and even perhaps slightly inconsistent and confused at times too.
Facebook's cautious approach will likely serve to protect its advertising revenue growth from being hit significantly as it is clear from the Q3 report that advertisers still trust Facebook's platform integrity enough at the moment to continue to increasingly put advertising dollars into it.
Furthermore, as the platform begins to slowly tighten the presence of bots and other nefarious actors, Facebook will likely be able to additionally add advertising growth from advertisers previously hesitant about the platform due to these previous problems. How big that market is still remains very uncertain.
Facebook's Tale of Two Approaches to Content Moderation
A recent investigative report on Facebook's new content moderation protocols by ProPublica showed that advertisers still are able to inappropriately use ads in a discriminatory fashion, such as by excluding certain protected demographic groups.
On the other hand, Facebook will be releasing a tool imminently to allow users who interacted with Kremlin-supported advertising to see if they were affected.
These contrasting recent content moderation protocols show the precise problem Facebook is facing in regards to advertising policies that it seems to be at an indecision regarding, or unable to properly implement for technical reasons.
On one hand, Facebook has been facing severe regulatory pressure and public pressure to tighten its platform's advertising restrictions to screen out content that could possibly be misleading or backed by nefarious actors.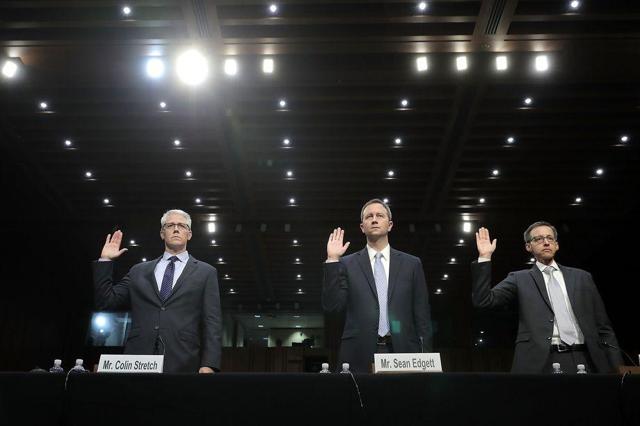 (Source: Tech giants testifying before Congress, October 2017, Source: ReCode)
On the other hand, Facebook has also explained how extremely difficult it is to properly screen the immense volume of content, whether paid advertising or user-created for free, that flows through its platform every day. If a tight net were to be put around content, inevitably lots of innocent advertisers and content creators would face slowdowns or denials in their proposed content, with severe negative effects on speech on the platform and consequently user interest, and eventually advertising revenue.
Alex Stamos, Facebook's Chief Security Officer, said in an October Tweet-storm that:
I am seeing a ton of coverage of our recent issues driven by stereotypes of our employees and attacks against fantasy, strawman tech cos…Nobody of substance at the big companies thinks of algorithms as neutral. Nobody is not aware of the risks…
…In fact, an understanding of the risks of machine learning (ML) drives small-c conservatism in solving some issues… For example, lots of journalists have celebrated academics who have made wild claims of how easy it is to spot fake news and propaganda… Without considering the downside of training ML systems to classify something as fake based upon ideologically biased training data…
…If you call for less speech by the people you dislike but also complain when the people you like are censored, be careful. Really common… If you call for some type of speech to be controlled, then think long and hard of how those rules/systems can be abused both here and abroad.
Stamos correctly identified then what Facebook is now seeing in implementing its new content controls, which are supported in part by machine-algorithms as well as human reviewers.
However, with every 'minute' on Facebook seeing 510,000 comments posted, 136,000 photos uploaded, and 293,000 statuses posted, the additional few thousand people Facebook is adding to its currently 4,500-person content review team isn't able to handle even a meaningful fraction of that.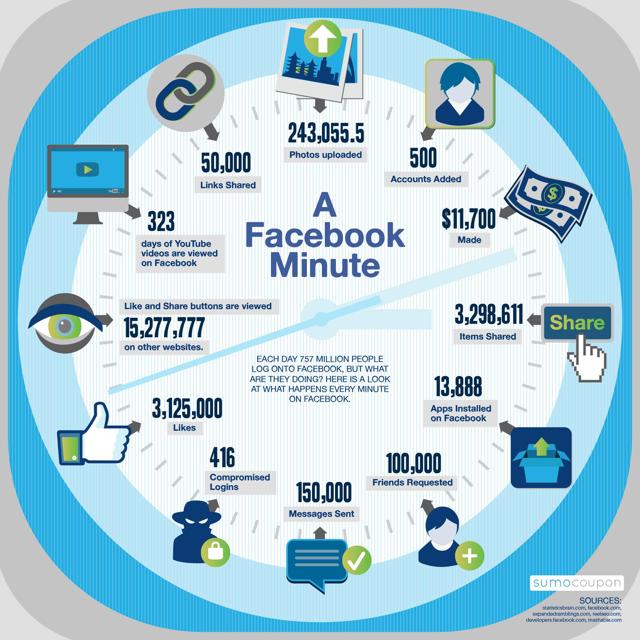 With much of the review thus being done by machine-learning, Facebook is not only facing technical questions but fundamentally what are ideologically-linked business questions, as CSO Stamos described, over how to moderate content.
The Future of Facebook Political Ad Spending
Political spending is a significant component of Facebook's advertising revenue; for example, the Trump campaign and Hillary Clinton campaign spent at least $81M in 2016 in Facebook advertising (not including even higher but less transparent numbers by PACs and outside groups, as well as the other Presidential campaigns during the primary, let alone candidates for Congress and state and local office).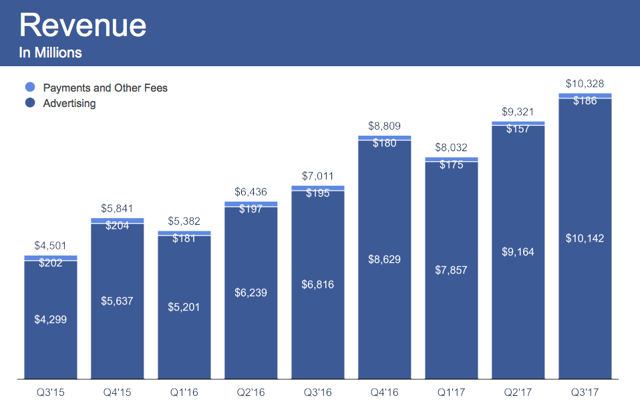 (Source: Facebook)
With political and other social media advertising spending expected to skyrocket over the next few years, how Facebook decides to restrict its content will be extremely important for how the company can capture this growth.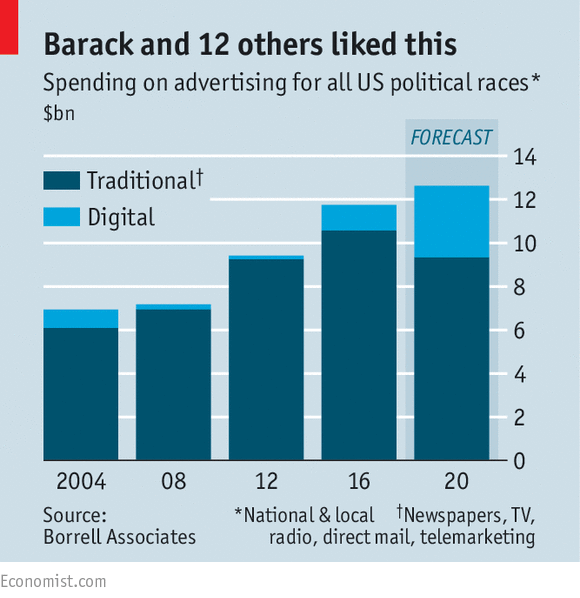 Based on the Q3 social media advertising growth, it appears that the market for spending on content in a platform that errs 'slightly' on the side of free exchange of content significantly outpaces the market for those who would spend on the platform were content to be heavily moderated.
Facebook's cautious approach at the moment appears to strike the right balance between tightening controls over abusive and nefarious practices on the platform while not over-restricting it in a way that might decrease the platform's audience as well as decrease the ability of advertisers to rely on the platform for coordinated marketing and advertising campaigns.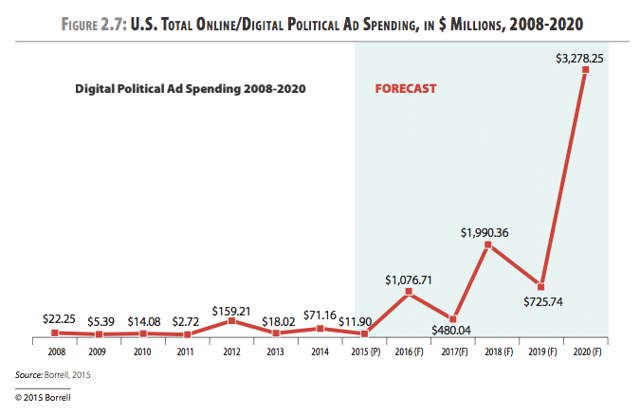 Some of the upcoming Facebook political ad moderation procedures, such as attributing political ads to the organization that sponsored them just like with television and radio ads in time for the 2018 elections, seem to be relatively harmless new regulations, based on advertising revenue growth so far.
Conclusion
Based on current trends and information, it looks like Facebook is implementing its content moderation protocols in a cautious way that likely will protect growth while deflecting regulatory and public pressure to tighten its platform's integrity.
With the market for advertisers who want to advertise on a tightly-regulated platform still very uncertain, and the potential risk of losing current advertising revenue from being too harsh with platform restrictions, it looks like Facebook is at the moment adopting a moderated approach that will serve its growth well.
Disclosure: I/we have no positions in any stocks mentioned, and no plans to initiate any positions within the next 72 hours.
I wrote this article myself, and it expresses my own opinions. I am not receiving compensation for it (other than from Seeking Alpha). I have no business relationship with any company whose stock is mentioned in this article.
About this article:ExpandAuthor payment: $35 + $0.01/page view. Authors of PRO articles receive a minimum guaranteed payment of $150-500.Tagged: Investing Ideas, Long Ideas, Technology, Internet Information ProvidersWant to share your opinion on this article? Add a comment.Disagree with this article? Submit your own.To report a factual error in this article, click here