Editor's note: Seeking Alpha is proud to welcome Dineshkumar Muniyandi as a new contributor. It's easy to become a Seeking Alpha contributor and earn money for your best investment ideas. Active contributors also get free access to the SA PRO archive. Click here to find out more 禄
Eros International (NYSE:EROS) is a leading global company in the Indian film entertainment industry, which co-produces, acquires and distributes Indian language films in multiple formats worldwide. Founded in 1977 by Arjun Lulla, Eros built its reputation for making high-quality content for past 40 years. EROS generates its revenue through its multi-platform business model that comprises Theatrical, Television Syndication, and Digital channels. In this article, I will present my case of why EROS is an undervalued at the current price.
Strong Film business
EROS has long-standing relationships with leading Bollywood directors and actors, allowing them to produce high-quality content seamlessly. Indian media industry is a close-knit group (not unlike Indian family culture) where it is difficult for a newcomer to create movies with leading actors, compared to companies like EROS with deep relationships. Being in the industry for 40 years, EROS has helped in identifying and launching the careers of several stars which will in turn help EROS grow.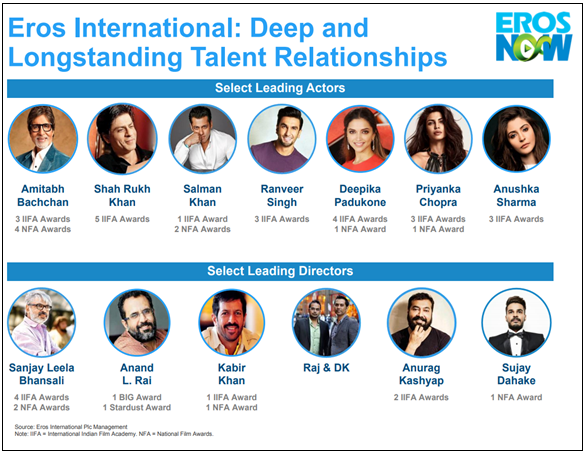 Source: Eros Deutsche Bank Conference Slides
EROS movie business is robust with a strong films slate that generates revenue as shown below.

Source: Created by the author using data from Eros annual reports
The above chart demonstrates that EROS has strong revenue generation ability through its business. In November 2016, Indian prime minister Narendra Modi announced demonetization that hurt business due to a cash crunch among consumers. EROS took a hit in revenues due to reduced film slate that had an impact in 2017 revenues. However, it seemed to recover well and soon resumed its growth fueled by a low budget/high quality film slate and EROS Now earnings. The demonetization effect on Indian business is real, and you can read more about it here.
The last seven quarters of EROS revenue and adj. EBITDA, despite demonetization in Q4 2016, shows the strength of their business.

Source: Created by the author using data from quarterly filings
Rapidly Growing Indian Entertainment Industry
Indian entertainment industry grew 11.6% between 2011 and 2016, is projected to grow at 13.9% to reach $62B valuation by 2025. EROS is well positioned with their experience and technology in a fast-growing industry that will help in doubling the revenue in five years. Operating in a market that has a population of 1.3 billion that spends more time and money on entertainment due to ever-increasing earning power provides an excellent opportunity for EROS. A research article from Mckinsey identifies the Indian middle class as the next big spenders who will help Eros' cause.
EROS exploiting Huge China Opportunity for Indian Films
The Chinese movie market is estimated to be around $9B in 2017 and expected to grow at a healthy 13% in 2018, already surpassing North American box office collection. Followed by the success of Indian superstar Aamir Khan who starred in Dangal ($190+M) and Secret Super Star ($100+M) in China, Bajrangi Bhaijan from EROS crossed a whopping $45M in the box office. EROS realized the potential of the Chinese market three years ago and started taking steps to expand their distribution and production in China. In Q1 2016, CEO Jyoti Deshpande said the following about their expansion to an international market:
Thirdly, we will target new markets such as China, Japan, South Korea, South America, through co-productions and other collaborations, not only to tap into the box office potential and the television licensing market, but also to create consumer demand for a curated version ErosNow by partnering with local synergy partners.
EROS already has two scripts approved for production in China with a Chinese partner. During the Q4 2017 conference call, Jyoti said:
The good news is that for the two projects that we have going the Indo-China co-productions we have got interest from some really compelling cast to be part of those films. So, it will be fiscal 2019, but it will be meaningful.
During the same call, EROS group CFO Prem Parameshwaran added the following that explains EROS understand the Chinese film market and being proactive in making sure they capture a good market share of Bollywood films in China:
You see in the Indo-China co-production the major hurdle is that script has to be approved by [indiscernible] which is the ministry in China. We have got both scripts approved. That is the first step that can take one or two years sometimes to get the approval of the script.
So we have got the scripts approved. We have got the director on board, we have got the Indian start-ups on board now. We have a Chinese co-production and we have the options of the big start-ups in China. So therefore we have already gone into preproduction which should be done. So in fiscal 2019 you will see an upside on that.
So far, I have talked about why EROS has a strong business in filmmaking and distribution that positions it to thrive for years to come. Now I will go through one of the most significant opportunities for EROS, that it is well positioned to capitalize on digitalization of Indian media market.
EROS Now: India's leading OTT entertainment platform
Eros Now is a leading on-demand South Asian entertainment network accessible anytime, anywhere, on most Internet-connected screens including mobile, web, and TV. Eros Now boasts enormous OTT library by a platform that has 1,000 Indian films, of which Eros owns the rights of 5,000 movies in perpetuity. Through its own production house and collaboration with others, EROS can add around 45-65 films every year, which will further strengthen their media library.
Eros produces original content
Following the footsteps of Netflix (NASDAQ:NFLX), EROS also understands the importance of creating original content for their OTT library and plans to invest more than $50M in originals for EROS Now. As per the Q1 2018 earnings call:
For the full fiscal year 2018, we are maintaining our guidance on content spend of $200 million to $225 million, which we feel will be more adequate to continue to invest in our future slate and fund Eros Now growth. Around 70% of that spend will be for the core film business and about 30% for Eros Now, including catalog and other originals.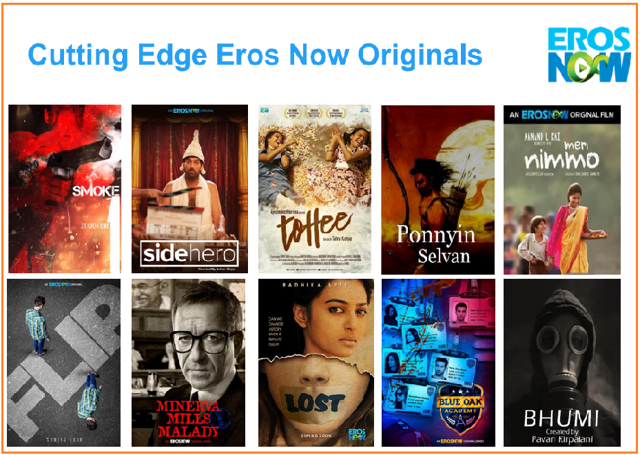 Source: Eros Deutsche Bank Conference Slides
Eros has already shown rapid subscription growth
Eros Now did a soft launch in 2012 with 1,000 movies, over 6,500 music videos, over 6,000 TV episodes available and over 80,000 audio tracks. As of now, Eros Now has full content library owned by EROS and kept adding new movies and original content. Such extensive library has helped Eros Now grew their paying subscribers and registered subscribers to reach their guidance without any hassle. On May 9, 2018, EROS announced that it has 7.9M paying subscribers and has reached over 100M registered users.
The following chart shows the growth of paying subscribers and registered users for past eight quarters:

Source: Created by the author using data from EROS earnings transcripts
Strong growth in Eros Now helped EROS to expand the EBITDA expansion that hit an all-time high of 36% in Q3 2018. Meeting Eros Now projections as forecast, management has shown their excellence in understanding the opportunity presents in Indian digital media business. As of now, EROS reiterates its guidance to double-paying subscribers to 16M by the end of FY 2019. Increasing internet and smartphone penetration will help EROS reach its subscription goals.
Indian OTT entertainment space competition
Any market that has a massive opportunity for growth will have multiple players trying to exploit market share. Indian OTT entertainment industry is ripe for inflection point due to increase in earnings power and digitization of India. Amazon Prime (AMZN), Netflix, and Hotstar are among the few significant players EROS that has to deal with, from a competition perspective.
EROS understand the Indian market very well and has two-tier subscription model combined with free subscription. Eros Now offers competitive basic subscription costs around 75垄 per month compared to Netflix's $7.50, HotStar's $3.50, only to be beaten by Amazon's 65垄 a month. To put it into perspective, an average movie ticket in India costs from somewhere between $1 and $5 in India depending on the quality of theater. Being able to provide high-quality movies and original content to Indian homes, Eros Now will have a great deal of stickiness from their paying subscribers due to the value it offers.
EROS also outpaces its competition by the sheer volume of their movie library, as shown below.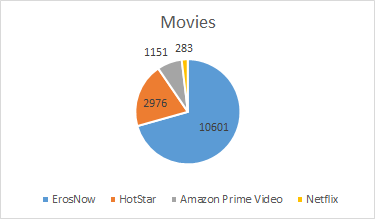 Source: Eros plc Deutsche Bank Conference Slides
Eros Now partners with major companies
EROS partners with major Indian telecom companies such as Reliance Jio, Vodafone (NASDAQ:VOD), Airtel and Idea that constitutes around 85% of wireless subscribers in India. Partnering with telecom companies will help EROS penetrate a large number of mobile users under these networks and entice them with free content to earn more subscribers.
EROS is available on Roku TV (ROKU), LG, Amazon Channels, Samsung (KRX: 005930), Apple TV (AAPL), and Android and iOS platforms.
Trading at a competitive valuation
EROS trades at competitive valuation compared to its peers. Even though Netflix and Amazon are giants, EROS is well positioned to take a significant market share in Indian OTT entertainment industry. Combined with strong film slate business that has a spectacular track record of making high grossing movies in India, I believe EROS is worth a look.

Source: Created by the author using data from Eros plc Citi 2008 Conference Slides
EROS has 64M outstanding shares and trading around $11.4. Combined with net debt of $150M reported last quarter, EROS has an enterprise value of under $1B. EROS should be worth at least $15 in a year with an upside potential of 30% or more if management continues to execute the promises.
Scope to use Artificial Intelligence
EROS management is highly capable and has valuable experience and deep roots in Indian entertainment industry. Mr. Kishore Lulla, current CEO of EROS, proved to be a visionary in establishing Eros Now leveraging their rich media library. If there is one thing that I have not seen EROS management talking about in their conference calls, it is using AI to power their business.
With over 100M registered users in Eros Now platform, they can collect a vast amount of user watching history and identify the type of content that is popular and use that information to direct the investments in their new movies and original content for Eros Now.
Some well-known risks
EROS has a complex dual share structure that gives the majority of voting rights to management. Such rights will allow the management to take decisions without requiring any quorum from common shareholders. However, the fact that management own 43.4% of the company, I believe they will work for the benefit of the company.
High receivables have been brought into question by some authors. EROS has addressed this in their prior conference calls. Also, it is not abnormal for companies in India movie industry to have higher receivables due to the nature of collecting revenues from distributors and other entities after the release of a movie.
Lastly, Eros' stock price may be volatile due to low float and short attacks. I would use covered calls to reduce my cost basis.
Conclusion
I believe EROS offers a unique opportunity for investors to take advantage of fast growing Indian media industry powered by digitalization. I started buying EROS at $9.5 in December 2017 when I realized Eros Now is growing better than expected. I used covered calls to reduce my cost basis. At this price, I would initiate a one-third position at the current stock price and adjust my position based on upcoming quarters with more information.
Mukesh Ambani agrees with me
In February 2018, Reliance owner Mukesh Ambani, the 19th richest man in the world and second richest in Asia, acquired a 5% stake in EROS for the price of $15$ a share, which represents an 18% premium to the stock price. EROS also announced a joint venture with Reliance industries for $150M to produce and acquire movies with 50-50 partnership. This will help EROS double the content with the same invest that will also derisk some of their investments and help grow their OTT media library faster than before. After this investment, Ms. Jyoti Desphande stepped down from EROS and started a new role at Reliance as President of Media and Entertainment business. Mr. Kishore Lulla succeeded as CEO of EROS after Jyoti's departure. Being one of the well-known and highly respected companies, Reliance would have done their due diligence and their investment in EROS strengthens my thesis.
Interested readers can listen to EROS CFO Mr. Prem Parameswaran in an interview about future prospects here.
Disclosure: I am/we are long EROS.
I wrote this article myself, and it expresses my own opinions. I am not receiving compensation for it. I have no business relationship with any company whose stock is mentioned in this article.