In December 2017, Airbus won an order for 100 Airbus (OTCPK:EADSF) A321neo aircraft after already winning an order from Delta Air Lines (DAL) in 2014 for 50 wide-body jets. With many customers around the globe, some readers have said that we should not mind Delta not selecting any Boeing (BA) aircraft to support its operations. I think that is short-sighted and in this article I will explain why.
World's second biggest airline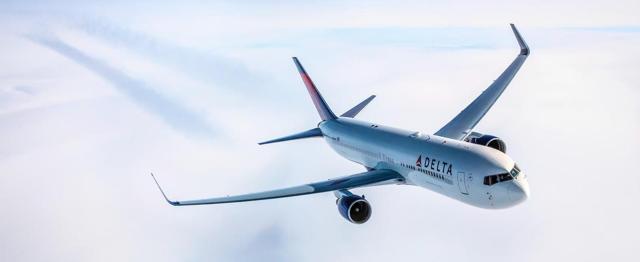 Source: Delta Air Lines
One of the most obvious reasons why investors should mind that Boeing is losing terrain to Airbus in the Delta fleet is the fact that Delta is one of the biggest airlines in the world. Measured by fleet size, revenues and passengers carried Delta Air Lines is the second airline not only in the U.S., but worldwide. Although there are many other airlines in the world, not being able to supply aircraft to the world's second biggest airline is disappointing. Going forward, it mitigates the chances of supplying aircraft to support growth as airlines are usually looking to have a uniform way to bring costs down.
Among the legacy carriers Delta Air Lines also has the highest margins, which means that any aircraft sold to this company is an aircraft sold to a well-performing airline and chances of big cancelations or deferrals are somewhat smaller. Whether you are Boeing, Airbus, Bombardier or Embraer, Delta Air Lines is an airline that you want on your list of customers.
Eroding share in fleet
The second reason why the choice for Airbus aircraft is a painful one is Boeing's sinking share in the Delta Air Lines fleet.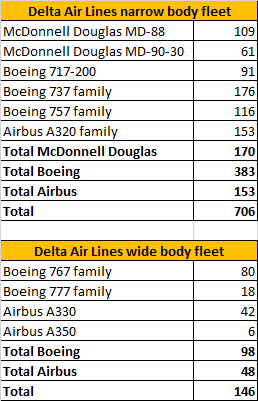 Currently, Boeing has a 54% share in the narrow body fleet and a 67% share in the wide-body fleet, bringing its overall share to 56%. Airbus provides roughly a quarter of Delta Air Lines' aircraft.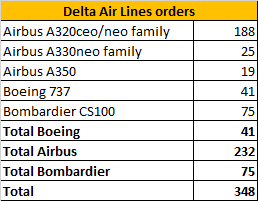 Looking at the orders, Boeing's share in the orders is much smaller than its share in the installed base. Simply said, as aircraft are being delivered to Delta, Boeing's share in the installed base will come down.
Going by the Delta fleet plan, the Delta Air Lines fleet might look like this in a few years from now: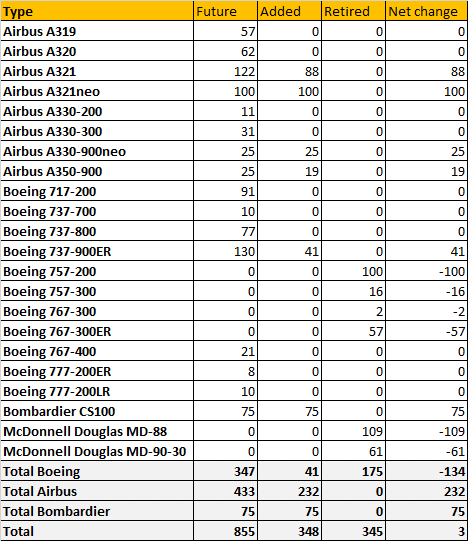 There are a lot of numbers in the table above, but what is important to note is that with the current unfilled orders and fleet plans, Boeing will see the number of aircraft in the Delta fleet come down. It is currently contracted to deliver 41 aircraft to Delta while 175 aircraft will be phased out over the next couple of years, bringing the net change to negative 134 units, while Airbus will provide 232 aircraft and Bombardier will provide 75 units.
McDonnell Douglas aircraft will be removed from the fleet altogether. Boeing's share in the fleet is expected to fall from 56% to 40%, while the Airbus share will increase from 24% to 50% and Bombardier will get a 10% share. Overall, it is expected that Airbus will dominate the fleet. But it should also be noted that the fleet will be more balanced between Boeing and Airbus than is currently the case, and the current orders with both jet makers merely cover fleet renewal and not fleet expansion.
So there still are possibilities to support growth for Boeing, though Airbus has an edge here.
Eroding share so what?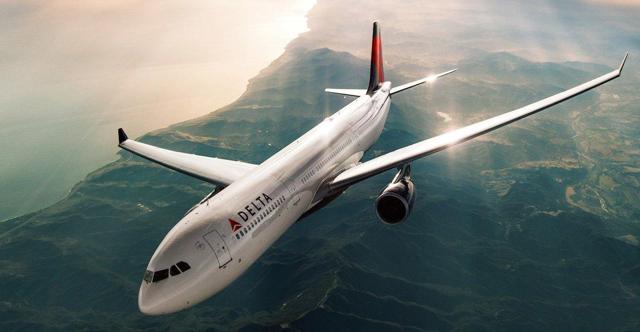 Source: Trip Advisor
One thing you should ask yourself is: Even if Airbus gets to supply most aircraft to Delta, what is Boeing really losing besides a couple of billions in revenues that it can get from other airlines? As I mentioned earlier, the chances of supporting growth are decreasing as the share in the installed base comes down. Additionally, what is often underestimated is the support of aircraft. Acquisition is one thing that brings revenues to the jet maker, another thing is the support with spare parts and service programs. If a jet maker's aircraft are being replaced with aircraft of another jet maker revenues from support are decreasing as well.
Is it that bad?
The next question is simple: Is it that bad? The answer is no, but it is worrisome. As outlined in the table, the current orders support fleet renewal, but not growth. So there is an opportunity there for Boeing, though it isn't great.
Delta is increasing its capacity by upgauging, but I don't think that means it will not require 160-seat aircraft any longer. Boeing has not been able to turn the RFP for 50 wide body jets in 2014 into sales and has also missed the opportunity for 100 single aisle aircraft this year. For now, that closes the door for Boeing and the next opportunity is roughly in 10 years from now to supply replacement for the 160-seat aircraft in the fleet or maybe earlier if the market grows faster than Delta anticipated. I think it's also in Delta's best interest to keep a mix between Airbus and Boeing in the fleet to leverage discounts for future purchases. We've now seen Delta do two big purchases with Airbus, one with Boeing and one with Bombardier. I would expect Delta to seriously consider the Boeing 737 MAX to replace the 150- to 160-seat aircraft once replacement of those jets is required.
Conclusion
Investors should not take things lightly regarding Boeing not gaining any orders from Delta in recent campaigns. Boeing's share in the installed base is coming down, which could affect revenues from spare parts and services to the airline.
Small positives are the fact that years from now a replacement for the 160-seat aircraft in the fleet is required, and capacity growth primarily comes from upgauging while there are no orders to support actual fleet growth.So, there are opportunities for Boeing in the future, but it really needs to improve its relation with Delta Air Lines. I hope that the airline is striving for parity between Boeing and Airbus in the fleet to leverage its fleet mix in future negotiations.
Thank you for reading this article. If you enjoyed reading this article, don't forget to hit the "Follow" button at the top of this page (below the article title) to receive updates for my upcoming articles. You are welcome and encouraged to leave a comment and discuss your views with me and other readers in the comment section. If you have any suggestions, feel free to drop me a message.The AeroAnalysis premium service offers free trials.
Disclosure: I am/we are long BA, DAL.
I wrote this article myself, and it expresses my own opinions. I am not receiving compensation for it (other than from Seeking Alpha). I have no business relationship with any company whose stock is mentioned in this article.
Editor's Note: This article discusses one or more securities that do not trade on a major U.S. exchange. Please be aware of the risks associated with these stocks.
About this article:ExpandAuthor payment: Seeking Alpha pays for exclusive articles. Payment calculations are based on a combination of coverage area, popularity and quality.Tagged: Investing Ideas, Quick Picks & ListsWant to share your opinion on this article? Add a comment.Disagree with this article? Submit your own.To report a factual error in this article, click here