Eldorado Gold (EGO) has been getting pulverized as nothing seems to be going right for them at the moment. Just over a year ago, the company had a market cap of $3.5-$4.0 billion, and the stock was over $5 per share. Today, it's being valued at just over $900 million, and the stock is barely above $1. This is an obscenely low valuation as investors have effectively priced in Armageddon – which I don't believe is warranted. As a result, I'm taking the other side of this trade. I see an epic opportunity as the downside risks have become negligible while the upside potential is…well, whatever I say would be an understatement.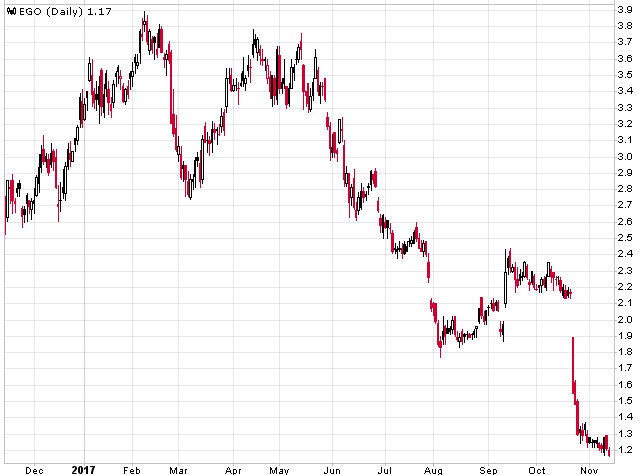 (Source: StockCharts.com)
This reminds me of buying Corning (GLW) at $1 back in late 2002. Just like EGO today, GLW was struggling mightily back then, but they had the assets and the balance sheet that supported much higher prices for the stock. Two years later, GLW was at $10, and then two years after that, it was at $25. While I'm not projecting that EGO will reach similar prices in the future, I do see it moving up multiples from current levels. Throw in a more powerful gold bull market and I could envision $5 down the road if some of these issues get sorted. The fact of the matter is stocks that reach levels like this can make comebacks, as it's not uncommon for investors to severely misjudge a situation and significantly misprice shares of a company.
The Issues Impacting The Stock
1. Eldorado has had issues for several years now with its projects in Greece, as continued disagreements with the Greek Government over the flash smelting process at the future metallurgical plant, along with the slow issuance or delay of routine permits by the Ministry of Energy and Environment and other government agencies, have weighed heavily on the stock.
This past summer, things looked even more uncertain as it was reported in local Greek papers that Greece would seek arbitration to settle its differences with Eldorado. But the company hadn't received any formal notice of this arbitration and they still weren't getting permits for their Skouries and Olympias mines. Months went by with still no news, as a result, the company announced in early September they were suspending all investment at its operating mines, development projects, and exploration assets in Greece.
Workers from the Olympias mine immediately went to protest these potential job losses outside the energy ministry (actual photo below). Seeing the escalation of events, the ministry soon began to issue permits to Eldorado, and the company decided to hold off on the suspension of operations and investments. The Greek Government also finally provided an arbitration notice to Eldorado.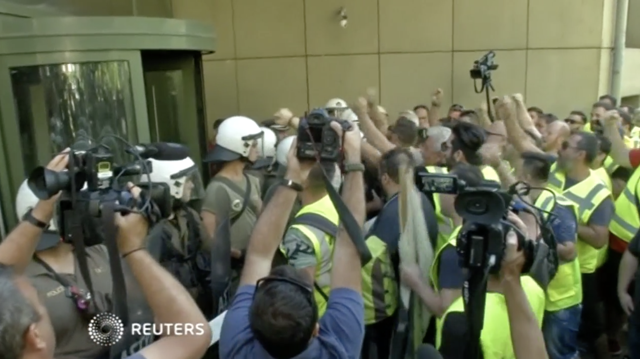 (Source: Reuters)
The shares actually started to rally a bit as the hope was that constructive dialog and action was now taking place. But this is still a very fluid situation, and just a few days ago the company said it was suspending investment at Skouries as they still aren't receiving some permits for that project.
The company just entered the arbitration process with the Government, and it's expected to take 3 months for a decision.
2. Back in June, the company stated that the gold grade and recoveries from the leach pad at its Kisladag mine in Turkey were lagging internal expectations. Eldorado believed that adjusting the cyanide solution and allowing more time for the solution to permeate the leach pad (as it was stacked quite high) would resolve the issue. They lowered guidance at the time to 180,000 to 210,000 ounces from Kisladag (with cash costs of $450 to $500 per ounce). The original 2017 guidance for the mine was 230,000 to 245,000 ounces of gold.
Eldorado also stated at the time that: "Initial laboratory and in situ tests, where solution chemistry was adjusted, indicated normal recovery rates were still expected." As a result, they forecasted that these ounces would be recovered in the first half of 2018, and they boosted next year's production to approximately 320,000 to 335,000 ounces of gold (at a cash cost of $425 to $475 per ounce). The previous guidance was for 285,000 ounces in 2018.
But things aren't going according to plan, as the company announced a few weeks ago:
During the third quarter, a significant amount of laboratory test work was undertaken, primarily focused on the zone of mineralization located around the base of the open pit where mining is currently underway. Monthly composite samples from material recently placed on the pad, even with adjusted solution chemistry, have indicated lower gold recoveries. Final recoveries in the low 40% range are now anticipated for this material. This will result in a reduction in the recoverable leach pad inventory by approximately 40,000 ounces of gold.
Recoveries at Kisladag are usually 60-65%, for them to be in the low 40% range is a huge dropoff. As a result of this continued issue with recoveries, Eldorado now expects Kisladag to produce 170,000 to 180,000 ounces at cash costs of $500 to $550 per ounce for 2017. They also said that guidance for 2018 and beyond is currently under review.
The stock has been cut in half since this news was released:

EGO data by YCharts
The Other Assets Fully Support The Current Valuation
Even if you remove all "questionable" assets from the equation – those being Kisladag, Olympias, and Skouries – what remains would still support EGO's current valuation. Efemcukuru and Lamaque are where I want to focus, as that's where most of the value is for the company's other assets.
Efemcukuru (Turkey) is currently in production, and unlike Kisladag, it has been a consistent mine for Eldorado. It produces about 100,000 ounces of gold annually and the current mine life is 12 years. All-in sustaining costs are around $750 to $800 per ounce. Given the LOM (life-of-mine), the after-tax NPV (5%) is around US$335 million at $1,300 gold. That's over 1/3 of EGO's value.
Lamaque (Canada) is a development stage project that was purchased by Eldorado this past summer for around $430 million. A Preliminary Economic Assessment was released on the project earlier this year and the after-tax NPV (5%) came in at just over US$300 million and the IRR was 47%. That was using a gold price assumption of $1,300 per ounce.
However, the PEA was using an old resource estimate from 2016. Integra conducted a large drill campaign at Lamaque and announced this past May that the resource increased by almost 1 million ounces of gold (from 1.9 to 2.8 million ounces). The resources at Triangle, where most of the ore will be sourced from, grew to just over 1.8 million ounces. That's up from 1.35 million ounces in the previous resource estimate. The PEA envisioned a total of 1.3 million ounces being mined, with over 1 million coming from Triangle and a small amount from the No. 4 Plug and Parallel deposits. This new resource supports the inclusion of many more ounces in the mine plan.
2016 Resource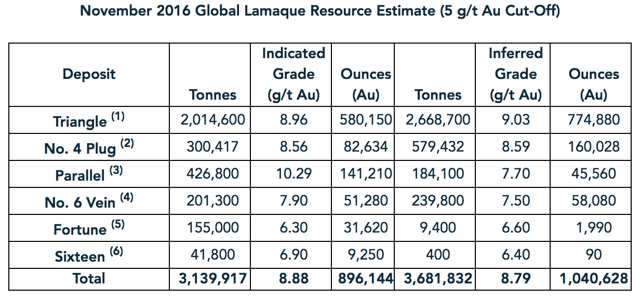 Updated 2017 Resource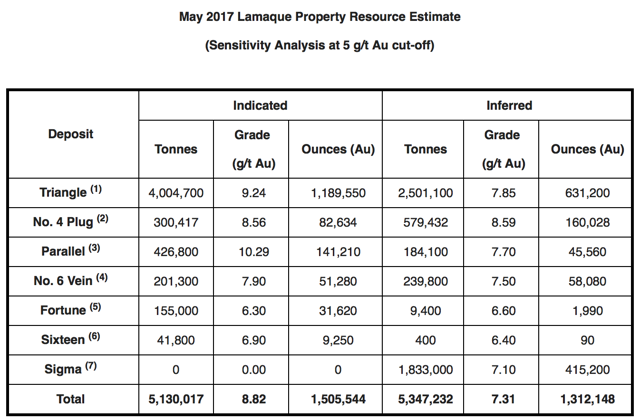 (Source: Eldorado Gold)
Eldorado expects a Prefeasibility Study on Lamaque to be completed in the first quarter of 2018, and it will include all of the drilling and resources that weren't part of the PEA. They also expect to declare a maiden reserve on the project and plan to incorporate an additional 170,000 meters of drill data that wasn't part of Integra's May 2017 resource update. In other words, the resource base is likely to grow even more. The after-tax NPV should show a sizable increase as well, but the ultimate return potential of the mine could be much greater.
What most investors might not realize about Lamaque is the initial capex is only US$136 million according to the PEA. The mill and tailings facilities have already been constructed and just need to be refurbished – as there are past producing mines on the property. The PEA estimated a 10 year life of mine producing 123,000 ounces of gold per year at an AISC of just US$634 per ounce. This production profile will likely increase to over 150,000 ounces (conservatively) once the new resource is released. Capex might increase slightly if the project grows in size, but nothing too drastic. AISC will likely be similar but could actually move lower given that more ounces will be mined. If we assume 150,000-175,000 ounces going forward, the after-tax NPV (5%) would about $400-$480 million (with the range dependent on ounces produced). I believe it will be closer to 175,000 ounces than 150,000 ounces, especially given the resources that have been added and the additional drilling that has been done since.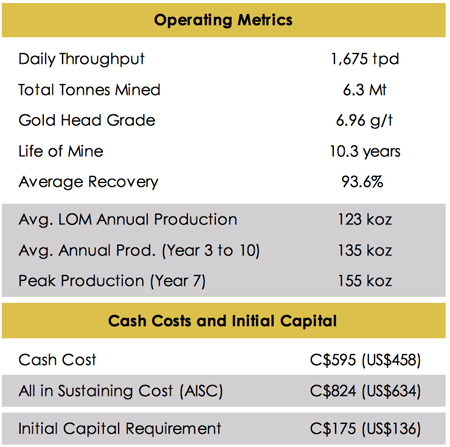 (Source: Eldorado Gold)
According to the company:
"Underground development at Lamaque is moving along at record speed. 1200 meters of development were completed at Triangle during the quarter and our team at Val-d'Or continues to grow. Over to exploration, where our teams are busy with a number of projects to fill our growth pipeline. We completed 55,300 meters of exploration drilling during the third quarter, nearly half of which was at our new Lamaque project in Val-d'Or."
This is a project that Eldorado can easily fund and quickly bring into production given the current infrastructure that is in place. Lamaque could be up and running by 2019.
Efemcukuru and Lamaque combined will likely produce 250,000+ ounces of gold per year at an AISC of around $700 per ounce. These are long-life assets and a conservative after-tax NPV (5%) for them is around $800 million. Again, EGO's market cap is now just over $900 million.
The rest of the company's assets include the following:
Perama Hill in Greece (100%) Certej in Romania (81%) Tocantinzinho in Brazil (100%) Stratoni – Lead and Zinc Concentrates in Greece (95%) Vila Nova – Iron Ore in Brazil (100%)
Certej has an after-tax NPV of just over $300 million, as does Tocantinzinho. I wouldn't assign the full value to these projects given the risks, but even if we take half of that NPV and combine it with Efemcukuru and Lamaque (and give zero value to the other projects and mines listed), we are at $1.1 billion.
Eldorado had $546 million in cash, cash equivalents, and term deposits as of September 30, 2017. Total debt was $593 million – giving the company a net debt position of $47 million. The assets discussed above, plus the balance sheet, more than support the current market cap of the company.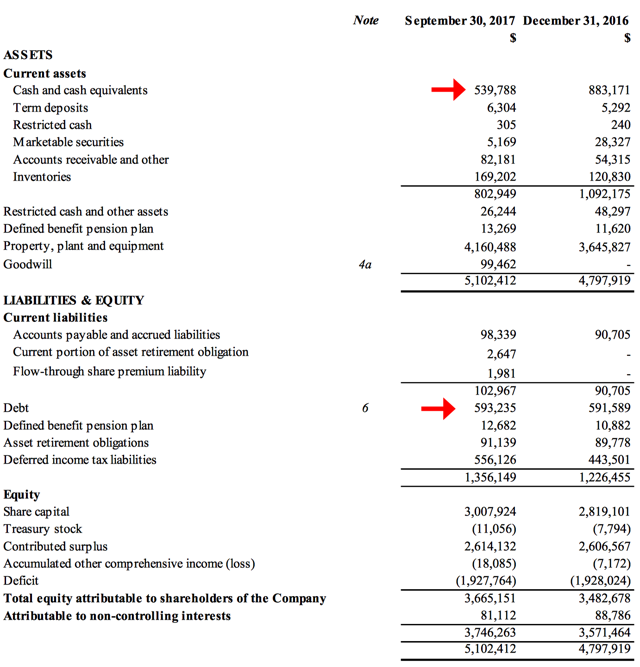 (Source: Eldorado Gold)
That means Kisladag, Olympias, and Skouries are effectively being valued at zero right now. I believe this is a gross overreaction, as the likelihood that all three are worthless is extremely remote. These mines are actually the best in the portfolio, and even if one is in full operation then EGO is worth 2x the value it's trading at today. In other words, everything doesn't need to go right for this trio for EGO to be significantly re-rated.
Potential Outcomes For Kisladag, Olympias, and Skouries
Kisladag
Starting with Kisladag, the company doesn't know what's causing the drop in recoveries. It also seems they are approaching this as if recoveries won't improve back to the 60-65% level, but will instead remain in the low 40%. However, there are ways to improve recoveries, and we do know that there are over 5 million ounces of reserves at Kisladag. What EGO is trying to do is figure out the best manner to recover those reserves. There are three options:
Eldorado could just keep mining as they are now. In other words, continue to leach the ore. Recoveries will be low and production would probably be cut in half to around 125,000 ounces (my estimates), but this would still be a profitable operation. Another option is to build a mill, which EGO estimates will cost around $300-$400 million. The capex is obviously one downside to this option. Another being that the mill will take several years to permit and build – which means it wouldn't positively impact the operation until 2020-2021. What the mill will do, though, is increase recoveries to at least 75%. 5.3 million ounces at a 75% recovery will result in an additional 1.75 million ounces of gold production during the life of mine compared to an operation recovering 42.5% of the gold. That's a fairly large incentive to build a mill. Not to mention that there are 13 million ounces of gold resources in total at Kisladag. This would be the most expensive option and would take the longest to implement, but the long-term payback could be very enticing. Eldorado explored constructing a mill previously, but the improvement in recoveries wasn't enough to justify the additional capex as well as the increase in operating costs. However, that was when recoveries from the leach pad were at 60-65%. One interesting (and much cheaper) solution Eldorado is exploring is the use of high pressure grinding roll crushers. An HPGR is just a large crusher that uses rolls to grind the ore down into finer sized particles. This results in much better recoveries for heap leaching as micro-cracks are created in these particles and more surface area is exposed. This allows the heap leach solution to come into more contact with the ore and results in improved penetration of the cyanide solution. I believe this is a very viable option for EGO. If the company goes this route, then it will be a quicker and much cheaper fix. High pressure grinding rollers have been proven to increase recoveries for heap leach operations. In fact, Goldcorp's (NYSE:GG) Penasquito mine in Mexico had an HPGR installed in the circuit. George Burns, the new CEO of Eldorado, was formerly the COO of Goldcorp so he would be very familiar with an HPGR installation and its effectiveness. EGO is investigating this option but they don't want to make any assumptions as they haven't fully tested it at Kisladag. There is still a significant amount of work to do to see if this could be a possible solution. Right now they are talking more about the mill option because they have already studied this before and they have more data and conducted thorough testing. However, I believe there is a greater than 50% chance that an HPGR could be installed at Kisladag. It won't improve recoveries as much as a mill would, but it could get them back up to prior levels and would be a far more cost-effective solution.
Either way, it's likely that Eldorado will be mining Kisladag for many years to come. The only question is how will the ore be processed in the future? The market is punishing EGO and treating this news as if Kisladag will be a total loss. But I don't believe that will be the case. I don't think it's accurate to place zero value on this asset. I don't know how you make that jump.
This is an operation that at the start of the year had an expected 20-year mine life remaining, and it has already produced 2.5-3.0 million ounces of gold since it first entered production 11 years ago. There is a proven track record here.
Olympias and Skouries
As for Olympias and Skouries, these are more complicated. First, let me say that Olympias Phase II is now in production and will produce 85,000 ounces of gold over the next 5 years at an AISC of under $500 per ounce. I assigned zero value to this mine above, even though it will generate significant operating cash flow.
The company has entered arbitration with the Greek Government in order to settle differences regarding Olympias Phase III. Phase III will see gold production double to 170,000 ounces per year and the mine life would be 20+ years from that point forward. During Phase III, a metallurgical plant will be built to process the concentrates from both Olympias and Skouries. The Greek Government believes that the flash smelting process at this mill will cause environmental harm, or at least they believe that EGO hasn't proven that it won't. EGO disagrees and has done extensive lab work.
Eldorado has sunk so much money into these mines that I would be shocked if they walked away without anything to show for them (other than a hole in the balance sheet). The first picture below is the current infrastructure at Skouries, and you can see that this isn't some small operation. The second picture is the underground infrastructure at Olympias, which has been extensively built-out. There is over $1 billion in infrastructure at these two mines, and the market is assuming that EGO won't have a good outcome and all of this will go to waste. I have a hard time believing that's how this ends. Eldorado technically doesn't even need this plant, they can still mine Skouries and Olympias and just ship the concentrates to a third-party smelter. But the plant is part of the EIS, so they have to construct it or go through the permitting process again.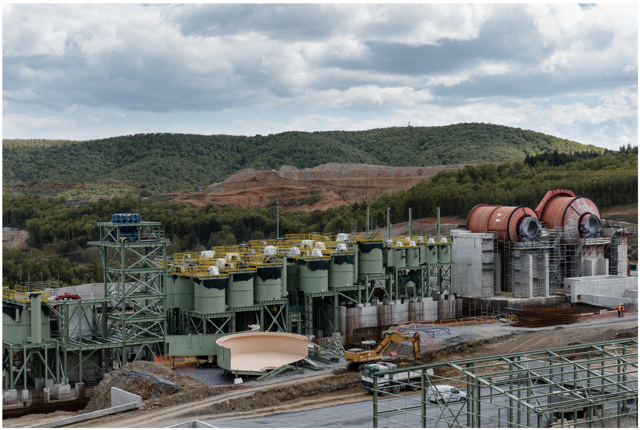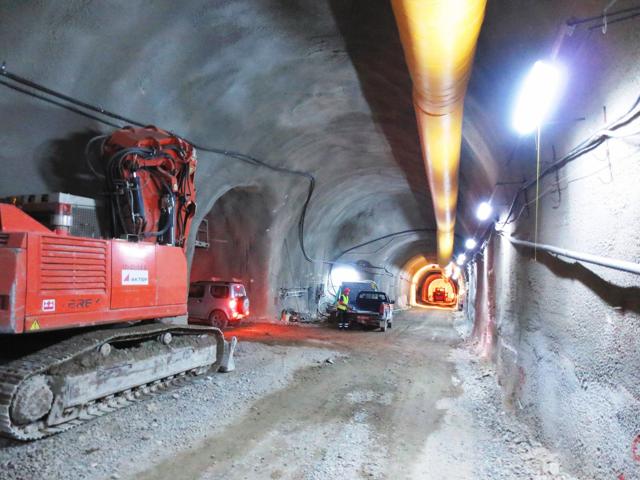 (Source: Eldorado Gold)
EGO has a lot of outs here. If Kisladag produces zero ounces going forward, the company still has the projects in Greece. If there is a positive settlement regarding these Greek mines, then the stock is worth triple where it's trading today.
If Greece doesn't work out but Kisladag gets back on track, EGO would likely double.
If they all are a bust, the company still has Efemcukuru in production (which has been a model of consistency) and a flourishing Lamaque project (which has a lower technical risk and much lower jurisdictional risk). Worst case, EGO has Efemcukuru and over $500 million in cash to build Lamaque and buy/build another project or two.
Even if the market is correct and these mines won't generate a single dollar of free cash flow in the future, EGO is still trading just under fair value given the remaining assets.
The Main Risks
I do have one near-term concern about Eldorado, and it has to do with the amount of cash burn. The balance sheet is helping to support the stock, so it's important to not let it deteriorate and have this small net debt position increase to a large one. Cash burn was higher than I would have liked in Q3, as spending on both Skouries and Olympias totaled almost $50 million. That should now start to come down as Olympias Phase II is in production. But if Q4 spending in Greece is similar, then the cash balance is going to decline even further.
It's not just the Greek assets that Eldorado is building, developing, and exploring either, as other mines and projects are also using up cash.
Over the near-term, Eldorado needs to manage cash better and prioritize these mines and projects. At least until they have more clarity on Greece and a better handle on Kisladag. Complicating matters is the arbitration process in Greece is expected to take 3 months, which means that an agreement/decision won't be reached until early next year. Meanwhile, EGO continued to spend money on Skouries at the start of the quarter.
The good news, and as I mentioned above, is they are halting further investments in Skouries (until they get the permits). That should reduce the cash burn as they were on track to spend another $40-$50 million over the next two quarters just on this one asset.
EGO needs to be careful here and I would rather them focus on cash preservation in the short-term. The recent news on Skouries seems to imply that EGO is on the same page.
I will be paying close attention to the balance sheet in the Q4 report.
There is also the issue of the capital that is still needed to complete Skouries ($500 million), and possibly another $300-$400 million for a mill at Kisladag. Add into the mix $150 million or so for Lamaque, and Eldorado could be looking at over $1 billion in capex to get all of these into production (or back on track in the case of Kisladag). They need to prioritize.
If the HPGR option as Kisladag is a viable solution, then it would significantly reduce the needed capital. In that scenario, EGO could get Kisladag back on track and construct Lamaque at the same time – with plenty of cash to spare. Future cash flows could allow Skouries to be completed a year or two later.
The risk here is EGO leverages up and tries to build all of these at once and something else goes wrong. Then the company wouldn't have the strength of the balance sheet to support the stock. That's a worst-case scenario in terms of liquidity and would be far in the future, but I did want to put that on the table. Also keep in mind that in this scenario, Skouries would have been approved so the stock would have reacted positively by that time anyway.
Turkey also remains a higher risk mining jurisdiction given events over the last 1-2 years. It's important for investors to keep this in mind. However, the diversification into Canada is beneficial for the company and helps to lower its overall risk profile.
I'm Buying At Current Levels
I significantly reduced my position in EGO in early June when it was around $2.90-$3.00 – as the stock was breaking down and it appeared that the other shoe (i.e. Greece) was about to drop. Uncertainty in Greece started to impact the shares over the months that followed. While waiting for a re-entry point, EGO had the negative announcement on Kisladag. I have been taking advantage of this opportunity and have been buying back the stock over the last week or two. The bottom might not be in yet, but I believe the downside from here is minimal. I plan to keep buying if it declines even further. If the Q4 report shows a steady cash position, I will likely purchase additional shares (assuming that the price hasn't rebounded aggressively over the next few months). While I don't expect an immediate rebound in the stock, I do believe that 6-12 months out the shares will have moved sharply higher.
I also want to add that it wouldn't surprise me if there was a hostile takeover attempt of the company. I don't believe Burns and the Board of Directors of EGO are interested in selling out, at least not anywhere near the current price. And nobody is going to come along and offer a fair value to EGO.
The Gold Edge
If you would like to read more of my thoughts, ideas, and research on the gold sector, including which companies I believe are best positioned for outsized returns in this bull market, you can subscribe to The Gold Edge, my premium service here on Seeking Alpha.
Thank you for reading this Seeking Alpha PRO article. PRO members received early access to this article and get exclusive access to Seeking Alpha's best ideas. Sign up or learn more about PRO here.
Disclosure: I am/we are long EGO, GG.
I wrote this article myself, and it expresses my own opinions. I am not receiving compensation for it (other than from Seeking Alpha). I have no business relationship with any company whose stock is mentioned in this article.
About this article:ExpandAuthor payment: $35 + $0.01/page view. Authors of PRO articles receive a minimum guaranteed payment of $150-500.Tagged: Investing Ideas, Long Ideas, Basic Materials, Gold, Canada, Editors' Picks, PROWant to share your opinion on this article? Add a comment.Disagree with this article? Submit your own.To report a factual error in this article, click here