Dolby Laboratories (NYSE:DLB) is a compelling growth story. The stock is currently hovering around $46, but new growth drivers can send it above $60 this year. The age-old surround-sound provider that develops sound for almost everything related to entertainment, right from movie theaters to TV sets to computers and to your car, generates income by earning royalties via licensing its surround-sound technology.
The company's major patents relating to its Dolby Digital technology will expire this year. Dolby Digital technology was the company's primary source of licensing revenue for a long time. However, the company has created new sources to generate licensing revenue, which are capable of boosting its top line significantly. As a result, the stock should rise as well.

Investment Thesis: Dolby Addressing New Industry Dynamics
Dolby is a developer of audio and imaging technologies primarily targeted at the media and entertainment industry, including and the movie/home entertainment industry and the mobile communication industry. With the change in industry dynamics in the media and entertainment space, Dolby has brought massive changes to its products. However, Dolby's share price hasn't yet factored in these changes, leaving the opportunity for investors to profit from Dolby since a significant rally is in the cards.
For the movie industry, Dolby has created Dolby Atmos for delivering real-life multidimensional surround-sound experience inside the theatre, and Dolby Vision for producing real-life imagery on the screen by optimally mixing brightness, contrast and color. The innovative technologies behind Dolby Atmos and Dolby Vision can be enjoyed at home as well by setting up Dolby Atmos-enabled speakers and watching TV that supports Dolby Vision.
For the mobile communication industry, Dolby is bringing its surround-sound technologies including Dolby Atmos and Dolby Audio to the smartphones, tablets and PCs. In addition, the company is also targeting the gaming and the streaming media industry.
Dolby has shifted to object-based surround-sound with Dolby Atmos from its earlier channel-based surround-sound. The new object-based surround-sound relies on a technology which allows filmmakers to specify the exact location on the screen (either in the movie theatre, or on a TV set or on a smartphone) from where a sound should originate and how the sound should move, which is constant for particular media contents, such as a movie. As a result, the sound effect can be felt not only in movie theatres but almost on any device as well.
Dolby's New Growth Drivers
1. Online Entertainment
Dolby's online entertainment business remained under pressure in the past few years due to decline in PC sales across the world. However, the business is turning around, driven by new growth drivers, such as gaming and streaming media. Apple (NASDAQ:AAPL) has started supporting Dolby Audio earlier this year with the release of iOS 9.3, and as a result Dolby Audio is now available on millions of iOS devices. For Google's (NASDAQ:GOOGL)(NASDAQ:GOOG) Android, Dolby is working with several OEMs to integrate Dolby Audio with the devices that run on Android.
Earlier this month Dolby and Microsoft (NASDAQ:MSFT) jointly announced that Dolby Atmos will be available on Xbox One and supported by Windows 10. Although smart TV platforms like Apple TV and Android TV don't support Dolby Atmos yet, I believe these platforms will begin to support Dolby Atmos also, since Windows 10 will support this latest audio revolution from next year. However, in order to grow its revenue from the fast-growing streaming media industry, Dolby has already made its Dolby Digital Plus pass-through technology available on Apple TV and Android TV. Streaming media services offered by players like Netflix (NASDAQ:NFLX), Hulu and Amazon's (NASDAQ:AMZN) Amazon Prime are available on Apple TV and Android TV.
2. Dolby Cinema
Last year Dolby entered into an agreement with AMC Entertainment (NYSE:AMC), a theatrical exhibition company which operates in the US and internationally, to offer moviegoers a captivating experience driven by Dolby Vision laser projection and Dolby Atmos surround-sound. According to a report:
AMC initially announced plans to first convert 50 Prime and ETX premium large format auditoriums to meet Dolby Cinema specifications by 2018 (and 50 more by 2024). However, early reactions by filmmakers and customers have been so positive, AMC hopes to have 50 Dolby Cinema at AMC Prime locations open by the end of 2016.
Dolby has announced that four strong titles will be shown going into 2017 at Dolby Cinema locations around the world starting from the end of December, 2016. Among these, the Jennifer Lawrence-starred Passengers has already been released. I believe 2017 will be a landmark year for Dolby and its investors, and the upcoming and ongoing movies will act as a catalyst to drive the stock higher (catalyst 1).
In addition to generating revenue from a new revenue stream, I believe Dolby Cinema is a great way to popularize and grow adoption of Dolby's imaging technology Dolby Vision and latest audio technology Dolby Atmos, by bringing these technologies directly to users by offering those on personal and/or family-owned devices like TVs, smartphones and gaming consoles.
3. Dolby Vision
Dolby's imaging technology Dolby Vision is currently available in movie theatres. For home entertainment, Dolby Vision is currently supported on only select LG Ultra HD 4K TVs. Dolby and LG Electronics have just announced that LG 2017 OLED TVs will support both Dolby Vision and Dolby Atmos technologies. Ultra HD 4K TVs are capable of offering four times better imagery with their minimum 3,840 by 2,160 pixels resolution compared to standard HD TVs. The advent of Ultra HD 4K TVs will eventually replace HD TVs. However, before that such TVs should emerge as the industry standard.
The standardization process has begun slowly, but a full-blown standardization process will start from this year, which will also act as a catalyst to boost the Dolby stock (catalyst 2). Dolby's audio technologies don't get enough media attention and coverage because audio is a less interesting subject compared to display.
With the 4K standard for TVs gradually becoming mainstream, more TV manufacturers will support Dolby Vision. This will force investors to think that Dolby isn't an audio company any longer; it's actually a tech company. In addition, Dolby Cinema is also helping the company become a tech company in the field of media and entertainment.
Valuation
Dolby has a strong balance sheet with $375 million of net cash. For fiscal 2016 that ended on September 30, 2016, Dolby's total revenue came in at $1.03 billion, compared to $970.6 million for fiscal 2015. Management expects that Dolby's fiscal 2017 total revenue will be in the range between $1.06 billion and $1.09 billion, or $1.075 billion in average. Revenue is growing, albeit slowly, at a CAGR of just 3.5%.
The company is trading with a P/S ratio of 4.3x in terms of fiscal 2017 expected revenue. Given that Dolby is a slow-growth company, and it has upgraded its product line to adapt with changed industry dynamics, I believe the P/S ratio is reasonable to reflect its current state of business.
However, I expect that its technologies and IPs (intellectual properties) will catapult the company to a high-growth path from 2018 onwards driven by its new growth drivers, as mentioned above. I expect that revenue will grow at high single digits once Dolby's new technologies start to gather momentum. In order to discount the expanded revenue of the next three years into today's stock price, I've used the following method:
Estimated average revenue of the next three years (assuming 7% CAGR revenue growth rate):
Fiscal 2017: $1075.00 million
Fiscal 2018: $1150.25 million
Fiscal 2019: $1230.77 million
________________________
Average: $1152.00 million
With 101.34 million shares outstanding, estimated revenue per share will be $11.37. In the last five years, the company's shares have traded at the highest forward P/S ratio of 5.5x. I believe applying that P/S ratio on the $11.37 figure won't be unjustified to capture Dolby's growth story, which results in a projected share price of $62.50.
Currently Dolby's revenue from smartphones, tablets, gaming consoles and movies accounts for 25% of its overall revenue, according to its latest annual report on Form 10-K. The company's corrective measures to stay relevant when the online media is booming will result in a substantial increase in that percentage. Earnings are immaterial at this point in time because the company has to invest in R&D since its major patents will expire in 2017. Therefore I avoided using earnings-related valuation metrics.
Dolby's nearest competitor IMAX Corporation (NYSE:IMAX), which operates as an entertainment technology company, is trading at a trailing 12-month P/S ratio of 5.7x, compared to Dolby's 4.6x. If the P/S ratio of IMAX is applied on Dolby's stock, it should reach $57 immediately. Dolby is undervalued despite the following two facts:
IMAX is just a pure-play entertainment technology company. In sharp contrast, Dolby is a tech company as well. Dolby earns revenue from PCs, Xbox and other gaming consoles, and millions of iOS devices. Dolby's R&D to Revenue is 21.41%, compared to only 3.78% of IMAX. This is indicative of the fact that fundamentally Dolby is a different company in the sense that its upcoming technologies will boost it to a higher growth orbit compared to IMAX.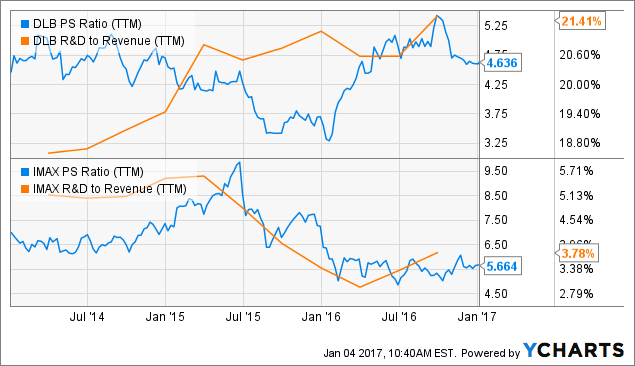 DLB PS Ratio (NYSE:TTM) data by YCharts
Potential Risk
This potential risk could eventually turn out to be a catalyst. Dolby generates a substantial portion of its revenue from international operations. In fiscal 2016, 69% of its revenue came from international operations and 31% from US operations, according to its latest 10-K filing. If the US dollar continues to rise, its overall revenue will get a hit in fiscal 2017. However, I don't believe the dollar will rise significantly going into 2017 due to rising real money supply. I explained this issue in details in a previously published article, although in a different context.
Let me explain again. Prior to the financial crisis of 2008, the US financial system had excess reserves of just $1.9 billion, which have grown ~1,300x to $2.5 trillion at present. The quantitative easing (QE) process, which the Fed initiated post the financial crisis through a series of large-scale asset purchases (LSAPs), boosted the US monetary base to $3.65 trillion from $850 billion at the beginning of 2008. The Fed paid the proceeds from LSAPs in the form of reserves, not cash, to the commercial banks.
Approximately 70% of the monetary base, which consists of required and excess reserves of commercial banks, currency circulating in the public and vault cash, is currently remaining in the US financial system in form of excess reserves. This massive liquidity is about to enter the US economy. This explains why real money supply will rise significantly in the coming years. As a result, I believe the dollar will lose ground going forward, which is positive for a company like Dolby with substantial exposure in foreign markets (catalyst 3).
Final Words
Dolby is an overlooked growth story. The most compelling part of this growth story and the investment thesis is that Dolby isn't an audio company any longer. I believe it should be considered as a high-growth tech company. And valuation should reflect this as well.
Disclosure: I am/we are long DLB.
I wrote this article myself, and it expresses my own opinions. I am not receiving compensation for it (other than from Seeking Alpha). I have no business relationship with any company whose stock is mentioned in this article.