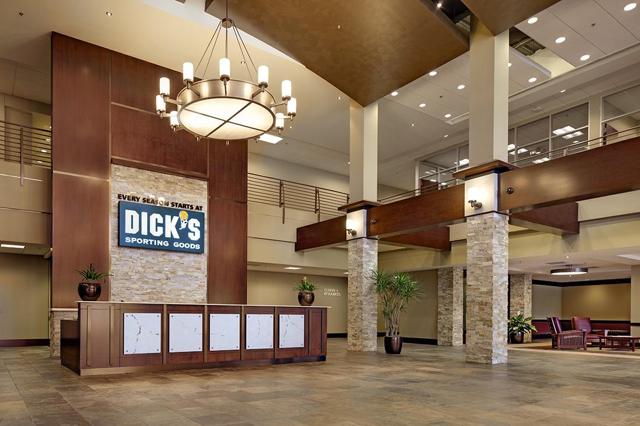 Source
Most investors have neither the time nor inclination to listen to a company's earnings call. I, however, have no girlfriend so what else do I have to do? All jokes aside, I intend on evaluating the current state of the business and how that impacts the future. There were many positives and uncertainties that Dick's (DKS) faces going forward. So sit back, grab some popcorn, and let's do this.
Numbers (3Q 2017) Starting with financials, Dick's reported a non – GAAP EPS of $0.30 for the third quarter of 2017. This was at the upper end of their guidance, which was $0.22 – $0.30. Their total sales increased 7.4% to approximately $1.94 billion and their e-commerce business increased 16%. Consolidated same store sales decreased 0.9%. According to Lee Belitsky, their CFO, "the comp decrease was driven by a 0.9% decrease in transactions and no change in ticket." Dick's Gross profit for the Q3 was $534.1 million or 27.47% of sales and that was down 3.07% versus last year. Lee Belitsky stated, "this decline was driven by lower merchandise margins in a promotional marketplace that were in line with our previous forecast." More Numbers (4Q 2017 & 2018) Looking forward to 4Q 2017, Dick's expects consolidated same store sales to be flat to low-single digit negative. Looking even further in 2018, Dick's expects comparative store sales to be approximately flat again. They will reduce their new store growth to between 15-20 new stores compared to the 59 they opened in 2017. In addition, Dick's plans on increasing investments in their e-commerce business, the technology in their stores, store payroll, their digital HQ platform, and their private brands next year. Given these investments, continued gross margin pressure, and flat comps, they are expecting their earnings per diluted share could fall up to 20% in 2018. Enough Numbers (My Thesis)
Their total sales increased 7.4% to approximately $1.94 billion. However, that is only half the picture. Their inventory only rose by 4%. That implies that they do not have any inventories issues. Ed Stack, CEO of Dick's Sporting Goods, confirmed this in the conference call (the exception is their hunting category). The fact that their sales rose faster than inventory is a sign of a healthy retail business.
Next, their same store sales decreased 0.9%. There are five big changes I believe will increase store traffic for Dick's.
Store Adaptation – Dick's recognizes that the retail landscape is changing. They need to adapt their brick and mortar stores as such. By implementing faster checkout, enhanced ship-from-store capabilities, and more opportunities for the customer to buy online and pickup in the store, Dick's will provide a better experience for customers which will make them more likely to shop in store. Consumers can expect this implemented in the near future. Private brands – Dick's needs to emphasize and increase marketing for their private brands. This is a huge competitive advantage Dick's has over other retailers. The gross margins are higher on their private brands and they are expected to generate approximately $1 billion in sales for 2017. Dick's plans on making significant investments to their private brands such as CALIA, Field & Stream, Top-Flite, Walter Hagen and new brands that will be launched in 2018. Ed Stack believes that sales could double to $2 billion over a "relatively short time." Digital HQ Platform – Perhaps, the biggest oversight from investors is the potential of their digital HQ platform. Dick's is investing heavily in their Sports HQ, a multi-year initiative and growth driver, which provides them with an opportunity to establish new revenue streams from subscription based services that they provide to sports organizations, coaches, and parents. This service exposes Dick's to new clientele, whom they can convert into in store customers. Putting the customer first – Dick's needs to return far more value to the customer if they want to keep them coming into the store. Better late than never is the saying, and as such, Dick's launched their Best Price Guarantee this past summer which allows consumers to get the best price on the market for their purchases. Dick's is also going to make changes to their ScoreCard loyalty program. They should have done this long ago. Let me tell you from experience, earning points on this was excruciating slow. Imagine ripping a band-aid off for one hour. I am kidding of course, but Dick's will now cease to expire points (they will rollover, whereas previously the points would expire on January 31st of each year). They will also have a tier system to their rewards card where they return even more value to their best customers. Technology – Technology seems to be creeping its way into everything known to man these days and to have technology that improves the in store experience is essential. Ed Stack states that they have technology "called the MC 40s, which really helps from an inventory standpoint. It helps the associate order product that might be out of stock for the consumer and have it either shipped to the store or directly to their home. We've got a number of technology investments that we're going to put in place in the stores that we think, over the long-term, will definitely help the consumer experience."
Moving on to gross profit, Steven Forbes from Guggenheim asked two great questions:
If all three categories (apparel, footwear, and hardlines) were experiencing similar levels of gross margin pressure or did one stand out? Is a gross margin rate of about 27% is a fair assumption for the business in the future?
Rather than paraphrase what Ed Stack stated, I will copy his direct answer:
"Well, I'd say that the margin and promotional pressures have been across the categories. Some more, some less, but they've been across the categories. And I would not necessarily look at this as a new normal, but it will be for 2018. Our hope is that it is a reset that we can start to build back off of, but not necessarily as the new normal."
My interpretation is that margins will be under pressure for some time. Whether or not Dick's improve it by 200-300 basis points after 2018 is up in the air. I believe after further consolidation in the industry occurs and after retail as a sector bounces back, Dick's will stop being so heavily promotional and improve their margins. With stores like Gander Mountain and Sport Authority going out of business, Dick's has an opportunity to pick up some new customers. As more and more retailers are slowing the rate at which they open new stores (and in many cases increasing the rate at which they close stores), Dick's will gain market share as there will be less intrusion from competitors. This will allow Dick's more leeway to begin reinstating premium pricing, which will improve gross margins.
Ed Stack stated they are not going to stick with a promotional pricing financial model. He clearly stated that Dick's will not be an everyday low price. I was happy to hear that because the fact is Dick's has premium brands in their business that they will need to showcase in a premium nature. Being an everyday low price model would not be great for the premium brands they have built their business around. In fact, the margin rates for their private brands are somewhere between 6%-8% higher than the brands they replaced. Given that their private brands are experiencing double digit growth (and they are launching two new private brands in 2018), Dick's should have some counter to offset the margin erosion they are experiencing with the national brands.
Now, concerning Q4 and 2018. Ed Stack believes that their comps will be flat overall into and throughout 2018 simply because the industry is just relatively flat. Dick's is using this opportunity to invest in its business so that when the storm clears, they will come out stronger on the other side.
Management plans on slowing down store growth because they believe real estate prices are coming down. This is important to note since they are not slowing down store growth because those stores would not be profitable. In fact, Ed Stack stated that they will not be closing down any stores in the near future. They might relocate a few to more favorable locations, but all of their stores are profitable. He went on to state, "that is one thing I think the Street doesn't understand. Our stores are extremely profitable." This is a great sign. In an environment where retailers are closing stores rapidly, Dick's is not only opening new stores, but they are not closing any because those stores are profitable.
Lastly, we have to address the most glaring piece of information, which was that their diluted EPS could fall as much as 20% in 2018. This is going to be driven by continued pressure on margins and the investments they are making in:
Team Sports HQ Increased payroll Private brands In store technology E-commerce experience, Revamping of their loyalty program Increased marketing efforts
It is important to note though that these investments come from a position of strength. Dick's has virtually no LT debt other than their seasonal borrowings and plenty of cash flow. They are using 2018 as a year to adapt to the new retail landscape and improve all aspects of their omni-channel business. I expect Dick's to come back firing on all cylinders come 2019.
I appreciate that Dick's informed investors of these investments and decrease in earnings now. Poor companies hide information and are reactive, not proactive. Ed Stack stated it would not be fair to the shareholders and The Street to be silent on the investments they are going to make in 2018 (this is the first time they have given guidance this early so far into the future).
My Final Thoughts
Dick's will be promotional in 2018 and will make a whole menu of new investments into their business. This will bring some pain to the bottom line in the short run, but in the long run, Dick's will be a stronger company. Dick's is right – 2018 is the time to make these investments. Unlike many retailers, Dick's Sporting Goods, with Ed Stack at the helm, is poised for future success.
The Street still clumps Dick's in with all other retailers. I read an article by one analyst who cautioned his clients to avoid Dick's because he believes the Athleisure trend is "officially over." Athleisure is far from "officially over." It is still growing at a healthy pace. It makes sense that Wall Street analysts would be so far off from athletic reality – the last time these analysts held a ball in their hands, it came before the words "point" and "pen."
Disclaimer: This article nor any comment associated with it are not be taken as financial advice. Investors should always do their own research before executing any financial transaction.
Disclosure: I am/we are long DKS.
I wrote this article myself, and it expresses my own opinions. I am not receiving compensation for it (other than from Seeking Alpha). I have no business relationship with any company whose stock is mentioned in this article.
About this article:ExpandAuthor payment: $35 + $0.01/page view. Authors of PRO articles receive a minimum guaranteed payment of $150-500.Tagged: Investing Ideas, Long Ideas, Services, Sporting Goods StoresWant to share your opinion on this article? Add a comment.Disagree with this article? Submit your own.To report a factual error in this article, click here