Bitcoin broke below $10,000 during a wild trading session yesterday, briefly sending the king of cryptos 50% below its December highs. Thats crash territory, folks…
But bitcoin speculators didnt capitulate. A new buying frenzy helped bitcoin recover most of its losses by the late afternoon. As of early this morning, one bitcoin fetched almost $12,000.
The gyrations took the digital token across a trading range of more than $2,600 over 18 hours, Bloomberg reports. Its tumble to a low of $9,186 pushed a monthlong rout past 50 percent and raised the specter that last years 1,400 percent rally was giving way to what many considered an inevitable bursting of the bubble.
Talk about a wild ride!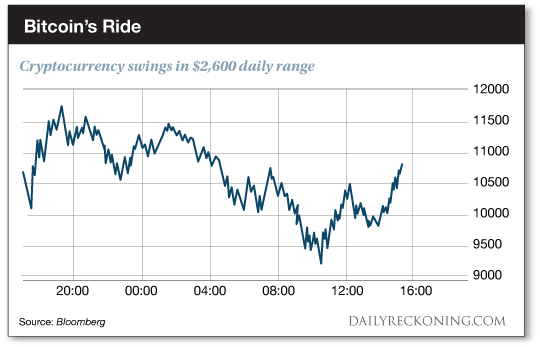 dailyreckoning.com/wp-content/uploads/2018/01/BitcoinsRide-DR-300×193.png 300w" sizes="(max-width: 540px) 100vw, 540px" />
I sensed more crazy price action was to come in the crypto world as the price of bitcoin jumped toward $20,000 in December. Thats when I predicted that bitcoin would crash and lose at least half its value at some point in the next 12 months.
To be clear, I dont think the crypto crash were witnessing right now is the beginning of the end of bitcoin. I dont know if bitcoin is ultimately worth $1 or $1 million, or whether a faster and better cryptocurrency technology will replace it at some point in the future.
My bitcoin crash prediction had nothing to do with the hurdles bitcoin and blockchain technology might face or the fate of decentralized transactions.
I needed only two pieces of information to make my crash call: price action and sentiment. Thats it!
Everything we witnessed in the crypto world leading up to this months hard reset told us bitcoin mania had reached dangerous levels.
Just think back to the dot-com boom of the 1990s. Internet stocks were soaring higher every month. Companies would add dot-com to their name just to attract new investors. Thats exactly what we started seeing in the markets recently as left-for-dead stocks added blockchain to their names to juice shares.
Price acceleration was also getting out of hand. It doesnt matter how hot or hyped an investment becomes it simply cant go straight up forever. With bitcoin going parabolic late last year, it was only a matter of time before a hard reset knocked the price back down and sent speculators running.
Its clear that bitcoin and other cryptos have entered the Wild West phase all speculative assets go through as they mature. The rules and regulations are fuzzy. Rapid price appreciation attracted scammers and hackers. For many investors who are just learning the bitcoin basics, it feels like crypto outlaws are looking to rip off anyone to make a quick buck.
But its also possible that bitcoins most recent tumble has could eventually strengthen the crypto market in the long-term. All manias eventually come to an end. And somewhere along the way, highflying assets will get hit with a hard reset or two before consolidating and moving higher. Thats just how markets work.
So its not totally insane to assume this wont be the last major correction in the life of bitcoin or any other popular cryptocurrency. Remember, bitcoin endured short-term plunges of 20% or more on four separate occasions in 2017. Whos to say we wont see more action like this in the months ahead?
The cryptocurrency market is going to have to start dealing with some growing pains this year. That will lead to wild price swings, hacks, attempts at government regulationyou name it.
And if my hunch is correct, well see more big crashes and rallies in the weeks and months ahead. Buckle up!
Sincerely,
Greg Guenthner
forThe Daily Reckoning