It was the most expensive pizza ever bought in the history of human existence
In May 2010, an unknown programmer named Laszlo Hanyecz exchanged 10,000 bitcoins for two Papa Johns pizzas.
About $30 could have netted you the 10,000 bitcoins Laszlo needed to fork over for his two pies, according to Coinbase.
It was the first real-world bitcoin transaction.
But thats not the only reason it made history.
Fast-forward to today and we find ourselves smack in the middle of a bitcoin buying frenzy.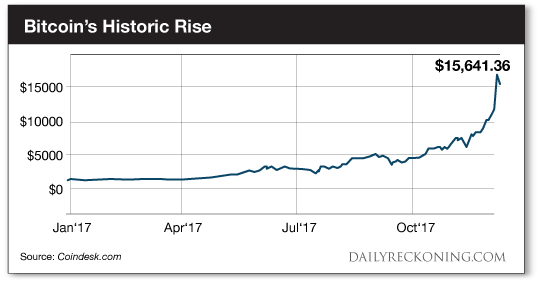 Everyone will remember 2017 as bitcoins breakout year.
In January, bitcoin was trading near $1,000. It crossed above $3,000 in June. Then it hit $5,000 in September.
On Dec. 7, the great bitcoin rally screamed to a staggering $19,000 before falling back to $15,000 in a matter of hours.
Bitcoin has proven it can turn just a few bucks into a fortune. But the dips and rips are more volatile than in any other market in history.
But with my Seven-Figure Formula, you could master it.
Time to seize the day!
The Simplest Way to Profit From the Bitcoin Boom
So whats the best way to play the bitcoin boom?
The best way is simply to buy bitcoin itself.
Thanks to recent developments, thats actually a lot easier than it used to be.
It also requires a whole lot less capital than you may think. You dont need to invest tens of thousands of dollars to get exposure to bitcoin. A couple hundred dollars is enough to get you started.
The advantages of buying bitcoin come from the fact that its the only cryptocurrency that you can buy and forget about right now. When the day of reckoning comes for the crypto bubble, bitcoin is likely to be the only coin left standing.
Another benefit to bitcoin is that you can buy as little as 0.00000001 bitcoins making the tiniest unit of bitcoin tradable today worth less than a penny.
You can get exposure without sinking a massive chunk of cash into it.
Just remember, the major upside doesnt come without some risks.
The smartest way to play this crypto king is by making a modest bet and then not fixating on the roller coaster ride to follow.
Will Crypto Boom Stocks Quickly Go Bust?
Bitcoin and other digital currencies arent the only assets benefiting from crypto mania.
There are many ways investors can speculate on cryptocurrencies without buying a single coin.
With bitcoin mania ramping up to all-time highs, some of the smallest stocks operating in various spaces related to cryptocurrencies are starting to go wild too.
These plays are taking Wall Street by storm. Three of the four most actively traded stocks in the country the Monday after Thanksgiving were crypto plays, Reuters reports.
However, not all of them were rocketing higher. Many of these stocks have endured incredible intraday price swings of triple digits in a matter of days.
Thats enough to give even the most adventurous investor heartburn.
Moves like the ones were witnessing in these emerging crypto plays are rare and incredibly exciting for investors.
But as with any mania, we need to be on the lookout for imitations and scams. Well probably witness countless new blockchain and cryptocurrency companies appear on the public markets over the next several months.
Not all of them will be great investments. Many will probably turn out to be complete duds.
Of course, we dont want to just jump on some random Johnny-come-lately crypto play that will temporarily explode higher only to fizzle out within a few weeks.
Instead, we need to track down the plays that have the potential to deliver explosive profits and sustain them as the bitcoin and blockchain story continues to grow.
Thats what my Seven-Figure Formula does for you. Takes the work out of your hands and puts cash in them instead…
Well continue to watch the crypto space as it continues to shake out.
When the next legitimate opportunity pops up, youll be the first to know.
For Tomorrows Trends Today,
Greg Guenthner
Editors note:11,000% More Profitable Than Bitcoin?
Gregs MUST-SEE DEC. 21 PREDICTION could turn $25 into a massive fortune.
But the window to act is closing. Click here now for the inside info.